Qingdao Transportation
Air

Qingdao Flights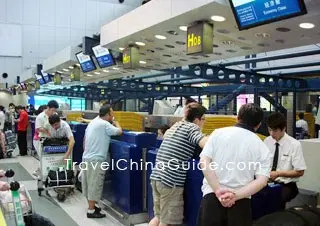 Liuting Airport
Liuting International Airport began serving the public on August 5, 1982 and has developed into an important air hub in east China. Presently, over 400 flights operate here, connecting the city with destinations both at home and abroad including Busan, Frankfurt, Los Angeles, Singapore, Tokyo, Hong Kong, Beijing, Guangzhou, Hangzhou, Shanghai and Xian. The airport is well-equipped with a parking lot, public telephones, clinic, free luggage carts, and obstacle-free facilities for passenger convenience. In addition, services such as inquiry, lost & found, left luggage, and luggage packing are also available. Located about twenty-three kilometers (about fourteen miles) from the downtown area, the airport can be easily reached. Currently, there are five shuttle buses running between the airport and downtown, covering most areas of the city. In addition, there are inter-city buses traveling between the airport and Rizhao, Weifang, Jiaozhou, Zibo, Rushan, Shouguang, Dongying, Jimo and Laixi, and other towns.
Train

Qingdao Train Schedule
Currently, there are two railway stations in the city for passenger transport: the local station and the North Railway Station.

Qingdao Railway Station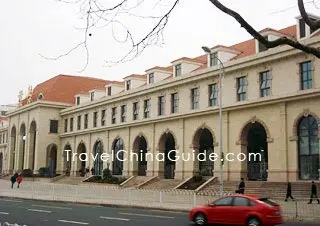 The Local Railway Station
It was built in 1901 by the Germans in a typical German Renaissance architectural style. Although expanded in 1901 and 2006, its German style has been retained, together with the original watch tower and waiting hall. After expansion, the station now has six platforms, ten railway roads and a waiting area of over seven-thousand square meters (almost two acres). Every day, there are fifty or so pairs of trains operating here including twenty-nine pairs of bullet trains. Trains operated here include those to/from cities outside Shandong Province such as Beijing, Shanghai, Guangzhou, Nanchang, Xuzhou, Zhengzhou, Xian, Lanzhou, Xining, Chengdu, Taiyuan, and also cities inside Shandong Province including Jinan, Heze, Yantai and Zibo.
Transportation:
Bus: No. 2, 5, 8, 25, 26, 202, 217, 218, 220, 223, 301, 303, 304, 305, 307, 311, 312, 316, 320, 321, 501, 702, 802
Trolley: No. 2

The North Railway Station
Located in Licang District, the north railway station can be reached by bus nos. 23 (Loop Line), 24, 112, 113, 118, 120, 207 (Loop Line), 325, 603 or 908. Put into operation in 2014, the north station mainly operate high speed trains, and K (fast) trains.

Major Rail Lines from Qingdao to:
Long-Distance Bus
There are eight passenger coach stations in the city, supplying frequent long-distance buses to and from many cities and regions in China. Among them, the local Long-distance Bus Station, or Sifang Long-distance Bus station located at No. 2, Wenzhou Road is the largest. There are about two-thousand buses per day leaving here for Beijing, Tianjin, Shanghai, Jiangsu, Henan, Hebei, Hubei and some cities inside Shandong Province.
Here below are the other seven coach stations:
Cangkou Coach Station: No. 513, Chongqing Middle Road, Licang District
Guantao Road Coach Station: No. 49, Guantao Road
North Coach Station: No. 59, Chongqing North Road
Haibohe Coach Station: No. 58, Inner Mongolia Road
East Coach Station: No. 163, Shenzhen Road
Railway Station Coach Station: No. 1, Shanxian Branch Road, Shinan District
Lijin Road Coach Station: No. 30, Lijin Road
Ship
The city's passenger port is located at No. 6, Xinjiang Road, Shibei District. Currently, it services ships to Incheon, South Korea; Shimonoseki, Japan; and Shanghai.
Route
Departure time
Arrival Time
Duration
to Incheon
17:00, Monday
12:00, Tuesday
19 hours
17:00, Thursday
12:00, Friday
to Shimonoseki
20:00, Monday
08:30, Wednesday
36 hours
20:00, Thursday
08:30, Saturday
from Shimonoseki
12:00, Wednesday
15:30, Thursday
26 hours
12:00 Saturday
15:30, Sunday
to Shanghai
Summer seasonal route, one ship every two or four days
26 hours
Note: The above timetable is for reference only. The sailing schedule may be adjusted any time.
metro line 3
links North Railway Station and Qingdao Railway Station, operating from 06:15 to 21:30 at intervals of 7-8 minutes daily.
Metro line 2
covers 22km (13mi) and links Licungongyuan and Zhiquanlu via 18 stations.
Line 11
connects Qiangushan and Miaolinglu.
Line 13
will open at the end of 2018, running between Jialingjianglu and Dongjiakou Railway Station in the northeast-southwest direction.
See
metro maps
for reference.
Public Bus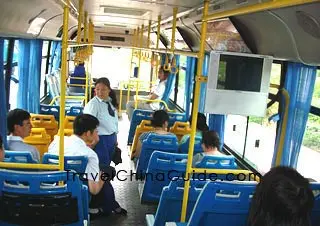 In the Public Bus
Because of its hilly terrain, few people use bicycles or motorcycles in the city. Consequently, the public bus is the main vehicle.
Standard bus fare is CNY1; fare on an air-conditioned bus is CNY2. If you pay by transportation card (Qindaotong in Chinese), passengers can enjoy a 20% discount.
Many bus routes run along the coast including Nos. 26, 304, 317, 321, and the Tourism Special Line 802 from west to east of the city and pass through major sightseeing places such as the Zhan Bridge (Zhan Qiao), Luxun Park, Bathing Beach, Badaguan, etc.
Taxi
More than 10,000 taxis are serving in the city, so it is quite convenient to travel by taxi. For short trips, most drivers would charge by meter. However, they prefer a flat rate for certain long-distance travels. In this case, it is best to negotiate for a fixed price before departing. The charging standard below is for your reference:
| | |
| --- | --- |
| Flag-down Rate | CNY9 for the first 3km (2mi) |
| Charge within 6km (4mi) | CNY1.4/km |
| Charge between 6-35km (4-22mi) | CNY2.1/km |
| Charge between 35-100km (22-62mi) | CNY3.5/km |
| Charge for a distance beyond 100km (62mi) | CNY3.85/km |
Ferryboat
Ferries in Pier

For Huangdao
The ferryboat between the Old City and Huangdao enhances the ties between the two sides of Jiaozhou Bay. It takes twenty to thirty minutes to reach Huangdao. The first departure is at 6:30, the last at 21:00. The interval is twenty minutes, and the fare for the ordinary boat is CNY7. The high-speed boat is CNY 9.5.

For Xuejia Island (Anzi Dock)
Ordinary Boat: The first departure is at 06:40 and the last at 19:10. The interval is thirty minutes and the fare is CNY 10.
High-speed Boat: The first departure is at 7:15, the last at 18:15. The interval is thirty minutes and the fare is CNY 12.

For Zhucha Island
The ferry heads for Zhucha Island from the high-speed ferryboat port at 08:30 and returns at 15:30 every Saturday and Sunday. A single trip takes about thirty minutes and CNY 25.

Xuejia Island – Zhucha Island
The boarding port is the Xuejia Island high-speed ferryboat port, and a single trip ticket is CNY 20.

Related Link : Qingdao Cruise
Sightseeing Boat
Visitors can take the boat to enjoy Qingdao Bay, Zhan Bridge, the
Naval Museum
, Luxun Park, and other scenic spots. A single ride takes about thirty minutes and costs CNY 30. The boarding ports are Feiyang Port (west of Zhan Bridge) or Shengshi Port (east of Zhan Bridge, close to the Naval Museum).
Another sightseeing boat, "The Blue Sea Pearl" departs from the Olympic Sailing Center at 10:30 and 15:00. It takes visitors to enjoy the scenery at Badaguan, No. 1 Bathing Beach, Zhan Bridge, Small Qingdao Island, etc. The ticket fare is CNY 80.
-