Qingdao Liuting International Airport
Airport Code: TAO
Location:
Qingdao Liuting International Airport is located in the Chengyang District, Qingdao City, about 23 kilometers (14.3 miles) from the downtown area.
Qingdao Airport Transfer
Brief Introduction:
Commencing operation in 1982, Qingdao Airport is one of the most important air transit centers in China. It has an aircraft parking apron of 440,000 square meters (about 109 acres) and a runway length of 3,400 meters (about 3,720 yards), which can be used by Boeing747s. The airport has two terminal buildings, covering 120,000 square meters (about 30 acres). The domestic arrival and departure area is in Terminal 1, while the international arrival and departure area is located in Terminal 2. Presently, there are over 400 flights operating from the airport, including 191 domestic departure flights, 190 domestic arrival flights, 23 international arrival flights, and 24 international departure flights reaching cities such as Busan, Frankfurt, Los Angeles, Singapore, Tokyo, Hong Kong, Beijing, Guangzhou, Hangzhou, Shanghai and Xi'an, among others.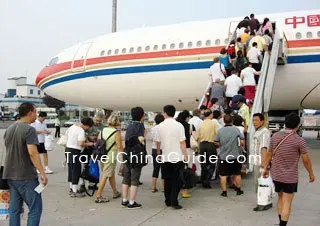 Boarding at Qingdao Airport
Zhan Bridge
), Sifang Long-distance Bus Station, and Century Mandarin Hotel. In addition, there are inter-city buses running between the airport and nearby cities, including Rizhao, Weifang, Jiaozhou, Zibo, Rushan, Shouguang, Dongying, Jimo and Laixi.

Passport holders of 53 countries and regions can enjoy a visa-free stay of up to 144 hours when taking an international flight transfer via Qingdao Airport.
Read details about
144-hour Visa-free Transit in Qingdao
.
Facilities and Services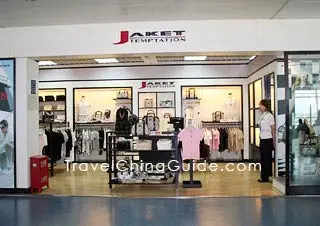 A clothing store in the airport

Public Telephone: Multimedia telephones are located at some entrances of the terminal, and also near each boarding gate. Each multimedia telephone has a special panel to receive/ send emails and search for information. IC Card telephones are available throughout the terminal. IC cards are available at the IC card counters or vending machines located adjacent to some of the IC card phones.
---

Business Center: It offers many services: receiving/ sending faxes, copying, printing and internet surfing, etc.
---

Clinic: Diagnostic, first aid and ambulance services are provided. First-aid medicines and basic medicines are also available here.
---

Obstacle-free Facilities: Free wheelchairs, low level counters and phones, obstacle-free washrooms and elevators are available inside the terminal.
---

Luggage Service:
1. Luggage Storage: A service desk is located between T 1 and T 2. There are two kinds of facilities for the service: luggage shelves and luggage lockers. Luggage shelves are charged at CNY 20/ day for a piece of luggage, not more than 65 cm in length, width or height, CNY 30/ day for a piece between 65 cm and 200 cm in length, width or height and CNY 50/ day for a piece more than 200 cm in length, width or height. The service fee for a luggage locker is charged according to the size of the locker and usage time. Please note that if the luggage is not claimed within 3 months, it will be handed over to the police.
2. Luggage Packing: at the departure halls on 2nd floor of both T 1 and T 2. Packaging is charged at CNY 10 per piece of luggage.
3. Luggage Trolley: The trolleys are provided free of charge at the parking lot in front of the terminal buildings.
4. Luggage Inquiry: This service is at both the domestic and international arrival halls. It can be used if your luggage is delayed, damaged or lost. Please note that there are specific desks for passengers of China Eastern Airlines and Shandong Airlines for this service.
---

Inquiry: The Domestic Inquiry Desk is located at Gate 3 of check-in island C, Terminal 1. The International Inquiry Desk is opposite Gate 5, 2nd floor of Terminal 2. Information provided includes information on the check-in process, flights, airlines and services available inside the terminal buildings.
---

Lost and Found: on the 2nd floor of Terminal 1.
---

Special Passenger Service: Special passengers refer to the elderly, infirm, sick, disabled and pregnant. The airport staff offers special care for them while boarding, and during the flight.
- Last updated on Jul. 04, 2022 -
Questions & Answers on Qingdao Liuting International Airport
Asked by Anthony from CANADA | Jun. 23, 2021 09:28

Reply
144 hour visa in Qingdao?
At this time, is the 144 hour visa in effect for each region/city ?
Answers (3)
Answered by Aubrey | Jun. 28, 2021 00:45

0

0

Reply
It only includes Qingdao, doesn't including other cities in Shandong province.
Answered by Anthony | Jul. 23, 2021 12:58

0

0

Reply
Must I fly directly to TAO from or can I make a first stop at Incheon/Korea
Answered by Alice | Jul. 25, 2021 18:50

0

0

Reply
You can make a first stop at Incheon, but you should be aware that the 144hrs visa-free trasit is not available during the pandemic period.
Asked by Anej chabbra from INDIA | Jan. 26, 2020 01:14

Reply
Do i need transit visa with 2 stops at Qingdao Airport?
From Del to Can layover is 3hours
Then from CAN to TAO layover is 4:30 minutes . And then after TAO domestic T1 to Terminal 2 . Do I need transit visa

Answers (1)
Answered by Billie from UNITED KINGDOM | Jan. 31, 2020 19:23

0

0

Reply
No. According to the situation, you can enjoy the 24 hours visa free policy.
Asked by Gozza from AUSTRALIA | Jul. 07, 2019 19:34

Reply
Does the Qingdao 144 hour free visa apply if I have to change flights in China?
All flights that I have found have a change of plane somewhere on route, I want to know if I can use the 144 hour free visa. I am not travelling outside the province.
Cheers
Answers (1)
Answered by Hailey from USA | Jul. 08, 2019 01:29

0

0

Reply
No, it is not eligible for the 144-hour visa free transit policy if you have more than one stop in mainland China.
Asked by Mary Price from USA | May. 23, 2019 13:14

Reply
28 1/2 hour layover at Qingdao Airport
Is there a place to sleep at the airport? What do you advise for a 28 hour layover? Flight gets in at 10:25pm. Thank you!
Answers (2)
Answered by Jenny from AUSTRALIA | May. 23, 2019 18:18

0

0

Reply
Well, it is a long time. It is suggested to stay in downtown area and visit some attractions in the city like Zhanqiao.
Answered by Jessica from USA | Jun. 13, 2019 14:39

0

0

Reply
There are several hotels within walking distance. If you walk along side or through the parking lot outside T2 and turn left to cross the road running next to the parking lot you will see several hotels. I like staying at the Kuai Tong hotel as it is a bit nicer than the others surrounding in my opinion.