Qingdao Railway Station
Qingdao railway station is 330 yards (300 meters) from the coastline, 4.5 miles (7.5 kilometers) from the city center, and 15 miles (24 kilometers) from Qingdao Liuting International Airport. With German Renaissance style buildings, the whole station combines Chinese and Western architectural styles exquisitely. The station currently has the largest underground waiting rooms and the highest level VIP waiting room area. The Qingdao Qianhai Scenic Area is only 110 yards (100 meters) from the station. Although only a limited number of trains go through Qingdao railway station, it has the best service in the whole nation.

Address: No. 2 of Tai'an Road, Shinan District



Around the station, there are several bus stops, and one can easily go to other places in the city. Passengers can also find taxis near the railway station, but need to be careful to not be cheated. There is also a tourist coach station in the southeast of the railway station, where one can get a coach to other cities, such as Rizhao, Yantai, Jinan, Penglai, and Shidao. Nearby there are several shops, hotels and restaurants such as McDonald and Pizza Hut. In front of the railway station, there is a very pleasant garden square with beautiful flowers.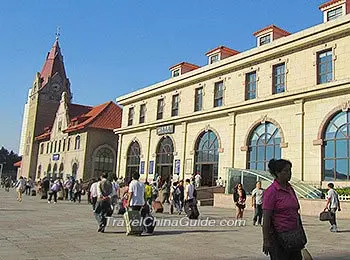 Qingdao Railway Station
Facilities and Services

Ticket Office
The station has 24 ticket windows in two offices. Ticket windows numbers 1 to 14 are in the east ticket office. Windows number 1, 2, and 3 are for picking up tickets that were booked online; number 5 is for ticket refunds; number 6 is for student tickets only; number 11 is an information window and offers platform tickets (platform tickets are for people who are not passengers but who want to go out on the platform to meet someone or to see someone off); number 12 is for Chinese people who lost their second general Chinese ID card to apply for a temporary ID card before boarding. Ticket windows 15 to 24 are in the west ticket office. Number 15 is for picking up tickets booked online and platform tickets; number 20 for air tickets only. You can change your ticket at any window. There are twenty self-service ticket machines in the station. If you lost your ticket, you can report the loss and rebook a ticket at the windows with the sign "Sunlight Homeland.

Waiting Rooms
There are three waiting rooms in the station; the east, west, and south underground waiting rooms. Which waiting room you should go to depends on which on which train you are taking. The east waiting room is for passengers traveling by D6002, G190, D334, G194, D338, G236, D6016, and D6018. The west waiting room is for G188, G232, D6006, D6008, D6010, D6012, G260, D6014, and D340. The south underground waiting room is for D332, G224, K2018, T162, 8416, D6004, G186, K970, G244, 5026, K1026, K1286, G172, G192, K344, T372, K914, D336, G196, G228, K710, K8252, D342, 1112, G256, 1564, K956, K208, G198, K1054, K702, K1136, 57060, K882, 5022, and K70. Both the east and west entrances lead to all of the waiting rooms. There is a special area for mothers and babies in the south underground waiting room. The area provides children's entertainment facilities and breastfeeding room. Men in the army have their own special waiting room.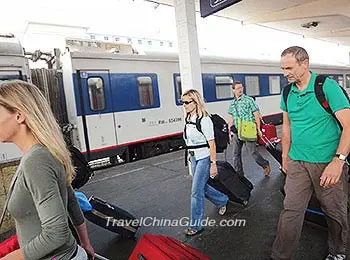 Platform

Luggage Storage
There are two luggage storage offices near the east and west entrances respectively. They are self-service and personnel available to help. The price for each piece of luggage is CNY 5 to 20 per day.



Sunlight Homeland Service:
1. Complaint center: offers complaint service and other services for passengers. If passengers have any problems in the station, they can report it to the staff.
2. There are special services available for passengers with difficulties, such as the disabled and sick. They can fill a form and then enjoy special service in the station.
3. Red Cap Luggage Service: will carry your luggage for a fee.
Timetable and Ticket Booking
The station operates both bullet and ordinary trains to Beijing, Shanghai, Hnagzhou, Guangzhou, Hefei, Tianjin, Changsha, Wuhan etc.

Major Rail Lines from the station to:

High Speed Train Schedule
(Last Update on Apr 25, 2023)
To
Trains
Duration
Ticket Fare (CNY)
First/ Second Class Seat

Hangzhou East

G284, G284, D2128, D2125...
7 departures from 06:27 to 21:25
6h16m - 12h47m
CNY 567/ 226
USD 83/ 33

Guangzhou South

G278, G278, G1552, G1553...
5 departures from 06:02 to 11:05
11h44m - 13h20m
CNY 1,469/ 919.5
USD 216/ 135

Shanghai

D2134, D2131, D2916, D2913...
18 departures from 06:33 to 17:06
4h21m - 7h18m
CNY 438/ 273
USD 64/ 40

Beijing South

G1064, G202, G1066, G1066...
27 departures from 07:07 to 20:59
2h59m - 9h4m
CNY 500/ 161
USD 74/ 24

Hefei South

G244, G1552, G1553, G1553...
5 departures from 08:15 to 13:20
4h52m - 6h29m
CNY 517.5/ 324
USD 76/ 48

Tianjin

G1268, G1268, G1208, G1208...
24 departures from 06:00 to 20:59
2h43m - 7h40m
CNY 422/ 134
USD 62/ 20

Changsha South

G278, G278, G290, G1552...
8 departures from 06:02 to 11:35
8h48m - 10h40m
CNY 1,000/ 626.5
USD 147/ 92

Wuhan

G278, G278, G1998, G1995...
14 departures from 06:02 to 15:53
7h1m - 8h55m
CNY 733.5/ 460
USD 108/ 68

Rongcheng

C6555, C6557, C6502, C6503...
14 departures from 06:57 to 18:09
1h41m - 2h43m
CNY 148/ 93
USD 22/ 14

Weihai

C6553, C6553, C6555, C6553...
35 departures from 06:45 to 21:41
1h21m - 2h34m
CNY 102/ 63
USD 15/ 9

Jinan

D6002, D6002, G6926, G6926...
177 departures from 05:30 to 22:00
1h24m - 4h16m
CNY 179/ 70
USD 26/ 10

The above schedule is for reference only. For real-time schedule and ticket booking, please click the arrival stations.

Normal Speed Train Timetable
(Last Update on Apr 25, 2023)
To
Trains
Duration
Ticket Fare (CNY)
Soft/ Hard Sleeper

Jinan

K1216, K970, Z350, Z272...
12 departures from 10:15 to 19:24
3h1m - 4h21m
CNY 158.5/ 107.5
USD 23/ 16

Guangzhou East

Z170 at 14:33
29h1m
CNY 894.5/ 518.5
USD 132/ 76

Xi'an

Z272, Z272 at 13:43 and 14:06
17h10m - 17h33m
CNY 527.5/ 343.5
USD 78/ 51

Xining

Z272, Z272 at 13:43 and 14:06
27h26m - 27h49m
CNY 735.5/ 476.5
USD 108/ 70

Taiyuan

K882 at 19:24
10h54m
CNY 337/ 221
USD 50/ 33

The above schedule is for reference only. For real-time schedule and ticket booking, please click the arrival stations.
See detailed
Qingdao Train Schedule
Transportation

How to get to the railway station:
By bus:
1. Take bus No. 2, 2 (tramcar), 5 (tramcar), 8, 25, 26, 202, 217, 220. 223, 301, 303, 304, 305, 307, 311, 312 (Interval), 316, 320, 321, 325, 501, 504, 702, Tunnel 1, Tunnel 3, Tunnel 5, Tunnel 7 and get off at the Railway Station.
2. Take Airport Shuttle Bus Line 2 and get off at Zhan Qiao.
3. Take bus No. 305and 325 and get off at Shan Xi'an Lu (Shanxian Road).
4. Take bus No. 8, 223, 303, and 307 and get off at Huo Che Zhan Xi Guang Chang (the west square of the railway station).
By taxi:
1. It takes 30 minutes and costs CNY 60 from
Qingdao North Railway Station
.
2. It takes 50 minutes and costs CNY 100 from Qingdao Liuting International Airport.

How to get to famous tourist sites:
1. To
Zhan Bridge
(Zhanqiao):
It's a very short distance so one can just walk to there.
2. To
Qingdao Number One Bathing Beach
:
Take bus No. 26, 223, 316, 304, 311, 312, 312(Interval), 321 or 501 and get off at Bathing Beach Station.
3. To
Mt. Laoshan
:
Take bus No. 321 and get off at Laoshan Cultural Center Station.

How to get to Liuting International Airport:
1. Take Airport Shuttle Bus Line 2 at the south square of the railway station.
2. Take bus No. 305 and get off at Qingdao Liuting International Airport Station.
Print

- Last updated on Apr. 25, 2023 -
Questions & Answers on Qingdao Railway Station
Asked by Winnie from AUSTRA | Jun. 04, 2020 18:59

Reply
Which station is closer to Zhan Qiao?
I checked your website and it says Zhan Bridge was interesting. I would like to visit there and I'm searching schedule on your website.
Answers (1)
Answered by TravelChinaGuide | Jun. 07, 2020 18:36

0

0

Reply
Qingdao station is very closed to the Zhan Bridge, it is just a walking distance between the two! When you exit from the station, the sea is just opposite to the station, you can see the bridge if you can see the sea. If you arrive at Qingdao North station, then the subway line 3 can take you there.
Asked by DUONGTHIHUYEN | Oct. 06, 2019 06:12

Reply
the way that is from Qingdao to nanning
I take the normal train from Qingdao to Nanning. I want to ask whether I have to tranfer train or go directly? Howfar is it from ocean university of china to train station?
Answers (5)
Answered by Jennifer from USA | Oct. 08, 2019 19:15

0

0

Reply
If you meant K1136, you do not need to transfer trains, it goes directly to Nanning. Not sure which campus are you staying at, but K1136 departs from this Qingdao main station.
Answered by DUONGTHIHUYEN | Oct. 14, 2019 03:04

0

0

Reply
my address is 松岭路238 号中国海洋大学崂山校区宿舍北区. so howfar is it from my location to the train station?
Answered by Jennifer | Oct. 14, 2019 17:49

0

0

Reply
about 24km. Except taxi, you can use metro service too but need a few transfer on the way: Line 11 first to Miaoling road and then change to line 2 to Wusi Square. Finally change to line 3 there to reach the railway station. It will take you one hour on the way.
Answered by DUONGTHIHUYEN | Oct. 19, 2019 02:35

0

0

Reply
Thank you so much for your significant information. I want to station that is closed to border between Vietnam and China to go to Vietnam. Can I go straight to that station (I don'n know name of that station) instead of stopping at Nanning station and I have to tranfer afterthat?
Answered by Orion | Oct. 22, 2019 01:27

0

0

Reply
From Nanning, there is an international train to Hanoi. Or you can take a train from Qingdao to Jinan firstly, then from Jinan to Kunming, finally from Kunming to Hekou North. Hekou North is near Lao Cai.
Asked by Healy from CANADA | Jul. 30, 2019 04:51

Reply
Final train of line 3 from Qingdao Station to Wusi Square
We will reach the station around 11pm, is line 3 still in service at that time?
Answers (1)
Answered by Dillon from MEXICO | Jul. 30, 2019 19:09

0

0

Reply
I think line 3 ends at 10:40pm there, you will not be able to catch it if arrived at 11pm. But you can still use taxi or bus No. 316 to Shizhengfu which is not far from Wusi Square.
Asked by Sanjiv Paudel from NEPAL | May. 25, 2019 11:14

Reply
Qingdao Railway or Qingdao North Railway ? CONFUSED!
I am confused whether it is Qingdao Railway station or Qingdao North Railway station. Will that be mentioned in the ticket once it is confirmed ? I need the station name to book my hotel so.

Thank you
Sanjiv
Answers (1)
Answered by Branislav from SERBIA | May. 25, 2019 20:29

0

0

Reply
It will be mentioned on the ticket. It will be either "Qingdao" (downtown station) or "Qingdaobei" (Qingdao North). You can't miss.