Shandong Travel Guide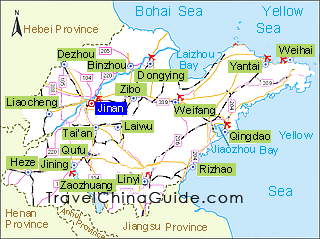 Shandong Province is situated in the eastern part of China on the lower reaches of the Yellow River. It borders on the Bohai and Huanghai seas in the east, and overlooks the Korean Peninsula and the Japan Archipelago across a vast stretch of sea. The province has a total area of 156,000 square kilometers (about 60,235 square miles) and a total population of over 90 million.
When to Go
The Province is frequently affected by marine monsoons, especially during the summer time. The climate is characterized by rain during the summer and autumn and a dry winter. The annual average temperature is between 11 and 14 degrees Centigrade while the annual precipitation is mostly affected by the monsoon rain. Between 500 millimeters and 1000 millimeters of rain can fall each year.
Cities in Shandong
History
Shandong, with a history of more than 5,000 years, is considered one of the birthplaces of Chinese civilization. It has also been the home of a large number of historical figures, whose important influences are still evident in contemporary China. Confucianism, founded by Confucius, the great thinker, educator and statesman is the pillar of traditional Chinese culture and has exerted great influence in the world.
What to See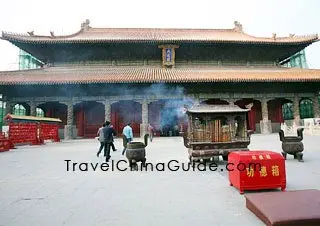 Confucius Temple, Qufu
The major historical sites in the Province are:
The inscriptions on clay pots unearthed at Dawenkou and Dinggongcun are believed to bear the earliest written language of the country.
The ruins of ancient Longshan City which is considered the earliest city in the country.
Portions of the Great Wall built during the Qi State period which is believed to be the most ancient great wall in the country.
The
Confucius Temple
,
Confucius Mansion
and
Confucius Cemetery
in Qufu.
Shandong is also blessed with beautiful landscapes. The most famous scenic spots are
Mount Taishan
,
Mt. Laoshan
and the seaside of the Jiaodong peninsula. In 1987 and 1994, Mount Taishan, the Temple and Cemetery of Confucius and the Confucius Mansion in Qufu were inscribed on the World Cultural and Natural Heritage List by UNESCO.
Jinan, its capital city, is one of China's most famous historical and cultural cities. It has numerous natural springs, hence its name 'Spring City'.
Shandong Province is also considered the birthplace of China's pottery, porcelain and silk. Throughout the province the tourist can find traditional items like the clocks and watches of Yantai, the porcelain of Zibo, the kites of Weifang, the shell-carving and beer of Qingdao.
| | |
| --- | --- |
| Taishan Mountain, Tai'an | Sea view in Qingdao |

Recommended Tour Itineraries:
Jinan - Qufu - Mt. Tai: 4 days visit to Shandong from Jinan to the hometown of Confucius and Mt. Tai
Qingdao Mt. Laoshan Tour: 3 days to visit Mt. Laoshan, Small Qingdao Island, Zhan Bridge and No. 1 Bathing Beach
More China Tour Packages
- Last modified on Aug. 21, 2018 -
Questions & Answers on Shandong Travel
Asked by Edilberto Garay from PHILIPPINES | Aug. 17, 2018 06:53

Reply
What is the most convenient transport from qingdao to jining
Answers (1)
Answered by Elina from CANADA | Aug. 21, 2018 00:47

0

0

Reply
The inter-city buses are recommended, two from Qingdao Long-distance Bus Station at 8:00 and 15:00 and one from Qingdao North Bus Station at 8:30 run directly to Jining city.
Asked by JH from MALAYSIA | Jul. 06, 2018 00:25

Reply
Business visit to Beijing,Changchun,Shandong and Hangzhou from Kuala Lumpur Malaysia.
Pls advise the best route as above mentioned location.Which is i need to reached Hangzhou by 7aug 2018.
Travel date planned by 31Jul2018.

Kindly provide nearest airport.
Answers (1)
Answered by Mark | Jul. 06, 2018 01:22

0

0

Reply
The first is BJ Capital International Airport and then Changchun Longjia International Airport, Jinan Yaoqing International Airport, Hangzhou Xiaoshan Airport.
Asked by Nedev from BULGARIA | Mar. 16, 2018 06:32

Reply
I want to do a business trip to Rushan,Shandong from Sofia,Bulgaria.Haw to go there ?
Answers (1)
Answered by William from AUSTRALIA | Mar. 18, 2018 21:30

0

0

Reply
Well, no direct flight is available.
You need to take a flight to Beijing or Shanghai, which, as I know, has a transit in another international city. After arrival, take a domestic flight to Qingdao and then catch a shuttle bus to RS City.
Asked by Myriam vazquez from MÉXICO | Jan. 23, 2018 10:20

Reply
I want to do a business trip to Shandong from Mexico Which is the best route to go there ?
I need to travel to several companies in the area which is the best way to travel arround this region knowing I do not know how to speak chinesse.

Kind regards
Answers (1)
Answered by Kayla from SINGAPORE | Jan. 23, 2018 19:30

0

0

Reply
Well, you are suggested to take an international flight to Jinan, the capital city of SD. But as I know, there are at least two transits between.
Maybe you can take a flight to Vancouver, and then transfer to Shanghai, after that, take another flight to Jinan.

After getting there, you may take the subway to travel around, which announces stops in bilingual.