Jining Travel Guide
Jining Facts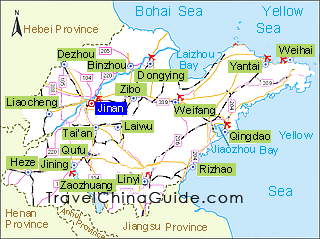 Chinese Name: 济宁 (jǐ níng)
Population: 8,356,000
Area: 11,187 square kilometers (4,319 square miles)
Location: in the southwest of Shandong Province, east China
Administrative Division: 2 districts (Shizhong, Renzheng); 7 counties (Weishan, Yutai, Jinxiang, Jiaxiang, Wenshang, Sishui, Liangshan); 2 county-level cities (Qufu, Zoucheng)
Area Code: 0537
Zip Code: 272000
GDP (2019): CNY 437.017 billion (USD 63.345 billion)
Historical City Fostering Confucius Culture & Grand Canal Culture
The city lies in the southern part of Shandong Province, at the convergence of Shandong, Henan, Jiangsu and Anhui. It is bordered by the famous 'Peony Town', Heze. Xuzhou of Jiangsu Province lies south of Jining which is separated by the Yellow River from Liaocheng in the northwest corner. Jinan, the capital city of Shandong Province, is about 200 kilometers (124 miles) from Jining.

Jining is also an important birthplace of Chinese civilization with many historical sites. Confucius, Mencius and other Chinese sages were born here and the Confucianism spread from here to around China. Today, you can still see the Temple and Cemetery of Confucius and the Confucian Family Mansion. The Temple of Confucius has more than 460 ancient buildings from palaces, halls, terraces to pavilions arranged in a symmetrical structure. Many historical relics can be seen in the Family Mansion such as porcelains, ivory carvings, jade carvings and robes. In addition to the 2 highlights, the Beijing - Hangzhou Grand Canal, built more than 720 years ago, is still navigable in Jining with a shipping capacity of 100 million tons. The Canal shows wonderful scenery and leaves many cultural relics.
Jining Attractions - Things to Do

Qufu: It is the hometown of Confucius, the greatest mind of far-reaching importance in Chinese history. The Temple and Cemetery of Confucius and the Confucian Family Mansion were listed in the World Heritage in 1994. Of these three sacred buildings, the Temple of Confucius, the representative classical architecture complex of Confucianism, is praised as the 'Number One Temple in China'. The Temple, along with the Forbidden City and Mountain Resort of Chengde, are China's three largest ancient building complexes. Qufu is the must-see place of the area, while the three sites—Temple, Cemetery and Mansion--are the must-see destinations when traveling to Qufu.



Mencius Family Mansion and Mencius Temple: A time-honored and well-preserved ancient building complex for sacrificing Mencius and residence of his offspring that was first built during the Northern Song Dynasty (960-1127)



Yishan Mountain: A mountain resort 10 kilometers (6.2 miles) south of Zoucheng County with spectacular natural scenery and historical relics, especially featuring a granite pebbly landscape.



Baoxiang Temple: A well-preserved Buddhist temple more than a thousand years old, where a great many holy Buddha relics were excavated in 1994; the annual Buddha Light Festival (Fo Guang Jie) is held in the temple.
How to Get to Jining
1. Jining Airport lies in Zhifang Town, Jiaxiang County of Jining, 24 kilometers (15 miles) away from city . At present, it has opened the flights to Beijing, Harbin, Shenyang, Dalian, Zhuhai, Xiamen, Chengdu, Changsha, Chongqing, Changchun … Visitors can take airport shuttle bus travel between airport and Jining City.

2. Jining south coach station (formerly Jining Coach Station) is located in Jianshe Nan Lu, while the north coach station is situated in the north suburb, adjacent to the No.327 National Highway. Bus routes opened here cover over 120 cities and counties of 10 provinces.

3. From the Jinan Coach Terminal in Jiluo Lu, buses to Jining depart every 30 minutes and will reach the destination in about three hours.
Weather
-
Bearing a warm temperate monsoon climate, the region has abundant solar energy. Summer is hot and gathers much rainfall, while most days in winter are clear and chilly. The annual average temperature of Jining weather ranges from 13.3

C to 14.1

C (55.9

F to 57.4

F). Spring, summer and autumn are best months for sightseeing.
Jining Travel Tips

History: Primitive villages were scattered around this region five or six thousand years ago. After the unification of China by the Qin Dynasty (221BC-206BC), Rencheng County was established here. Jining, as the name of the administrative unit set up here, first appeared in the Yuan Dynasty (1271-1368).

Physical Features: It belongs to the transitional area from low mountains and hills to plains. Generally, plain and bottomland constitute the main types of the city's landform. Its eastern part is covered by mountains dotted with basins and valleys between them, and the whole terrain of the area slopes downwards from east to west.

Local Highlights: Qufu International Confucius Cultural Festival (late September): 2007 Qufu International Confucius Cultural Festival was held September 20-28.

Special Local Products: Kai wood carving and sweet paddy of Qufu City, Lu Brocade of Jiaxiang County, Nishan Inkstone
- Last updated on Aug. 05, 2020 -
Questions & Answers on Jining Travel
Asked by krtbabu from INDIA | Jan. 26, 2017 20:17

Reply
How far from Beijing to Jining City, Shandong Province? Isn't any high-speed train?
Answers (2)
Answered by Ellie from UKRAINE | Jan. 30, 2017 00:18

0

1

Reply
The distance between these two cities is around 365 miles (587 kilometers). However, there is no direct high-speed train from Beijing to there. You can only take normal speed train from Main Railway Station. The train schedules are 07:03 and 23:26. It takes 9-10 hours.
Answered by Chymaster from UNITED KINGDOM | May. 05, 2017 17:59

2

0

Reply
There is high speed train from Beijing to Qufu, cost 244 RMB, 2and half hours journey, and take a 1 hour coach to Jining city centre cost 18-20RMB
Asked by priscilla Tan from MALAYSIA | Mar. 21, 2016 02:10

Reply
high speed rail from Beijing South to Jining.
i can seems to locate JN as a destination or stop for the high speel rail from beijing, i'm arriving beijin airport around 6:30pm, am i still on time to catch a train ? is there a link for me to see the train schedule from JN to Beijing?

thanks

pris
Answers (1)
Answered by Dick from USA | Mar. 22, 2016 01:07

3

0

Reply
First of all, no bullet train runs between these two places.
According to the arrival time, you can still catch the train to there.
From the airport, take the shuttle bus to get to West Railway Station first. Then take the normal speed train to the destination. The schedules are 20:35, 21:26, 22:15 and 23:01. The train takes around 7 to 8 hours on the way. The ticket fare of soft sleeper is CNY204 and hard sleeper is CNY136. For schedule from JN to BJ, you can search on the train column of this website; it is up-to-date.
Asked by carlos from NIGERIA | Jan. 05, 2016 05:56

Reply
entertainment in jining
wanted to find out the entertainment industry as in whether they have night clubs, aside KFC, is there any well known restaurant and also whether the people there love to party
that is day time life and night time life?
thank u
Answers (2)
Answered by Abbey from UNITED KINGDOM | Jan. 07, 2016 21:24

0

0

Reply
Well, you will find many night clubs and bars along Gongqingtuan Road, Shizhong District. Besides, I'm afraid there is no much night life there.
There are some popular restaurants, but mostly offer Chinese food only. The Fang Xi Ren Restaurant at no. 38-10, West Huancheng Road, Shizhong District is highly recommended, where you can taste authentic local food. Well, the local people are very friendly, and easy to get along with. Have a nice time!
Answered by carlos from NIGERIA | Jan. 08, 2016 04:30

0

0

Reply
thank you
Asked by yulius from INDONESIA | Aug. 25, 2015 22:15

Reply
I want go to jining city in shantui industry park
I am from Indonesia in jakarta, how can i go there cheaply and easily and time needs if from shanghai and price tiket by train or bus?
Answers (3)
Answered by Fay from USA | Aug. 26, 2015 21:16

1

0

Reply
There is no direct train, so direct long-distance buses will be easier for you.

West Bus Station: leaving at 17:50, CNY170
Hutie Long-distance Bus Station (located at No. 783 of Hengfeng Road): leaving at 17:00, CNY200.
General bus Station: leaving at 18:00 and 18:30, CNY240.
Answered by Thomas from GERMANY | Feb. 23, 2016 05:55

0

0

Reply
There is a high Speed Train Connection available from Shanghai to Beijing. Closest train Station to JN is Qufu rail way Station. That´s the conection I always use. I´m travelling from Germany via Beijing to JN.
Answered by Linda from USA | Feb. 23, 2016 19:55

0

0

Reply
Yulius, you can also take a high speed train to Qufu East Railway Station from Shanghai Hongqiao Railway Station (about 3.5 hours). Upon arrival, you may take an ordinary train to Jining from Qufu Railway Station (about 1 hour).