Zaozhuang Travel Guide
Zaozhuang Facts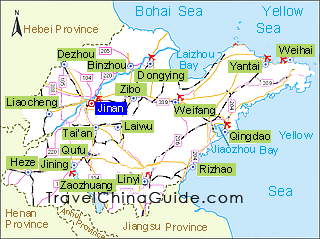 Chinese Name: 枣庄 (zǎo zhuāng)
Population: 3,927,300
Area: 4,564 square kilometers (1,762 square miles)
Location: in the south of Shandong Province, east China
Administrative Division: 5 districts (Shizhong, Xuecheng, Yicheng, Tai' erzhuang, Shanting); 1 county-level city (Tengzhou)
Area Code: 0632
Zip Code: 277100
GDP (2019): CNY 169.391 billion (USD 24.553 billion)
Famous Battlefield in Sino-Japanese War
Located in the south of Shandong, Zaozhuang is neighbor to Linyi, Jining and Tongshan, Pizhou counties of Jiangsu Province. The quaint Zaozhuang magically presents a scene of a water town in the south China. The middle section of the Beijing-Hangzhou Grand Canal has flowed through Tai' erzhuang and a village was formed. There are various architectural styles in the village, including traditional residences in southern Shandong, northern courtyards, Hui-style architecture and Hakka architecture. At night, the ancient city is shining under the light.

This city is also a famous site where the Battle of Tai'erzhuang occurred during the Sino-Japanese War, a witness to the first major victory of the Chinese army. The victory of the Battle of Tai'erzhuang proved that the Japanese military was not invincible as they claimed, while for Chinese, the battle greatly encouraged the morale of the Chinese army. The battle scene at the time was vividly displayed in the Tai' erhchuang Campaign Memorial Hall. In addition, Zaozhuang also has many natural attractions such as forest parks, geo-parks, and China's largest pomegranates orchard.
Zaozhuang Attractions - Things to Do
Located in Tai'erzhuang District, it is a good tour destination for visitors to appreciate various folk architecture and get close to the last section of the Grand Canal.



Railway Guerilla Red Tourism Sites
Located in Xuecheng District, it is composed of two parts: Railway Guerilla Monument and Railway Guerilla Memorial Garden. It is among the 100 key red tourism sites in China.



Tai'er zhuang Battle Sites
Located in Tai'erzhuang District, it is restored on the site where the famous battle happened. The memorial hall shows films, photos and other battle material which reappear the scene of the battle.



Wanmu Megranates Orchard
Located in the Yicheng District, it is China's largest megranates orchard with 100 thousand mu (about 26 square miles) area. The ancient sites including temples and pavilions add more cultural flavor there.



Other Spots: Xiong'er Mountain National Geologic Park, Baodugu National Forest Park, Red Chinese Dates Orchards in Shanting District, Mozi Memorial Hall

Combo Tickets of Zaozhuang
Combo tickets are offered here for visitors' convenience, including One Day Combo, Two Day Combo and Three Day Combo. The attractions may contain Tai'er Zhuang Old City, Tai'er Zhuang Battle Memorial Hall, Li Zongren Historical Data Hall, Qingchan Temple in Pomegranate Garden, Weishan Island, Weshan Lake Wetland Park, Baodugu, Xiong'er Mountain, Railway Guerrilla TV & Film City, Tai'er Zhuang Old Railway Station, Fengming Lake, Donghu Park, Wanfu Garden, Yingtai Hot Spring, Hannuo SPA Club, etc.

Besides, a One Day Combo includes the fee for a standard dinner in the scenic area (CNY15, costs beyond need to be made up additionally). A Two Day Combo includes the fee for one day accommodation in a designated economy or business hotel or partial fee for a designated luxurious hotel in Zaozhuang City. A Three Day Combo includes the fee for two day accommodation in a designated economy or business hotel or partial fee for a designated luxurious hotel.

The One Day Combo ticket is only available for visitors from Xuzhou, Linyi and Jining and the ticket will be valid for 24 hours after it is put into use in the first attraction site. The Two Day Combo ticket will be valid for 48 hours after it is put into use in the first attraction site or hotel. The Three Day Combo ticket will be valid for 72 hours after it is put into use in the first attraction site or hotel.
Ticket Kinds

Admission Fee

One Day

Combo A

CNY37

Combo B

CNY47

Combo C

CNY52

Two Day

Combo A

CNY131

Combo B

CNY109

Combo C

CNY98

Three Day

Combo A

CNY180

Combo B

CNY159
How to Get to Zaozhuang
There is no airport in the city, but only 60 kms (37 miles) south to Xuzhou Airport. Jinghu Railway (Beijing to Shanghai) go across west part of the area, providing convenient way from Zaozhuang Railway Station to Shanghai, Beijing, Qingdao, Jinan, Nanjing, Hangzhou and other big cities. Highways are well constructed here. It almost covers all the counties and towns. Long distance bus can reach Beijing, Tianjin, Shanghai and cities in other provinces such as Hebei, Henan, Jiangsu and Zhejiang. No.2 city bus has stops at the bus station.

See more Zaozhuang to Shanghai Train, Beijing to Zaozhuang Train
Weather
-
It belongs to the warm temperate monsoon climate zone. It is mild with four distinctive seasons. Winter is dry and cold while summer is rainy and hot. April and May are the rainy season. The annual average temperature of Zaozhuang weather is about 15

C (59

F). Spring and autumn are best time to visit this place, especially when the Pear Flower Festival is held on March 12th in Chinese lunar calendar.
Zaozhuang Travel Tips

History: This area belonged to the Chu State in the Spring and Autumn Period (770BC-476BC). During the following dynasties, it was divided into several parts belonging to different states. In the Three Kingdom Period (220-280), it was combined and controlled by the Wei State. After 550, Zaozhuang was divided into two counties in the north and south which were finally called Tengxian and Yixian after PRC was established. In 1960, Yixian was changed into a county-level city Zaozhuang, which then became a prefecture-level city in 1961. Tengxian was turned over to Zaozhuang in 1978.



Physical Features: The region is mainly covered with low mountains and hills. It is high in the north and east while low in the south and west. Several plains are among the hills. The west part along lakes and the south part along the Grand Canal are low and marshy ground.



Local Highlights: The city is the hometown of a famous Chinese philosopher Mozi of the Warring States Period (476BC-221BC). Mozi's influential work 'Mohist Canon' enlightened the following generations greatly. It is also a revolutionary base of Chinese Anti-Japanese War. It is where the railway guerilla was organized. Tai'erzhuang Battle in 1938 was an important turning point of Chinese Anti-Japanese War. In addition, the place also boasts of its Chinese dates and megranates. It has the largest megranates orchard in the country.



Special Local Products: Chinese dates and megranates
- Last updated on Jul. 04, 2022 -
Questions & Answers on Zaozhuang Travel
Asked by Katie Zhang from QINGDAO, CHINA | Sep. 10, 2020 02:28

Reply
What is the weather like in Zao Zhuang in October?
Answers (1)
Answered by Anthony | Sep. 23, 2020 22:41

0

0

Reply
According to the weather statistics, the temperature will be 15 to 25 C in October. It will be cool and comfortable. You can bring overcoats, long-sleeved shirts, jeans and sneakers.
Asked by Bojana from SERBIA | Oct. 24, 2018 12:27

Reply
I plan to come to Zaoshuang in November.
Can you tell me if there is central heating or of not what kind of heating is there in the city ?
Answers (1)
Answered by Hook from UNITED KINGDOM | Oct. 24, 2018 23:00

0

0

Reply
Of course there is central heating in this city.
Asked by Casper from CHINA | Jul. 11, 2017 22:58

Reply
Public Transport from High speed Railway station/Electric Bike
Two questions:
1.A friend of mine is arriving at 9PM (21:00) by high speed train from Beijing. As it is a very small station and in a new development area, will there be any public transport available? Taxis/ BRT?
2. I want to buy an electric bike as I just moved to Zaozhuang new area. Where can I buy an electric bike? Can someone please send me an address in Chinese?

Thanks very much!
Answers (1)
Answered by Cecilia from SINGAPORE | Jul. 12, 2017 02:30

1

0

Reply
1. Yes, BRTB10 and BRTB11 and taxis are available there.
2. Lots of electric bike stores are near City Sport Center, which is located at No.32, Middle Wenhua Road. In Chinese, it is '枣庄体育馆'.

Asked by Shelly Yomano from USA | Oct. 11, 2016 15:26

Reply
I will arrive in Zaozhuang on March 22, 2017, on the Tianjin-Shanghai Railroad.
I want to visit Baodugu on March 23. How can I get to the mountain, and is there some transportation to the top?
Answers (1)
Answered by Mary from USA | Oct. 12, 2016 22:14

0

0

Reply
You may take bus line BRT T1 from the railway station to Huashan Road Station. Next, change to bus line 16 from Guangming Road Station to Sanjiao Huayuan Station. Then, take bus line 12 to Baodugu.

Yes, you can take a cable car up to the mountain. It costs CNY 35 for a single trip; CNY 60 for a round trip. :)
Asked by c from ITALY | Nov. 26, 2015 21:09

Reply
I'll be in zaozhuang for two days. I was looking for a city not so known but nice.
Can u tell me what can I visit here? If is nice to come for a weekend. Thanks
Answers (1)
Answered by Susan from UNITED KINGDOM | Nov. 27, 2015 21:09

0

0

Reply
Yes, it's nice for you tour around this city on weekends. And you can arrange the sightseeing in the following way.
Day 1: Tai'er zhuang Battle Sites, Canal Old Town,
Day 2: Weishan Lake Red Lotus Wetland Scenic Area
Have a nice trip!