Tai'an Travel Guide
Tai'an Facts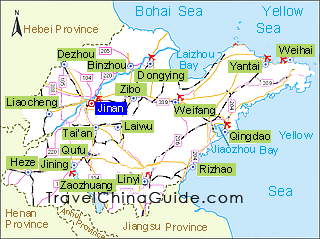 Chinese Name: 泰安 (tài ān)
Population: 5,635,000
Area: 7,761 square kilometers (2,996 square miles)
Location: in the central area of Shandong Province, east China
Administrative Division: 2 districts (Taishan and Daiyue); 2 county-level Cities (Xintai and Feicheng); 2 counties (Ningyang and Dongping)
Area Code: 0538
Zip Code: 271000
GDP (2019): CNY 568.85 billion (USD 82.454 billion)
Famous for Taishan Mountain
Located in the center of Shandong Province, Tai'an lies at the south foot of Taishan Mountain and adjoins Jinan to the north, Qufu to the south, the Yellow River to the west and Zibo to the east. Tai'an is named after Taishan Mountain, wishing for a prosperous country and people at peace. Taishan Mountain is also the first scenic spot worth visiting. It has even become a synonym for Tai' an.

In ancient times, Chinese people worshipped Taishan Mountain as there is a saying that if Taishan Mountain is stable, so is the entire China. So 13 Chinese emperors once offered sacrifices to Heaven and Earth on their own while 24 emperors sent officials to Taishan to sacrifice 72 times. Until now, more than 20 ancient buildings have been well preserved in Taishan Mountain which is also a sacred land for both Buddhism and Taoism. Of course, Tai' an has other beautiful scenic spots such as Peach Blossom Ravine, Feicheng Peach Orchards World Scenic Area and Culaishan National Forest Park.



Pictures
Tai'an is a noted tourist city. Although Taishan Mountain is the most celebrated of its attractions, other scenic spots, such as the Peach Blossom Ravine and Dai Temple, are also well worth a visit.

Feicheng Peach Orchards World Scenic Area
Feicheng City is the Holy Land of peach flowers and is known as the 'Hometown of Chinese Buddha Peach'. The peach orchards cover an area of 66,700 hectares (about 16.5 thousand acres), which is the largest peach garden in the world according to the Guinness Books of Records. The peach orchards of Feicheng City are mainly in Yiyang Town and Taoyuan Town. In spring, the peach trees are in full bloom to compete in beauty and fascination. The peach flowers may be dazzlingly rosy or they may be white, pink, tipped faintly or in darker colors, presenting a colorful view of great charm. In autumn, the peach orchard is full of rich fruits and the smell of ripe peaches.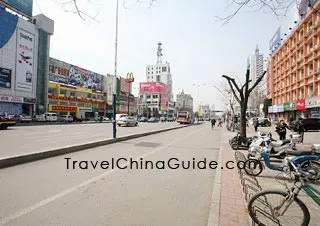 Tai'an City
Liutai Peach Orchard is one excellent example of the Feicheng's Peach Orchards. Liutai Village is surrounded by mountains on three sides, so it looks like a natural basin. By early April, the peach blossoms are in full splendor, spreading all over the mountains and plains. Among this vast sea of colorful flowers, people feel as if they are in a different world. According to historical data, Zeng Guofan (an important official in the late Qing Dynasty), had once went to the Panlong Temple located west of Liutai Village to visit the Huizhen Chan master. He was very satisfied with peaches that the master offered him, then he gave peaches as tribute to Emperor Xianfeng (the ninth emperor of the Qing Dynasty) and the emperor named them 'Buddha Peach'. Every early April, a Peach Flower Festival is held here, which attracts many tourists at home and abroad.
| | |
| --- | --- |
| Admission Fee: | CNY 30 |
| Transportation: | Take bus from Tai'an Bus Station to Feicheng, and then take taxi to Liutai Village. |
Culaishan National Forest Park
Culaishan National Forest Park is situated southeast of Taishan Mountain, about 20 kilometers (12.4 miles) southeast of Tai'an city proper. With an area of 250 square kilometers (61,776 acres), the park is a good scenic area for sightseeing and spending vacations. Similar to Taishan Mountain, Culai Mountain is rich in cultural relics and natural scenery, so they are called 'Sister Mountains'.
Culai Mountain is as beautiful as a painting. Its highest peak, Taiping Peak rises over 1,027 meters (3,369 feet) above sea level. The ridges and peaks rise up and down in the park; deep and quiet ravines are scattered over the mountain; streams wind around; rocks differ from each other in shapes and sizes. The mountain is covered by a sea of ancient pines, cypresses, gingkoes and wisteria, some of which are thousands of years old. There are a variety of plants, herbs, birds and animals.
There are numerous historical sites on the mountain. In ancient times Culai Mountain was the Holy Land of Taoism and Buddhism; therefore many temples were built here. Now three temples, about 50 stone tablets and more than 100 cliff-side inscriptions are preserved. The mountain was also one of the base for the War of Resistance against Japan in Shandong Province.
| | |
| --- | --- |
| Admission Fee: | CNY 50 |
| Transportation: | The position of Culaishan National Forest Park is superior with convenient expressway transportation, but there is no public bus available. You can either rent a car or take a taxi to the scenic spot. By the way, if you live near the Tai'an High-tech Zone, it takes about 10 minutes only to the park by taxi along the Culaishan Tour Express Way. |
Recommended Tour:
Jinan - Qufu - Mt. Tai: 4 days Shandong tour from Jinan to the hometown of Confucius and Taishan Mountain
The scenic areas in this city are well-served by the city's transport network. Located in the center of Shandong Province, Tai'an has convenient transportation system. Taking a long-distance bus or train are easy ways to travel to the city. For downtown traffic in the city, public buses and taxis are nice choices.

See more about Tai'an Railway Station, Taishan Railway Station
Tai'an weather is subject to a temperate monsoon climate and has four distinct seasons: spring tends to be windy and dry; summer is hot and rainy; fall is very cool; and winter is cold, though snowfall is limited.

History: The area has a long history, with Taishan Mountain highly-regarded in ancient times. The mountain was considered to be the first of the countries five sacred mountains, and was a place where emperors prayed for the fortunes of the nation. Taishan Mountain was also a focal point for religion in the area, providing a base for the likes of Buddhism and Taoism.



Foods: With regard to local specialty foods, the people of Shandong are known throughout China as eaters of scallion wrapped in pancake. It is said that this type of food reflects the uncomplicated and honest nature of the local people. Of course, for those that do not eat scallion, there are numerous other types of filling available.



Further Reading:


Dining

Shopping & Nightlife
- Last updated on Jul. 04, 2022 -
Questions & Answers on Tai\an Travel
Asked by Travelnomad from USA | Sep. 26, 2019 21:38

Reply
What information can you provide about Feicheng city ?
My partner and I may have an opportunity to move here from USA for work and there's really no information on this town online. Any insight would be greatly appreciated.
Answers (1)
Answered by Eli from MALAYSIA | Sep. 29, 2019 00:57

0

0

Reply
It is hailed as China's peach capital and has many natural and historical attractions. This city has been around for more than 2,200 years history.
Asked by TY from SINGAPORE | Sep. 25, 2019 05:47

Reply
Hello! My family is trying to look for accommodation with shower facilities on top of Mount Tai.
We will be going from 24 Dec to 25 Dec. Is there any hotels that we can contact to book rooms? Thank you!
Answers (4)
Answered by Irma from UNITED KINGDOM | Sep. 27, 2019 00:43

0

0

Reply
I found one named Diantai Hotel (电台宾馆), which is located near Yuhuangding. But I didn't find the contact number. You can book a room when you arriving there.
Answered by TY from SINGAPORE | Sep. 28, 2019 18:47

0

0

Reply
Will it be full in December? We really hope to stay overnight to see the sunrise next morning. Also, do you know if it will be crowded on Taishan in December? Thank you!
Answered by Liam from USA | Sep. 29, 2019 20:22

0

0

Reply
December is the tourist off season. So I think the hotel can be booked easily.
Answered by Rainer Staltner from UKRAINE | Oct. 16, 2019 12:42

0

0

Reply
Hi. I just had been there (on the mountain) during an official visit. There is a hotel on top with about 50 rooms. Different prices up to 1.800 EUR per night. Booking recommended not later than on week before arrival, but depends on season. December definitely is off, but there may be snow and ice. I might assist you in booking.
Asked by WANUNO | May. 10, 2017 07:54

Reply
I will be going to Mount Tai in July 2017.
Can I leave my luggage in the station overnight and just bring up the mountain the bare necessities? Thanks
Answers (2)
Answered by Sally from UK | May. 12, 2017 02:35

1

0

Reply
Yes, you can deposit your luggage at the railway station. Notably, you are advised take the valuables with yourself.
Answered by WANUNO | May. 13, 2017 23:41

0

0

Reply
Thank you very. You have been most helpful.
Asked by Mr.FPRAMANA from AU | Apr. 22, 2017 09:17

Reply
Tai Shan hotel & Tai an to Qufu & to Shanghai
Hello,
My wife & I will be flying from Guilin to Tai an to climb Tai Shan then to Qufu to visit the Confucius Birth Town, thereafter from Qufu to Shanghai. Our questions are :

1a. Do you recommend to stay overnight at the top of the mountain?
1b.Are there any good hotels at the top of the mountain?
2. Is there any cable car from the entry of the mountain to the top?
3. Is it recommended to walk to the top or take the cable car and walk down to the bottom?
4. Please specify precisely what & where we have to do to enter the Taishan.
5. Thereafter from Tai an we want to go to Qufu. Is there any train from Tai an to Qufu?
6. Is there any train from Qufu to Shanghai or should we fly from Qufu to Shanghai?

Thank you.
Answers (1)
Answered by Dick from ITALY | May. 02, 2017 00:03

1

0

Reply
1a. Well, you are advised to stay overnight at the top, because it could be very convenient for you to admire the sunrise in the early morning.
1b. Both Nantianmen Hotel and Shenqi Hotel would be the good choice. The standard room with the washroom and air condition in Nnatianmen Hotel will cost around CNY400/night. The standard room of Shenqi Hotel will be CNY800-900.
2. I'm afraid there is no cable car starting from the entrance of the scenic area. The Zhongtianmen Cable Car will be the nearest one from the entrance.
3. It depends on your physical strength. You can walk to the cable car first, and then take it to the top. When you go down, you can choose the way according to your time and strength.
4. You are advised to climb the mountain through the Hongmen.
5. There are lots of trains one day operating between two places. The duration is around 20 minutes.
6. You are suggested to take the high speed train at the East Qufu Railway Station. The duration is around 3.5 hours.
Asked by Torsten from LUXEMBURG | Nov. 05, 2016 10:08

Reply
Tai'an luggage storage
Hi,
I want to go to there next may. I was thinking of leaving most of my luggage somewhere and then go up the mountain, sleep there one night, see sunrise, walk down and then get back my luggage. Maybe sleep another night in the city before moving on. Does anyone know of a place where I could store my luggage for one night? Maybe also deposit my luggage for one night in the Hotel/hostel where I would sleep on day 2? Do you think this would be possible?

Thanks,
Torsten
Answers (1)
Answered by Josey from CANADA | Nov. 06, 2016 01:03

0

0

Reply
Well, if you would like to store the luggage in downtown for overnight, the local railway station and long-distance bus station can be the best choice. Their charge can be reasonable. And it is a good idea to deposit your luggage in your hotel as well.

May help!