Zibo Travel Guide
Zibo Facts: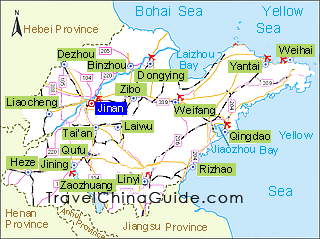 Chinese Name: 淄博市 (zī bó shì)

Population: 4,180,000 (Urban area 2,770,000)

Area: 5,938 Square kilometers (2,293 square miles)

Nationalities: Han

Administrative Division: 5 Districts (Zhangdian, Zichuan, Boshan, Linzi, Zhoucun); 3 counties (Huantai, Gaoqin, Yiyuan)

Seat of the City Government: 8, Renmin Xi Lu, Zhangdian District

Useful Telephone Numbers:
Tourist Complaints: 0533-2187222
Tourist Inquiries: 0533-2169369
Weather Forecast: 121
Zip Code Inquiry: 184

Bank of China: 49, Liuquan Lu, Zhangdian District

China Post: 93, Xingxue Jie, Zhangdian District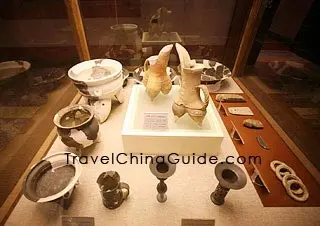 Cultural relics of Qi State

Location:
This city is in the center of
Shandong Province
, neighboring
Mt. Taishan
in the south and backing the Yellow River in the north. It is also bordered by hot coastal tourist cities,
Qingdao
, Yantai, and Weihai in the east, and the capital city of the province,
Jinan
in the west.

History:
Zibo was the capital city of Qi Kingdom, one of the five powers in the Spring and Autumn Period (770BC-476BC). The city was the birthplace of Cuju, a game regarded as the origin of ancient football (the FIFA recognizes the city as football's place of origin). The city was given the name Zibo in the early 1920s, for the exploitation of coal mines in Zichuan and Boshan. The city is now a vital communication hub of Shandong.

Physical Features:
Located in the transition zone between mountainous area in central Shangdong and the North China Plain, its southern area is covered with mid-sized mountains, while the center is hilly. The city's northern territory descends into plains.

Climate:
The city is located in a warm, temperate zone, and bears a semi-humid and semi-dry continental climate. January and July are respectively the coldest and hottest month during a year. Like other major cities in North China, it has four distinct seasons with an annual average temperature of 12-13℃ (53.6-55.4℉).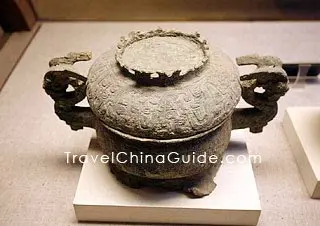 The History Museum of Qi Kingdom

When to Go:
Spring, summer, and autumn are the best months to visit the city.

Special Local Products:
Handicrafts: Paintings, silk, ceramics, Zi Inkstone
Foods: Apple, Jinsi (Golden threads) duck eggs

Attractions:

Yuanshan National Forest Park: Located in the southwest of Boshan District, Yuanshan National Forest Park is made up of Phoenix Mountain, Yuwang Mountain, Wanglu Mountain, Xuejiading and Jiagutai Scenic Resorts. The undulating mountains present fabulous views which makes visitors feel totally refreshed.
Of the five scenic resorts, Phoenix Mountain is the most famous due to its beautiful scenery and rich human landscapes. The shape of the mountain is like a phoenix, hence the name. It is a natural botanical garden with over 600 kinds of herbaceous plants and 120 kinds of woody plants growing abundantly in it. It presents different aspects in each of the four seasons. A variety of flowers clothe the mountain in a mass of color. The sea of stones formed by the Karst landscape is a wonder in northern China. Moreover, the mountain has many famous historic relics such as the Qi Great Wall, Yuhuang (Jade Emperor) Palace in Song Dynasty (960-1279), and Luzu Temple in Qing Dynasty (1644-1911) hidden in the thick forest. It is said that the source of the legend Meng Jiangnu's Bitter Weeping is from this mountain. The remains of blockhouses built during the anti-Japanese War takes people's minds back to the war years.
There are almost 100 pieces of equipment for activity and amusement, satisfying tourists' desire to have fun. You can admire the residences of minority groups and enjoy their singing and dancing performance in the folk-custom garden. Along with the provision of recreational facilities and activities, Yuanshan National Forest Park is becoming an eco-tourism center in Shandong Province, bringing you back to nature.

Yiyuan Karst Cave: Located in the south of Lushan Mountain about seven miles northwest to Yiyuan County, Yiyuan Karst Cave is the largest in scale in northern China. There are more than 40 karst caves overlapping each other to form a fairy-tale world. But ages ago it was the world of ape-men, where they lived and multiplied, with evidence of fossils of their skulls and teeth and stoneware as proof.
Jiutian Cave is in the center of the Yiyuan Karst Cave. Its name literally means Nine Caves, as it has nine branch caves linking with each other, extending the Jiutian Cave to over 547 yards in length, averaging 11 yards wide and 26 feet high. In this fantastic world, every fine prospect you see is made of stone and created by nature. On seeing the lifelike stalagmites, stalactites, curtains and columns, you cannot help but admire the exquisite craftsmanship and boundless imagination of nature.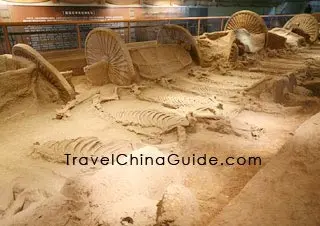 Chinese Ancient Chariots Museum
Qianren Cave, 'Thousand People Cave' in English, gets its name because of its great size. 23 lifelike Buddhist statues sit there, and three bas-relief groups also tell stories from Buddhism. Shilong Cave, literally translated as 'Stone Dragon Cave', is so named due to the several dragon-shaped stones inside the cave.
Remember to visit Yiyuan Karst Cave when you are on your tour of Shandong. A colorful world of stone awaits you.



Museums: Linzi Museum of Ancient Chariots, Museum of the History of the State of Qi, the City Museum, Zibo Museum of Ceramics.
Scenic Spots: Qiaoqianling Scenic Area, Yiyuan Karst Caves, Lushan Forest Park

Zibo Travel Tips:
1. It is a 90 minutes' drive from
Jinan Yaoqiang International Airport
to the city center. The airport bus is available in front of the Zibo Rose Hotel near the railway station. There are eight buses daily, which make airport runs between 05:20 to 17:00. Jinan Yaoqiang Airport has also recently begun construction of the Luzhong Passenger Terminal in the city which is located on the first floor of the Guomao Mansion in northern Liuquan Lu (Zhangdian District). This terminal is expected to be operational in the near future.
2. The city's long-distance bus station is located at 22, Xingyuan Xi Lu, Zhangdian District. Buses to Tai'an, (where Mt. Tai is located) depart every 30 minutes.
3. Trains provide the most convenient and inexpensive mode of transportation to Mt. Tai. About 15 trains run to and from the mountain, making stops in Zibo. The journey to Mt. Tai takes about two hours, with tickets running between CNY14 and CNY87.
Weather
-