Weifang Travel Guide
Weifang Facts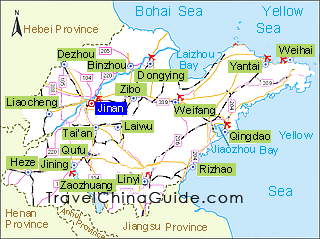 Chinese Name: 潍坊市 (weí fāng shì)
Location: Lying in the central part of the Shandong Peninsular, Weifang is halfway between Jinan and Qingdao. To its north is the Laizhou Bay of Bohai Sea.

Population: 8,477,100
Area: 15,859 square kilometers (6,123 square miles)
Nationalities: Han
Administrative Division: 4 districts (Weicheng, Hanting, Fangzi, Kuiwen); 2 counties (Linqu, Changle); 6 county-level cities (Anqiu, Changyi, Gaomi, Qingzhou, Zhucheng, Shouguang)
Useful Telephone Numbers:
Tourist Complaints: 0536-8220405
Weather Forecast: 121
Zip Code Inquiry: 184
Bank of China: 0536-8216666
Weifang Attractions - Things to Do

Mount Yi: It has an old name, the East Mt. Tai. This grand mountain is in the south part of the Linqu County at an altitude of 1,032 meters. Encompassing its highest peak are twenty-nine astonishing peaks. Apart from the breath-taking natural sights, the Dongzhen stone stele groups and the dumping waterfall hundreds of meters high are the most attractive spots in the mountain.



Old Dragon Lake: It is a fascinating scenic spots boasting springs, pools, bridges and many other historic buildings. The numerous springs in this region bring the attraction wide fame.



Yunmen Mountain: Favored by Taoists and Buddhists, the mountain boasts many religious buildings. Visitors can also admire the cliffside inscriptions and grottoes in the mountain.



Weifang World Museum: The city is praised to be the 'kite capital of the world'. The museum has collected more than one thousand delicate kites from around the world, plus hundreds of pieces of materials for visitors to learn kite skills.
How to Get to Weifang
1. The local Airport is 7 kilometers (4.3 miles) from the downtown area, operating flights to Beijing, Shanghai and Guangzhou. The transport to the airport is very convenient. Visitors can take both taxis and city bus.
2. Buses from Weifang to Jinan and Qingdao will depart every 30 minutes taking 2 to 3 hours. Mt. Yi is 87 miles (140 kilometers) east of Tai'an. About three hours and a half is needed to reach it.
Weather
-
Located in the temperate semi-humid monsoon climatic region, the city is hot in summer and chilly in winter. The temperature of Weifang weather in spring ascends rapidly, and it may have a big drop in autumn. The annual average temperature is about 12.3

C (54

F). Generally speaking, all the four seasons are pleasant for visiting, especially in spring for the kite festival.
Weifang Travel Tips

History: Historic relics of more than 7,000 years ago were unearthed in this time-honored city. During the Xia and Shang dynasties (21st - 11th century BC), small kingdoms lay scattered all over the domain of Weifang. After the Qin (221BC-206BC) united China, the central government of the successive dynasties all set counties and shires to administrate this region.



Physical Features: The terrain of the city slopes downward from the south to the north with the land types changing from the southern mountain and hilly area, the central plain, to the northern coastal area. The city boasts a 113 kilometers (70 miles) long coastline.



Local Highlights: Weifang International Kite Festival (April)



Special Local Products: kites, woodcut New Year pictures