Weihai Travel Guide
Weihai Facts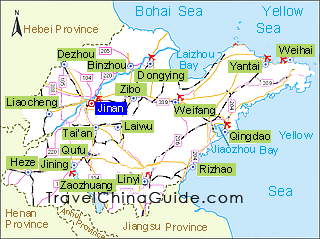 Chinese Name: 威海市 (wēi hǎi shì)
Location: Located in the east end of Shandong Province, Weihai is surrounded by the Yellow Sea in the north, east and south with a 986 kilometers (613 miles) coastline in total. It neighbors Yantai in the west and is separated from the Korean Peninsular and Japanese chain islands by the sea in the east.

Population: 2,490,900
Area: 5,698 square kilometers (2,200 square miles)
Nationalities: Han
Administrative Division: 1 district (Huancui); 3 county-level cities (Wendeng, Rongcheng, Rushan)

Useful Telephone Numbers:
Tourist Complaints and Inquiries: 0631-5315555, 5236006
Weather Forecast: 121
Zip Code Inquiry: 184
Bank of China: 0613-5326988



Pictures
Weihai Attractions - Things to Do
It is located in Weihai Bay, at the east end of Shandong Peninsula. It is very close to downtown, only 20 minutes distance by ship. The island is famous for the wonderful littoral scenery and the memorial places of Sino-Japanese War of 1894.
Chengshantou
It is located at the easternmost point of Chengshan Mountain and across the sea from Korea. Known as China's "Cape of Good Hope", it is the first spot in China where people first see the sun rise in the morning.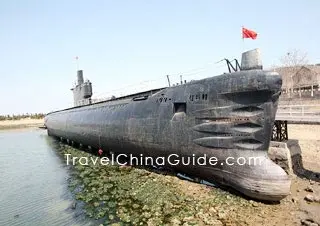 An abandoned warship on Liugong Island
Chengshantou covers an area of one square miles and its highest point measures 656 feet above sea level. Here, mountains stretch for miles. Precipitous cliffs rise steeply beside the boundless surging sea. This majestic and imposing sight has attracted many celebrities for sightseeing. During the early days of the Qin Dynasty (221 BC-206 BC), the Emperor Qin Shihuang once visited the cape in search of elixirs. Many historic relics were left, including a broken stele on which was carved six characters - "Tian Jin Tou Qin Dong Men" (The End of the Heaven – The East Gate of Qin).
Around Chengshantou, there are also some interesting sights worth visiting. Hailu Island is known as "Seagull Paradise". Each spring, thousands of seagulls inhabit the area and lay their eggs. Piebald Colored Rock is a huge rock formation set back 55 yards from coastline. The Wild Animal Zoo has various lovely animals that tourists enjoy seeing. The entrance fee is CNY 150 per adult.
Tip: There are dangerous riptides in this area so you shouldn't swim here.
Weihai International Bathing Beach
Ranking as one of the best bathing quality beaches in China, this perfect summer resort is surrounded by two mountains in the west and the east. It is one of the three most popular scenic areas of the city.

Other Scenic Spots: Fahua Temple at Chishan Mountain, Swan Lake
How to Get to Weihai
1. The Wendeng Airport is 30 kilometers (19 miles) from the downtown, in Dashuipo Town of Wendeng City. Flights to Beijing, Shanghai, Guangzhou and Harbin are available every day. In addition, flights to Seoul and Busan also operate.
2. There are two railway stations in the city with Weihai Railway Station specialized in non-bullet trains and North Railway Station operating only high speed trains. They connect the city with Beijing, Shanghai, Qingdao, Jinan, and Wendeng, etc.
See detailed Weihai Train Schedule and Stations
3. The local bus station is located at the juncture of Qingdao Road and Shanghai Road, and is bounded by the train station to the west. Generally, it is about 7 hours' drive to Jinan, 4 hours' drive to Qingdao, and visitors can reach Yantai within two hours.
4. Three ports in the city have passenger transport service. In the Port of Weihai, No.53, Binhai Bei Lu, there are ships to Dalian every Sunday and three ships a week to Incheon Korea. New Port of Shidao and Longyan Port are respectively situated in Shidao Town and Chengshan Town of Ronfcheng City, from which there are ships to Incheon and Pyongtaek of Korea.
Weather
-
Situated in the mid-latitude zone, the city enjoys a temperate continental monsoon climate, with four clear seasons and seasonal winds. Compared with other cities at the same latitude, Weihai weather has abundant rainfall. Influenced by the sea, it is cold in spring, cool in summer, moderate in autumn and warm in winter. Without winter chills and summer heat, the city is perfect for visiting all the year round, especially in summer.
Weihai Travel Tips

History: Since Wendeng County was established in 568, this area has remained a relatively stable administrative region. Wehai was named Weihaiwei during Ming Dynasty (1368-1644) due to the Weihai Port which was founded to repel raids by Japanese pirates.



Physical Features: It is located in an undulant hilly area featuring gentle slopes and broad valleys. Apart from the major hilly areas, it has broad area of littoral and mountain foot plains. The terrain of the city slopes gently, and most of the hills are less than 300 meters (984 feet) high. Its seashore area is winding with numerous interleaving headland bays, harbors and islets.



Special Local Products: pear jujube, flat peach, gingko, genseng