Yantai Travel Guide
Yantai Facts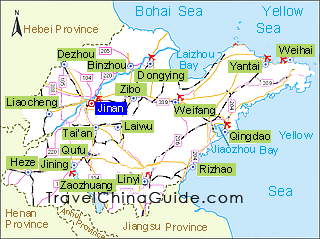 Chinese Name: 烟台市 (yān tái shì)
Location: The city is located in the northeast of the Shandong Province. It is bordered by both the Yellow Sea and the Bohai Sea, and lies across from South Korea and Japan.

Population: 7,014,100
Area: 13,745 square kilometers (5,306 square miles)
Nationalities: Han
City Flower: Crape myrtle
City Tree: Chinese scholartree
Administrative Division: 4 Districts (Zhifu, Fushan, Mouping and Laishan); 1 County (Changdao); 7 county-level cities (Penglai, Laiyang, Haiyang, Longkou, Laizhou, Zhaoyuan and Qixia)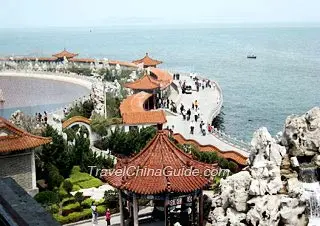 In 2004, China Central Television (CCTV) recognized Yantai as the most "Charming City of China." Although Yantai is not a metropolis like Beijing and Shanghai, it has its own unique charm. Adding to the draw of local natural resources, the picturesque scenery in and around the city has earned the area acclaim by the United Nations, which lists it as one of the most habitable places in the world. Undulating hills rise above the area's many rivers, and are framed by beaches and neighboring islands.



Changyu Wine Culture Museum


Penglai Pavilion Scenic Area

Today, with the city's rapid economic development, facilities here are improving, and transportation is becoming more and more convenient. Ships, trains, airplanes, buses and taxis have modernized daily life and attract tourists to Yantai.
Weather
-
Although located in North China, monsoons regulate the climate, keeping the area warm and humid. The average annual temperature of Yantai weather is 11.8

C (53.24

F).

History: Evidence suggests Yantai existed as a city as long as 10,000 years ago. It was visited three times by the first emperor of the Qin Dynasty, Qinshihuang (259BC-210BC). During the Ming Dynasty (1368-1644) a fire platform, called Langyantai Platform, was constructed on the northernmost city hill, as a means of defense against pirates. General Qi Jiguang of the Ming Dynasty fought against pirates using this platform, and developed Penglai Water City, a navy base which remains well-preserved to this day.



Special Local Products: Fruits and vegetables are plentiful, and the long coastline and over 60 islands make the area ideal for any seafood connoisseur - sea-cucumbers, abalones, scallops, crabs and prawns, are all easily available. The earth here is rich with resources as well - its gold reserve, in particular, has the highest output in China.



Foods: Local food here is well-known all around China. Local cooks take advantage of area's abundant sea food, vegetables and fruits, creatively crafting tasty dishes. Yantai is also the cradle of wine production in China, housing the largest wine production base in Asia. With its high quality and more than 100-years of history, Zhangyu Red Wine produced here is a widely known brand in China and abroad. In 1987, the International Grape and Wine Bureau dubbed the city the "International Grape and Wine City." Nowadays, the Changyu Wine Culture Museum in the city records the wine's history and culture.



Recommended Tours
Hiking Adventure Golf Vacation



Further Reading:


Dining

Shopping

Nightlife
- Last modified on Dec. 25, 2018 -
Questions & Answers on Yantai Travel
Asked by K from USA | Dec. 24, 2018 04:14

Reply
What to do during a 22 hour layover at Yantai Airport?
Hi there, I will be coming from the US and plan to explore the city. I will arrive at 4pm and will have until 2pm the next day for departing. What do you suggest for activities? I love sceneries and history most. Thank you.
Answers (1)
Answered by Kylie from DENMARK | Dec. 25, 2018 19:16

0

0

Reply
Changyu Wine Culture Museum and Penglai Pavilion Scenic Area are recommended. You can choose one of them. Have a nice trip!
Asked by Pauline from MALAYSIA | Sep. 25, 2018 17:28

Reply
What the weather in November and what to wear in Yantai?
Answers (1)
Answered by Carl from USA | Sep. 26, 2018 00:57

0

0

Reply
In general, the weather in November would be a little cold,; the temperature may range from 5C to 15C. Wear warm clothing if you go: a thin sweater or trench coat, thick jeans and sneakers, and thin down jacket for night.
Asked by Wayne from UNITED KINGDOM | Mar. 28, 2018 02:49

Reply
How to get to Penglai from Yantai?
I am staying in an area right beside Yantaishan. I would like to travel to Penglai for a day trip and visit Sanxiashan and the Pavillion. What would be the best public transportation to get there? Not using taxis. Thank you so much!
Answers (3)
Answered by Gloria from CANADA | Mar. 28, 2018 20:12

2

0

Reply
First, you need to take bus 43 to the General Bus Station.
Then, take a regular bus to Penglai.
After arrival, take Penglai Bus 4/7 to Beishichang and you will get there.
Answered by Wayne from UNITED KINGDOM | Mar. 29, 2018 05:40

0

0

Reply
Thank you Gloria
Answered by NNNN ZUO from YANTAI-CHINA | Apr. 16, 2018 01:48

0

0

Reply
Yantaishan is nearby the general bus station,just take cab,the price is about 10-12 RMB,at the bus station U can take the bus to penglai downtown which depart every 30 min,enjoy Ur trip :)
Asked by Nik from BULGARIA | Sep. 01, 2017 06:55

Reply
Hallo, I come to Kunyu Martial Arts Academy and I am arriving in Yantai on Sunday
I want to take public transport to the academy (they dont do shuttle on sunday). Wich is the best way to do it?
Thanks in advance.
Answers (1)
Answered by Terra from FINLAND | Sep. 03, 2017 21:25

0

0

Reply
I guess you will arrive at the Airport, You can take Shuttle Bus Line 1 and get off at the General Bus Station, then take a taxi to the North Square of Railway Station. After that, take bus You 1 (Tourist Line 1) and get off at Kunyu National Forest Park, after that, walk south for about 10 minutes, you will see it.
Asked by Ana from NEW ZEALAND | Jul. 30, 2017 18:15

Reply
I am curious what I could do during an 8hour stopover in Yantai airport.
Interested in basically anything that will help me pass the time. It's during the day.
Answers (1)
Answered by Abigail from USA | Jul. 31, 2017 22:12

0

0

Reply
Well, you can take a taxi to Penglai Pavilion, which may take you CNY70-80 and about 1 hour.