Jinan Transportation - Getting There
Air
Jinan Airport
(TNA) is about 18 miles (29 kilometers) from the downtown area. Starting to operate in 1992, it now is the largest civil airport in Shandong Province. The airport was built to serve the west and central areas of Shandong and currently operates air routes to domestic cities like Beijing, Shanghai, Guangzhou, Xian, Lanzhou, and Dalian, and to the international destinations like Hong Kong, Taipei, Osaka, Bangkok and Seoul.
Airport Transportation
: Two shuttle bus lines to Jinan Railway Station and Yuquan Simpson Hotel; Express Special Bus to the West Railway Station; coaches to nearby cities, such as Zibo, Jining, Tai'an and Laiwu.
Train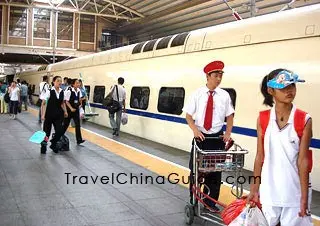 There are three railway stations in the city:

Jinan Railway Station
is the largest in Shandong Province. Railway lines Beijing-Shanghai and Qingdao-Jinan pass and stop here. It also connects this city with other large cities, such as Shanghai, Guangzhou, Lianyungang, Xian, Urumqi and Hangzhou, etc.
A ticket office is located on the west side on Floor 1 of the Railway Station. A word of warning: it is a common phenomenon that during the May Day and National Day Holidays, either air tickets or the train tickets are in short supply due to huge demand. To ensure your trip for the next destination or returning home, make a reservation as you enter the city.

West Railway Station
is one of the major stations of
Beijing-Shanghai High-Speed Trains
. Bullet trains to Beijing, Shanghai, Nanjing, Qufu, Qingdao,Hangzhou, Guanghou, Harbin and Dalian are available here.

East Railway Station is under completion and will be opened by the end of 2018. As planned, it will be the departure station of Shijiazhuang – Jinan High Speed Railway, Jinan – Bincheng Intercity Railway, Jinan – Laiwu High Speed Railway, Jinan – Taizhou Intercity Railway.


Major Rail Lines from the city to:

See detailed
Jinan Train Schedule
Long-Distance Bus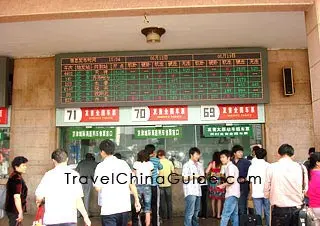 The express ways, Beijing-Shanghai, four national highways, Beijing-Fuzhou, Binzhou-Zhengzhou, Qingdao-Shijiazhuang and Rongcheng-Lanzhou, and Jinan to Qingdao, Liaocheng bus all pass by the city.
There are two major coach stations in the city.
One is the Coach Terminal, No.131, Jiluo Lu.
Coaches here mainly head for the cities of Shandong Province and the big neighboring cities. There are also special tourist lines to famous sights inside Shandong Province in operation.
The other is the East Coach Station, on Jiefang Lu.
Coaches connect cities of other provinces like Taiyuan of Shanxi Province, Shijiazhuang of Hebei Province and Puyang City of Henan Province. These coaches operate in the morning.
Coaches to cities inside Shandong such as Heze, Linyi, Qufu and Tai'an operate in the afternoon.