Jinan Dining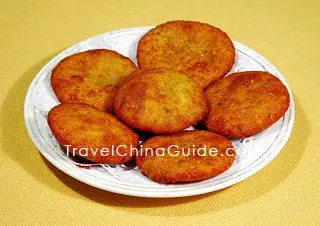 Shandong Snack
Jinan cuisine is famous for its scrumptious, aromatic, fresh and pure dishes. The methods of cooking employed in the preparation of these local foods include deep-frying, grilling, frying and stir-frying but the food is non-greasy. Nutritious soup is an important feature of Jinan cuisine while shallot and garlic are widely used to create delicious flavors. Tang Cu Li Yu (Sweet and Sour Carp), Jiu Zhuan Da Chang (Fried Pork Chitterlings) and Jinan Roast Duck are very popular local delicacies.
Famous restaurants where you can sample Jinan cuisine


Huiquan
Location: No.201, Baotu Quan Bei Lu
Specialty: Tang Cu Li Yu (Sweet and Sour Carp)

Ju Feng De
Location: Jingwu Lu
Specialties: Xie Huang Yu Chi (Fin and Crab Cream Soup), Jiu Zhuan Da Chang (Fried Pork Chitterlings)

Daming Hu
Location: south to the southeast gate of Daming Lake
Specialty: Song Shu Yu (Squirrel Fish, here 'squirrel' refers to the cooking method!)

Weishan Hu :
Location: No.18, Jida Lu
Specialty: Black fish, which can be prepared in three different ways.

Snacks

Quancheng Steamed Stuffed Bun
Location: No.2, Nanmen Dajie (Nanmen Street)
This is the famous stuffed bun loved by many people. Visitors are recommended to try it.

You Xuan, This is another local snack and is a kind of fried cake. The finished You Xuan is golden and crisp on the outside with a soft inside; it is particularly delicious when eaten with wonton.

Fried Dumpling is a variety of fried and baked stuffing snack. The stuffing often is comprised of pork and vegetables.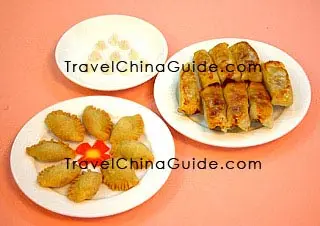 Fried Dumplings

Spring Roll
Jinan people continue the custom of making Spring Rolls in the spring. Restaurants also sell spring rolls and the popular version has a variety of wild vegetable as it main filling.

Wuren Bao (Five-Stuffing Steamed Bun)
As its name implies this steamed bun has a variety of fillings. They are peanut meat, sesame meat, walnut meat, almond and melon seed meat. The other ingredients are jujube meat cube and sugar, which make the bun more flavorsome.

Delicacies Street
Jinan Snacks Street is a street that runs from the Jing Shiyi Lu in the east to the Yingxiong Shan Lu in the west. This street is a place where snacks from all over the China can be found. The great advantage here is the fact that you can try a wide variety of snacks in just one place.
Quancheng Lu, a street of western and Chinese food
Quancheng Lu is a street with a long history, so you can be sure to find traditional Chinese restaurants here. Moreover you will have the opportunity to find delicacies from all over the world if you prefer any of the numerous western fast food chains, such as the Pizza Hut, KFC, and California Beef Noodle King. This is why the Quancheng Lu is called Jiinan's 'Golden Food Street'.
There are three other food streets near Quancheng Lu, Wei Xiang, Furong Jie and Shengfu Qian Jie. There are over thirty wonton species served in Xiao Canglang Wonton Restaurant at the north end of Wei Xiang. The bean jelly is a specialty served in Jinhua Cun.
Foshan Jie mainly focuses on spicy food. The flourishing of each food street has a close relationship to its surroundings. Foshan Jie is not only neighbor to up-market places like the Silver Plaza (Yinzuo) Shopping Mall, but also hotels like the Sofitel Hotel and Yuquan Simpson Hotel. The restaurants here cater for all appetites. Sichuan cuisine restaurants such as the Qiao Chuan Guo, A Xiang Po and Tian Wai Tian are located here while western restaurants and those serving Korean food are also popular in Foshan Jie.

Vegetarian Restaurant
Su Wei Ping Sheng
Location: Complex Building, No.10, Kai Yuan Xi Qu San Lu, Lixia District
You can reach there by bus No.64, 79, K51 and K68.
Specialties: the restaurant promises: free fruits before dinner; purified water used in cooking; no monosodium glutamate is added to food and no smoke, no meat, no eggs and no garlic, no leek, no scallion, no shallot.
- Last updated on Jul. 04, 2022 -
Questions & Answers on Jinan Dining
Asked by Sulaiman from MALAYSIA | Oct. 08, 2017 10:42

Reply
Muslim restaurant in Jinan
i am planning to visit on 09/11/2017. is there any muslim restaurants in the city?. Thank you.
Answers (2)
Answered by Alina from CHINA | Oct. 09, 2017 01:04

1

0

Reply
Many halal restaurants can be found in town. I have no idea of your location so that there are several for your reference:
1. Yunting Muslim Restaurant: no. 228, Poyuan Street
2. Jianbin Muslim Restaurant: no. 6, Jiqi Road
3. Jinxiyuan Restaurant: no, 917, West Wuyingshan Road

May help!

Answered by Sulaiman from MALAYSIA | Oct. 09, 2017 06:46

0

0

Reply
thank you Alina for your information.
Asked by Chaitanya from INDIA | Jul. 26, 2016 04:46

Reply
Can we get vegetarian Indian food in Jinan and Jining?
Answers (3)
Answered by Emily from UNITED KINGDOM | Jul. 27, 2016 02:46

0

0

Reply
In JN, you may go to Indian Taste Restaurant at No. 47, Heping Road, Lixia District. Take bus line 2, 49, 80, 102, 151, 317, or k151 to Heping Road East Shanshi Road Station. Walk east for about 200 yards, and turn left. Walk north for about 200 yards to it.

As I know, there is no Indian restaurant in Jining. You may go to Suge Vegetarian Restaurant at No. 18, Yunhe Road. Take bus line 201 to Xiu Shui Cheng Station, and you can see it.
Answered by Mahesh from INDIA | Aug. 13, 2016 07:15

0

0

Reply
There is an Indian restaurant in Jinan , called "tandoor" , its run by a nice indian fellow , with some american staff. But the food is overpriced

we had Samoosas there , they were too small and burnt to be considered samosas, some Allu gobi , which was just steamed cauliflower and potatoes put together in a the same plate, the naan wasn't really naan either. though the environment was good and the staff was nice and polite
Answered by Daya from INDIA | Sep. 29, 2019 20:23

0

0

Reply
Bollywood Taco Indian Restaurant at wenhua East Street in Jinan serving Indian Mexican cuisine and vegetarian options food.
Asked by Gaurav from GUPTA | Jul. 02, 2013 04:00

Reply
i am planning to visit Jinan on 05-July-2013. is there any Indian Veg restaurants in that city.
Name of Indian Restaurants and contact Details and Telephone Number
Answers (3)
Answered by Harry | Jul. 02, 2013 22:52

0

0

Reply
I only know a small but Authentic Indian restaurant called Iasmine Restaurant (Moli Canting in Chinese Pinyin) in Muslim Community in Lixia District.
The owner of that restaurant came from Pakistan.
Answered by Uruk from USA | Jul. 25, 2013 03:39

0

0

Reply
We looked for Jasmine restaurant yesterday. We went to the Muslim BBQ area and asked around. Everyone said the restaurant was closed now, out of business.
Does anyone have any additional knowledge if Jasmine relocated to another address? We are really craving some Indian or Pakistani food and we are stuck in JN this whole week.
Or if there is any other Indian / Pakistani restaurant here?
Answered by Durga prasad from INDIA | Sep. 21, 2013 19:28

0

0

Reply
Yes, Indian food available in that city, china. Two Indian cooks are working in a medium size hotel, they will prepare some Indian food as per our requirement. This hotel is nearer to shandong university.
Asked by Subhash from INDIA | Sep. 02, 2012 21:57

Reply
Is Indian food (Reatautant)available in Jinan
Answers (1)
Answered by Falicia | Sep. 02, 2012 22:57

0

1

Reply
I know two such restautants in the city and may the information can help you.
Indian Flying Pastry Cake Restaurant is located at Huchi Street, Shizhong District.
The other is HAVELI Indian Restaurant. It is located at No. 2, Aiguo Road, Huaqiao New Village, Huanshi East Road.