Henan Travel Guide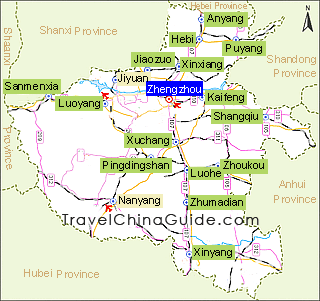 Henan Facts
Chinese Name: 河南 (hé nán)
Abbreviation: Yu
Population: 109,060,000
Area: 167,000 square kilometers (64,479 square miles)
Location: in the east-central of China
Administrative Division: 18 cities (Zhengzhou, Kaifeng, Luoyang, Pindingshan, Anyang, Hebi, Xinxiang, Jiaozuo, Puyang, Xuchang, Luohe, Sanmenxia, Nanyang, Shangqiu, Xinyang, Zhoukou, Zhumadian, Jiyuan); 21 county-level cities; 83 counties; 53 directs
GDP (2019): CNY 5,425.92 billion (USD 786.48 billion)

Cradle of Chinese Civilization & China's Most Populous Province
Henan is located in the east-central of China and borders with Anhui and Shandong to the east, Shanxi and Hebei to the north, Shaanxi to the west and Hubei to the south. At present, Henan is China's most populous province with more than 100 million inhabitants. The name of the province Henan comes from its geographic location. Henan means 'the south of the river', indicating that the province lies in the south of China's Yellow River. Given the superior location, Henan is an important comprehensive transportation hub. It is also the cradle of Chinese Civilization since it had been the political, economic and cultural center of the country for more than 3,000 years. More than 20 dynasties set their capitals here and the four great inventions of ancient China all originated from Henan. A visit to Henan is like a talk with many historical sites. While traveling to Henan, you cannot miss the Zhengzhou's Shaolin Temple, Luoyang's Longmen Grottoes, Sanmenxia's Hangu Pass, and Kaifeng City Wall.


Cities in Henan
When to Go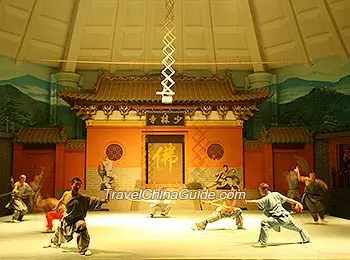 Martial Art Performance, Shaolin Temple
Henan has a humid warm-temperate climate. Dry and windy in winter and spring, the province is hot and rainy in summer and bakes in strong sunlight during the autumn months. Rainfall averages about 600-1,000 millimeters increasing from north to south, as does the annual temperature which increases from about 12.8

C in the north to 15.5

C in the south.
History
Henan province is considered the cradle of Chinese civilization due to its location on the Yellow River. This rich historic heritage has endowed it with numerous historic treasures, from primitive dwellings to earliest wheel thrown pottery. The remains of some of the earliest human settlements have been unearthed here, including the over 7,000-year-old Peiligang Culture Site, the 6000-year-old Yangshao Culture Remains and the 5000-year-old Dahe Culture Remains. All these cultural remains have profound significance in the history of Chinese civilization.
Luoyang City has been the capital of nine dynasties since the time of the Eastern Zhou Dynasty (770BC-221BC). There are many historical sites to be viewed in Luoyang as well as the opportunity to purchase replicas of the famed Tang three-glaze horses. Luoyang's Longmen Grottoes, famous for its grand treasure trove of Chinese Buddhist statues, are located 12km (7 miles) south of Luoyang. First sculpted and chiseled around 493 AD when the capital of the Northern Wei Dynasty (386-534) was moved from Datong City to Luoyang, the grottoes of Luoyang house an awe-inspiring collection of sculpted Buddha and other religious subjects.
| | |
| --- | --- |
| Longmen Grottoes, Luoyang | Painted Figure Maids, Luoyang Museum |
Kaifeng, one of the ancient capitals, also boasts the following buildings worthy of a visit: Iron Pagoda (Tie Ta) of the Northern Song Dynasty (960-1127), Dragon Pavilion (Long Ting) - site of imperial palace of the Song and Jin dynasties - and the 1400-year-old Xiangguo Temple which is one of the most famous Buddhist temples in China. Also on view in Kaifeng are ruins of the Shang Dynasty, an important part of human cultural and historic heritage. The Shang Dynasty Ruins, also known as the 'Yin Ruins', are famous because of the unique style of the large palace and its grand mausoleums, in which emperors of the Shang Dynasty are buried. The bronze vessels of the Shang Dynasty, which were both finely decorated and popularly used by the citizens of the Shang Dynasty, are well-known at home and abroad.

See also:
Henan Food
| | |
| --- | --- |
| Yuntai Mountain Scenery | White Horse Temple, Luoyang |

Recommended Henan Tour:
Spotlights of Luoyang: 3 days tour to White Horse Temple, Shaolin Temple, Longmen Caves...with cheap price
More China Tour Packages
- Last updated on Jun. 25, 2023 -
Questions & Answers on Henan Travel
Asked by Udaysinh Patil from INDIA | Jan. 07, 2020 01:33

Reply
How is the weather in Henan during January Maonth. Which clothes are recommended. Uday Patil
Answers (1)
Answered by Brenda from UNITED KINGDOM | Jan. 07, 2020 19:09

0

0

Reply
The average temperature will be around -5C-5C in January. You need to wear down jacket, thick sweater, etc.
Asked by Chastin Rotea from PHILIPPINES | Aug. 21, 2018 14:11

Reply
Whats the weather in Henan (september-october) what clothing should i wear? Is there a shopping mall
Answers (1)
Answered by John from SWITZERLAND | Aug. 21, 2018 20:19

0

0

Reply
Well, Henan is so large that I can't give you the exact weather information. I'd like to give you that if its capital city, Zhengzhou.
During Sep., the temperature may range from 20 to 30C and in Oct., it may down to 10-20C. There are more sunny days in Sep. but more rainy days in Oct. As for clothes, you are suggested to take the T-shirts, shirts, jeans, and thin coats.

Many large shopping malls can be found in Zhengzhou like Capital City in 1188 Zhongzhou Avenue, Jinshui Dis., Manhattan Square in the junction of Weilai Rd and Jinshui Rd, Jinshui Dis. and Qiansheng Square in 33 East Nongye Rd, Jinshui Dis.
Asked by Elen from GREECE | Jul. 22, 2018 07:58

Reply
Bus Luoyang-Dengfeng and vice versa
Hello! From which station do I get the bus from Luoyang to Dengfeng and vice versa (not Shaolin Si) and can I find the schedule online? Do I need to get a ticket in advance? Thanks!
Answers (1)
Answered by Isak from NORWAY | Jul. 23, 2018 00:32

0

0

Reply
You can take a bus in LY Bus Station and the departure time is 13:10, 14:30, 16:30. The schedule on line is only in Chinese and you don't need to get a ticket in advance. From DF, the bus departs in DF Bus Station 06:30, 07:20, 09:00, 09:50, 10:40, 16:50, and 17:40.
Asked by Yong Arifah from MALAYSIA | Jul. 19, 2018 06:10

Reply
How is the weather now at Henan ? What type of clothes should I wear for this month (July-August) ?
Answers (1)
Answered by Banner from POLAND | Jul. 19, 2018 21:02

0

0

Reply
It's hot. The temperature is about 28C to 38C. You can wear short sleeves and shorts.