Jiaozuo Travel Guide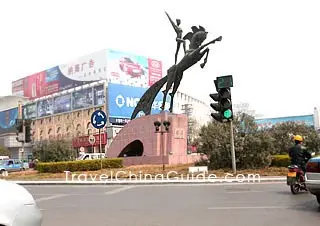 City Street
Jiaozuo Facts
Chinese Name: 焦作市 (jiāo zuò shì)
Population: 3,775,000
Area: 4,071 square kilometers (1,572 square miles)
Location: in the northwest of Henan Province, east-central China
Administrative Division: 4 districts (Jiefang, Zhongzhan, Macun, Shanyang); 4 counties (Xiuwu, Bo'ai, Wuzhi, Wenxian); 2 county-level cities (Qinyang, Mengzhou)
Area Code: 0391
Zip Code: 454002
GDP (2018): CNY 237.15 billion (USD 35.84 billion)
Jiaozuo is situated in the northwest of Henan Province, adjacent to the Yellow River and located at the convergence of Henan and Shanxi, which was the material distribution center of northwestern Henan since ancient times. In the south, it is separated from Zhengzhou and Luoyang by the Yellow River. Jiaozuo is the birthplace of Tai Chi, which is a kind of traditional Chinese martial art, featuring slow movements and deep breaths. It can be practiced not only for sports but also for physical fitness. After more than 300 years of development, it has been widely spread in more than 150 countries and regions around the world, with over 300 million trainees. Tourists can go to Chenjiagou in Wenxian County to learn about the history of Tai Chi and practice Tai Chi. What's more, there are many spectacular mountains in Jiaozuo to see such as Yuntai Mountain and Shennong Mountain which belong to the Taihang Mountains.
Jiaozuo Attractions - Things to Do
It lies in the Xiuwu County and it features marvelous water landscape. The Yuntai Waterfall has a fall of 314 meters (1,030 feet) which is the greatest in China. July to September is the best time to visit the waterfall as it may be without water at other time. The Hongshi (Red Stone) Gorge is famous for its spectacular Danxia landscape and was praised to be the 'number one sight' of the province.
| | |
| --- | --- |
| Yuntai Mountain | delightful scenery |
Jiaozuo Film and Television City
Located in the northern suburb of the city, Henan Province, Jiaozuo Film and Television City is the largest in architectural scale among the many movie cities in China. It is constructed along the mountain. Composed of the square near the city gate, the Palace of Zhou Dynasty (770BC–221BC) area, the Palace of Chu State area and Shijing (the ancient market place), its majestic, elegant and classic appearance attracts many visitors from home and abroad each year.
The main gate of the Film and Television City is uniquely shaped into an ancient coin. Walk into the square near the city gate, and you will see a huge embossed work which depicts an ancient copper cooking vessel, with the King of Zhou Dynasty who moved the capital eastward, and the Emperor Qin Shi Huang who unified the states.
The Palace of Zhou Dynasty area covers 2.8 hectares, which mainly include the Palace of Zhou, the film studio, and Lingtai where emperors used to worship Heaven and held important meetings. The delicate and beautiful Palace of Chu fully reflects the rich
cultural background of that period. The ancient battle field reminds visitors of the raging flames of historical battles. Shijing is the market place where many shops and merchants were gathered. What is more unique is that in this city, visitors are privileged to see how the common people produced and made a living in the Spring and Autumn Period (770BC-476BC) by the replication of cottages, mud walls and workshops which are presented here. You will feel as if you have returned to the mysterious old times.
Since opening to the public, this Film and Television City has attracted many directors to make outstanding films here. When you visit, you may be lucky enough to see a film being made or even be invited to be an extra.
Other Scenic Spots: Qingtianhe Scenic and Historic Interest Area, Shennongshan National Park, Jiaying Temple
How to get to/around Jiaozuo
Zhengzhou is 70 kilometers (43 miles) south of Jiaozhou and Luoyang is 100 kilometers (62 miles) west. With the expressway, Zhengzhou is only half an hour ride away. It takes only seventy minutes from the city to Zhengzhou Xinzheng International Airport. Yuntai Mountain is 30 kilometers (19 miles) from city proper. In high season, tourist buses will depart every thirty minutes and it is only a half hour ride to the mountain.

The addresses of main bus stations in the city:
Passenger Central Bus Station: Southwest corner of the intersection between Yinbin Dadao and Yinghu Road
Tourist Central Bus Station: 1, Jianshe Road (Middle), Jiefang District
Weather
-
Jiaozuo has warm temperate continental monsoon climate with distinctive four seasons. While spring is dry and windy, summer is torrid but rainy. On the other hand, it seldom rain in winter. Autumn is cool with clear sky. The annual average temperature hovers around 14.1-14.4℃ (57.4-57.9℉).

When to Go: Spring and autumn seasons are the best time to visit Jiaozuo, especially with the clear, sparkling autumn.
Jiaozuo Travel Tips

History: It was inhabited as early as 8,000 years ago and was part of Jinzhou during the Xia Dynasty (21st - 16th century BC). Its name changes over the years and finally become Jiaozuo Mining Area in 1949. It is said that the city got its present name from a person whose last name was Jiao, who operated a ceramic workshop.



Physical Features: Located in the transition area between Taihang Mountains and Northern Henan Plain, the city is higher in north and lower in south. Many types of landform co-exist in this area, including mountains, plains, depressions, hills and lowlands.



Special Local Products: Four Major Huai Medicine (Rehmannia Root, Radix Achyranthes Root, Chinese Yam, chrysanthemum), bamboo products of the Bo'ai County, butter tea of Wuzhi County, dried persimmon
- Last updated on Apr. 15, 2021 -
Questions & Answers on Jiaozuo Travel
Asked by Bartosz from POLSKA | Dec. 18, 2019 06:44

Reply
Is it possible to visit in December? Are the tourist attractions in the mountains open?
Are any buses from the city running to the mountains?
Answers (5)
Answered by Molly from NEW ZEALAND | Dec. 22, 2019 19:35

0

0

Reply
Do you want to go to Yuntai mountain? It is open to the public all year round. You can take bus line 3 from Railway Station to it.
Answered by Bartosz from POLAND | Dec. 25, 2019 08:31

0

0

Reply
How far is it by bus? And you mean railway station in which town? And do you know how to get to Laojun Mountain?
Answered by Molly from NEW ZEALAND | Dec. 25, 2019 17:55

0

0

Reply
The point is where do you start off? It is Jiaozuo Railway Station located at No.129, Zhanqian Road. Do you want to go to Laojun mountain from Jiaozuo?
Answered by Bartosz from POLAND | Dec. 27, 2019 03:01

0

0

Reply
I already bought a bus ticket to Luanchuan. What can I see there in two days?
Answered by Molly from NEW ZEALAND | Dec. 29, 2019 22:02

0

0

Reply
You can go to Longyuwan, Baoduzhai.
Asked by Aisha from CHINA | Jul. 20, 2019 11:20

Reply
Is there glass bridge in Jiaozuo Yuntai Mountain?
Answers (1)
Answered by Gloria from AUSTRALIA | Jul. 22, 2019 01:14

0

0

Reply
Yes, there is.
Asked by Saffron from MALAYISA | May. 03, 2019 14:18

Reply
What are the bus timings from Jiaozuo to Zhengzhou?
What is the duration of the ride?
Answers (1)
Answered by Janny from USA | May. 06, 2019 20:05

0

0

Reply
The bus departs from Jiaozuo Bus Terminal to Zhengzhou from 6:20 to 17:40 with an interval about 1.5 hours. The duration is about 2 hours and the bus fare is around CNY30.
Asked by PU from THAILAND | Aug. 11, 2018 07:02

Reply
Are there any buses from Louyang to Yuntaishan in the afternoon?
We plan to leave Luoyang in the afternoon and stay around Yuntaishan mountain for one night before getting in the Park the next morning. So far, we cannot find any updated information about buses from Luoyang to Yuntaishan. Can anyone give an advice?
Answers (1)
Answered by Ben from UNITED KINGDOM | Aug. 13, 2018 00:58

0

0

Reply
Yes, I heard that there is only one bus departing from Luoyang Jinyuan Bus Station at 9:20.
Asked by June from SINGAPORE | Jul. 13, 2018 20:29

Reply
what time the direct bus which reaches luoyang from yuntaishan departs and arrive?
Answers (3)
Answered by Fred from HUNGARY | Jul. 15, 2018 22:59

0

0

Reply
The bus departs from Yuntaishan at 15:00 to Luoyang about 18:00.
Answered by Prim from THAILAND | Aug. 26, 2018 06:41

0

0

Reply
Where can i take the direct bus from Yuntaishan to Luoyang?
Answered by Fred | Aug. 26, 2018 19:38

0

0

Reply
You can take the bus at Baijiayan Bus Station.