Xinyang Travel Guide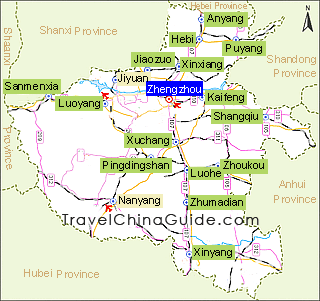 Xinyang Facts
Chinese Name: 信阳市 (xìn yáng shì)
Population: 8,846,300
Area: 18,900 square kilometers (7297 square miles)
Location: in the south of Henan Province, east-central China
Administrative Division: 2 districts (Shihe, Pingqiao); 8 counties (Xixian, Huaibin, Huangchuan, Guangshan, Gushi, Shangcheng, Luoshan, Xinxian)
Area Code: 0376
Zip Code: 464000
GDP (2018): CNY 238.78 billion (USD 34.61 billion)
The City Producing Famous Maojian Tea
In southern Henan Province, Xinyang City neighbors Anhui to the east and Hubei to the south. It is seated between the north foot of the Dabie Mountains (in the southern) and the upper reaches of the Huaihe River (in the northern). Xinyang Maojian tea is one of the 10 best Chinese tea. It tastes mellow and sweet and has a long-lasting fragrance after being boiled. The city also features pleasant weather and high-quality air due to high forest coverage. It is necessary to spend about 2 - 3 days to visit Xinyang thoroughly because it has a variety of scenic spots from mountains to spring resorts, lakes and ancient temples. The most popular attractions include Jigong Mountain, a national natural scenic area which is one of the four summer resorts in China and Lingshan Mountain with many quaint temples.
Xinyang Attractions - Things to Do
Jigong Mountain
It is an offshoot of the Dabie Mountains in the area that borders southern Xinyang and Hubei Province. Baoxiao (Crowing) Peak, the main peak of the mountain can be seen from afar much like a cock that announces the rise of dawn, and hence the mountain and the peak gain their names. As a natural land of plant and animals, the nature reserve is also one of the top four summer resorts in China.
Lingshan Mountain
Lingshan Mountain in Luoshan County is a Buddhist shrine of great fame in China. There are in total seven temples and three nunneries in the mountain. Lingshan Temple was first built in the Tang Dynasty, reputed as an ode to the four largest ancient temples in Central China. The temple is peculiar in that there are both monks and nuns. Even a princess of the Tang Dynasty took the tonsure in the temple and had her hair shorn.
Tangquan Chi
It is a beautiful hot spring resort located 20 kilometers (12 miles) southwest of Shangcheng county seat. The pool has eight mouths of springs. Setting perfectly off with the wonderful sceneries surrounded, it is absolutely a perfect destination for leisure.

Other Scenic Spots: Nanwan Lake
How to get to/around Xinyang
Xinyang is the south gate of Henan Province. Beijing-Guangzhou Railway runs across from north to south. No.107 and 312 national highways intersects through the city and allows visitors to reach Wuhan, Zhengzhou, Hefei, Nanyang and several other cities. Zhengzhou, the capital city of Henan is only three hours' drive away while Wuhan, the capital city of Hubei Province, is about four hours away. Xinyang Bus Station is situated on Renmin Lu, adjacent to the railway station. It is the main bus station provides local buses and bus lines to other towns and cities.

About 45 kilometers (28 miles) to downtown Xinyang, Xinyang Minggang Airport has opened flights to Beijing, Shanghai, Chongqing, Chengdu, Kunming...
Weather
-
Xinyang city is located in the transitional area between subtropical and warm temperate zones. Weather there is humid and moderate. It has enough sunshine, abundant rainfall and four clear seasons. Xinyang's winter is long, but the chilly period is short. Usually, its annual average temperature is no less than 15°C (59°F).

When to Go
: April and October are the best periods to visit the city. The most popular scenic area, Jigong Mountain, is favorable from April to November.
Xinyang Travel Tips

History: The city is one of the origins of Chinese civilization with more than 8,000 years of history. During the Xia (21st - 16th century BC) and Shang (16th - 11th century BC) dynasties, it consisted of many vassal states. It had become a vital grain base for the country during the middle period of the Tang Dynasty (618-907), and later developed into a wealthy city in Central China.



Physical Features: The terrain of the city declines from its south to the north. Its west and south regions are mountainous formed by Tongbai Mountain and Dabie Mountains. Hills predominate the centre of the city, while the northern region of the city is consists of plains and depressions.



Special Local Products:Xinyang Maojian Tea, chestnut, Chinese gooseberry, ginkgo, willow knitting, and ox horn handicrafts.
- Last updated on May. 13, 2020 -
Questions & Answers on Xinyang Travel
Asked by Adrien from CANADA | Aug. 29, 2019 21:25

Reply
I read there are some great temples in Xinyang
including temples throughout a mountain area and a tea mountain in the city. Where and how far is Mt. Lingshan Grand Buddha Scenic Area in Xinyang? I would like to receive information about it. How many days should I stay here please? Thanks.
Answers (1)
Answered by Gavin from CANADA | Sep. 01, 2019 23:59

0

0

Reply
Where do you know it? Actually, Mt. Lingshan Grand Buddha around Xinyang is not that famous and great. The renowned one is in Wuxi city, which is so far away from Xinyang. So which one do you refer to?
Asked by Adrien from CANADA | Aug. 25, 2019 11:29

Reply
Xinjang Tourism?
Do you recommend we visit Xinyang as we will be going to Wuhan? If so, what attractions are the best there. Thanks.
Answers (1)
Answered by Stella from CANADA | Aug. 28, 2019 19:55

0

0

Reply
It depends on your travel plan. Jigong mountain, Jingangtai Rafting, etc are worth visiting in Xinyang.
Asked by Chris from AUSTRALIA | Jan. 08, 2017 15:25

Reply
Are there any golf courses in Xinyang?
I am coming to work at the university and am very keen on golf.
Answers (3)
Answered by Juliana from NEW ZEALAND | Jan. 09, 2017 20:42

1

0

Reply
Well, sorry, I cannot find any information about the local golf club or course in the city. Maybe you can ask help for the Community of this website. You may find some local people there and get some help. Good luck!
Answered by Chris hood from AUSTRALIA | Jan. 10, 2017 00:15

0

0

Reply
Thanks for your help Juliana
Answered by We Boi from USA | Jan. 23, 2017 13:18

2

0

Reply
When I worked there for 2 years ending in 2012, there were no golf courses. The closest course was in Wuhan that I was aware of.
Asked by Chris from AUSTRALIA | Jan. 08, 2017 15:21

Reply
What's the best way to get to Xinyang University from Melbourne Australia?
We are coming there to teach at the university.
Answers (2)
Answered by Cora from UNITED KINGDOM | Jan. 09, 2017 20:38

1

0

Reply
Do you refer to XY Normal University? If yes, from Melbourne, you can take a flight to Guangzhou Baiyun Airport and then transfer a plane to Zhengzhou Airport. After arriving, take shuttle bus to get to East Railway Station. Take high-speed train to get to Xinyang East Railway Station. For your convenience, you can take a taxi from the railway station to the campus. The cab fare is CNY 25-30 in the day time.
Answered by Chris from AUSTRALIA | Jan. 10, 2017 00:16

0

0

Reply
Many thanks Cora much appreciated regards Chris
Asked by Humberto Nino from VENEZUELA | Jan. 05, 2017 19:09

Reply
What's the main airport in Xinyang, Henan?
Answers (1)
Answered by Kayla from UKRAINE | Jan. 05, 2017 21:45

0

0

Reply
Well, there is no airport in the city nowadays. You are advised to take a flight to Zhengzhou first. Then take the high-speed train from Zhengzhou East Railway Station to the destination.