Hubei Travel Guide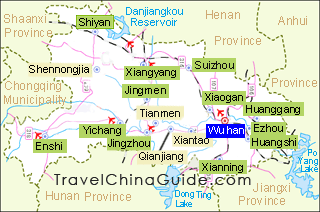 Hubei Facts
Chinese Name: 湖北 (hú běi )
Abbreviation: E
Population: 59,270,000
Area: 185,900 square kilometers (71,776 square miles)
Location: in the central region of China
Administrative Division: 12 cities (Wuhan, Huangshi, Xiangyang, Jingzhou, Yichang, Shiyan, Xiaogan, Jingmen, Ezhou, Huanggang, Xianning, Suizhou); 1 autonomous prefecture (Enshi Tujia and Miao Autonomous Prefecture)
GDP (2019): CNY 4,582.831 billion (USD 664.27 billion)

Hubei province is situated in the middle reaches of the Yangtze River and to the north of Dongting Lake with Wuhan as the capital. It is near to Anhui to the east, Jiangxi and Hunan to the south, Chongqing to the west, Shaanxi to the northwest and Henan to the north. There are many lakes in the territory, so Hubei is also known as the province of thousands of lakes. It is one of the five higher education centers in China, and the level of secondary education also leads the country. Also, all kinds of scenic spots in Hubei including historical ruins, ancient architectural building complex, mysterious primeval forest and majestic mountains will provide visitors with wonderful travel experiences.



Hubei Weather

Cities in Hubei
When to Go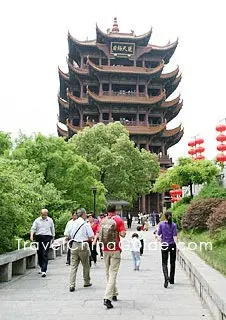 Yellow Crane Tower, Wuhan
The province has a subtropical monsoonal climate with a humid and hot summer, dry winter and strong sunlight in autumn. Annual rainfall averages 800-1600 millimeters and with average temperatures ranging from 15

C-17

C. Most places in Hubei enjoy four distinct seasons, with the best times to travel there being spring and autumn.
What to See
The long history and the brilliant Chu culture endow the region with numerous cultural relics. Ancient towers, grottoes, city remains, imperial mausoleums, temples and nobilities' native places can be found throughout the province.
As the heaviest musical instrument in the world, the set of bronze chime bells unearthed from the Tomb of Marquis Yi of the Zeng State can be found in the Hubei Provincial Museum. With a total weight of 2567 kilogram, the set of bells consists of 65 pieces. The biggest bell is 152.3cm (five feet) high and 203.6kg and the smallest 20.4cm (less than one foot) long and 2.4kg.
Wudang Mountain
is a sacred Taoist mountain with hundreds of temples and palaces. East Lake, located on the eastern side of Wuchang City, is one of the major tourist attractions in Wuhan. It is the biggest lake within a city in China. Yellow Crane Tower, located on Snake Hill in Wuchang City, is one of the three famous towers south of the Yangtze River.
Hubei also boasts impressive natural scenery. The Three Gorges offers an unmatched painting of water and mountains. The World Famous Yangtze
Three Gorges Dam Project
is just located in this province, just outside of Yichang City. It is not only the largest water conservation project in China, but also the largest water conservation project in the world.
| | |
| --- | --- |
| Wudang Mountain | Three Gorges Dam, Yichang |
Shennongjia Nature Reserve
is a dense wilderness in western Hubei province. It has always been a mysterious place, an enigma in Chinese geography. Since the discovery of traces of wild people there, it has aroused people's curiosity about it all the more.
Other attractions like
Longzhong Scenic Area
,
Chibi Ancient Battlefield of Three Kingdoms
where a famous ancient battle happened and Jingzhou, a historical city made famous by Three Kingdom battles are also worthy of sight.

See also:
Hubei Food

China Tour Packages
- Last updated on Apr. 13, 2021 -
Questions & Answers on Hubei Travel
Asked by PK from THAILAND | Dec. 18, 2018 07:44

Reply
How can i go to Shennongjia by the long-distance bus from Wuhan?
We are going to choose the easiest way to go.

also the train from Hankou to Yichang is better. but we have to waste 4 hours on the bus depart from Yichang to Muyu Town.

Thank you
Answers (7)
Answered by Peyton from SINGAPORE | Dec. 20, 2018 00:58

0

0

Reply
As I know, there is only one long-distance bus from Fujiapo Bus Station. It is at 08:00. The duration is around 9 hours. The ticket fare is CNY165 per person.
Answered by PK from THAILAND | Jan. 04, 2019 07:29

0

0

Reply
Is that the long-distance bus start from 8pm, right? or only morning round?

We are trying our best to go Shennongjia but we have no more information so.

Could you suggest the easiest way going there?

Thank you so much for your help.
Answered by Peyton | Jan. 06, 2019 22:27

0

0

Reply
No, it starts from 08:00am. As I know, there is only one long-distance bus.
Answered by PK from THAILAND | Jan. 08, 2019 03:56

0

0

Reply
really want to go there in the night time for arriving in the morning. could you suggest us how?

thanks a lot
Answered by Peyton | Jan. 08, 2019 21:36

0

0

Reply
I am afraid that there is no direct long-distance bus or train between these two places. Maybe you can go there in the next early morning.
Answered by PK from THAILAND | Jan. 09, 2019 07:34

0

0

Reply
very please that you help us a lot

Also this month, January. Is that the Shennongjia National Nature Reserve open for tourist to visit? too cold to go? covered by snow? we have no idea.

thanks again for your help :)
Answered by Peyton | Jan. 09, 2019 22:19

0

0

Reply
It is worth to go there in January. You can see the snow scenery. Generally speaking, the scenic area will open at that time. :)
Asked by Eleni from GREECE | Jul. 22, 2018 08:02

Reply
Is there a bus between Xiangyang and Wudangshan (to go and return).
From which station do I get it and how often is the route? Thanks!
Answers (1)
Answered by Ronnie from FRANCE | Jul. 23, 2018 00:35

0

0

Reply
You can take a bus from XY Transportation Center Station. The bus departs from 7:50 to 16:40 with an interval about 1.5 hours.
Asked by tatenda from ZIMBABWE | Jul. 17, 2017 16:28

Reply
what's the cheapest way to travel from shanghai to wuhan?
Answers (1)
Answered by Liela from UNITED KINGDOM | Jul. 17, 2017 20:57

2

1

Reply
It takes CNY 230 from Shanghai South Bus Station to Wuhan. It's the cheapest way there, but it also takes nearly 15 hours.

Well, you are suggested to take a train at Hongqiao Railway Station, which costs CNY262. It takes about 5 hours and 30minutes to get there.
Asked by indri from INDONESIA | Nov. 09, 2016 01:05

Reply
How to go Wudang Mountain from Beijing?
please explain it
thanks
Answers (1)
Answered by Fiona from FRANCE | Nov. 09, 2016 23:51

0

0

Reply
You may fly from Beijing to Wudangshan (about 2.5 hours). Upon arrival, take shuttle bus line 2 from the airport to the mountain for CNY 15 (about 30 minutes). :)