Xiangyang Travel Guide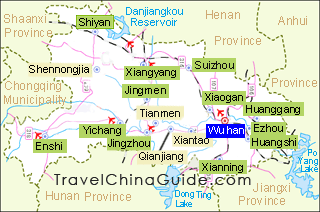 Xiangyang Facts
Chinese Name: 襄阳 (xiāng yáng)
Population: 5,669,000
Area: 19,700 square kilometers (7,606 square miles)
Location: in the northwest of Hubei Province, central China
Administrative Division: 3 districts (Xiangcheng, Fancheng, Xiangzhou); 3 counties (Nanzhang, Gucheng, Baokang); 3 county-level cities (Zaoyang, Yicheng, Laohekou)
Area Code: 0710
Zip Code: 441000
GDP (2018): CNY 430.98 billion (USD 65.13 billion)
An Important Military Area in Ancient Times
Situated in the northwest of Hubei Province, Xiangyang (formerly Xiangfan) is in the middle reaches of the Han River, which flows through and divides Xiangyang into northern and southern parts. It neighbors Yichang to the south and Henan Province to the north. It is 347 kilometers (216 miles) from Wuhan. As Xiangyang is easy to defend and hard to attack, it was an important military area in ancient times. The ancient military layout and defense system now can still be seen in the Ancient Xiangyang City. More than 200 cultural sites of various periods have been preserved in the city. Zhuge Liang, an outstanding statesman and strategist in the Three Kingdoms period (220 - 280), once lived in seclusion in Xiangyang for ten years. Now his former residence in Longzhong Scenic Area has become a hot attraction. In addition, visitors can appreciate the imitated architecture of the Tang Dynasty (618 - 907) here.

Top 10 Ancient Cities in China

Xiangyang Attractions - Things to Do
Zhuge Liang
, the famous strategist and politician in Three Kingdoms Period (220 - 280).
Covering an area of 4.6 square miles, this beautiful land boasts waves of grain, dainty hills, clear waters and rich cultural relics. Zhuge Liang once lived as a hermit here for ten years. Many relics are left recording his life. For example, Zhuge Cottage is said to be the place where
Liu Bei
, the emperor of Shu Kingdom paid three visits to Zhuge Liang. Wuhou Temple is built to enshrine Zhuge Liang. Wolong Shenchu is said to be the place where he met his friends. Gonggeng Field is believed to have been furrowed under his plough. Moreover, there is Liujiao Well, Laolong Cave and Longzhong Study Hall, and all of which are closely related to the life and times of this remarkable man.
Ancient Xiangyang City
It enjoys widespread fame far and near due to its glorious culture, long history, rich cultural relics and beautiful landscape. The old city site is located on the banks of the Han River in downtown of the city. It was first built and its basic layout was formed during the Western Han Dynasty (206 BC-24 AD). It is recorded that the ancient city had six city gates and 4,210 crenels. During the Ming (1368-1644) and Qing (1644-1911) Dynasties, the old city was perfected to be even more spectacular. The six city gates and four watch towers stood straight up to guard the city. The golden tiles and colored glazes made the city wall shine in the sunlight. The towering shadow of city wall was reflected in the moat. What an imposing sight it was!
Today, the existing city wall of Ancient Xiangyang City is all that remains of the Ming Dynasty. Its outer is laid by pieces of large bricks and the inner is filled by the rammed earth. The north side faces Han River and the others are encompassed by moat whose depth is 6.6 to 9.9 feet and the widest point measures 273 yards. There is only one city gate left – the north gate "Suo Yue" which means the lock and the key, signifying the gate's military importance. Though the rest of the city gates were destroyed, the ancient city layout and defense system can still be easily recognized.
How to Get to/around Xiangyang
1.
Xiangyang Airport
is 18 kilometers (11 miles) northeast of downtown, operating flights to some major cities, including Beijing, Shanghai, Wenzhou, Xiamen, Xi'an and Chongqing.
2. Wuhan can be reached within five or six hours from this city by train and visitors can make a round trip in the same day by train or by bus between them.
Note: If visitors plan to stay a little longer, the
Shennongjia Nature Reserve
is suggested to their tourist schedule. The scenic spot is 274 kilometers (170 miles) from Xiangyang, about 4 hours' ride.
Weather
-
Xiangyang enjoys a subtropical monsoon climate with annual average temperature of about 16

C (61

F). The temperature goes up quickly in spring, and rainstorms may sometimes attack this area in summer. Continued cloudy and rainy weather usually happens in autumn.



When to Go: Spring and autumn are the best seasons to visit Xiangyang.
Xiangyang Travel Tips

History: Xiangyang was the combination of Fancheng and Xiangzhou. The former one was formed in the Western Zhou Dynasty (11th century BC-771BC), and the Xiangzhou was first built in the early Han Dynasty (206BC-220AD). The city was established in 1950.



Physical Features: The terrain of Xiangyang is higher in the west and lower in the east. The western part is made up of mountains and the eastern is low mountains and hills. The Han River flow eastward through the city and divides it into northern and southern city areas.



Special Local Products:
kohlrahi (Da Tou Cai: a kind of brassica vegetable with tubers as the edible part)
Yicheng dried salted duck
- Last updated on Apr. 13, 2021 -
Questions & Answers on Xiangyang Travel
Asked by sc from SINGAPORE | Nov. 07, 2019 02:37

Reply
Are taxi popular in the Xiangfan area?
Answers (1)
Answered by Lisa from THAILAND | Nov. 10, 2019 18:15

0

0

Reply
Yes, of course.
Asked by Brian from AUSTRALIA | Mar. 25, 2019 23:18

Reply
Bus Xiangyang to Nanyang/Wuduoshan
I arrive by train at Xiangyang East railway station at 1430 but there are no connecting trains to Nanyang until late at night. Is there a bus from Xiangyang to Nanyang and if so, from which bus station?
Answers (1)
Answered by Hailey from USA | Mar. 26, 2019 01:44

0

0

Reply
Yes, you can take a bus from Xiangyang Bus Station to Nanyang. The bus departs from 05:50 to 18:35 at an interval of 40 minutes. The duration is about 2.5 hours and the fare is CNY44/person.

The bus station is near Xiangyang Railway Station. You can take bus line 23 to the railway station and then walk northwest 500 to get there.
Asked by sivapreeya from THAILAND | Oct. 30, 2018 18:41

Reply
If I want to go to Wudangshan, is there any bus from Xiangfan to there?
Answers (1)
Answered by Hailey from USA | Oct. 31, 2018 02:53

0

0

Reply
Yes, there is. You can take the bus at Xiangfan Bus Station to Shiyan. But you must buy the ticket from Xiangfan to Wudangshan because the bus to Shiyan will pass Wudanshan on the way and you just need to get off at Wudangshan toll station, which is about 100 meters from the front gate of Wudangshan.
Asked by Luis Fuented from MEXICS | Aug. 19, 2017 21:57

Reply
How do I transfer from Xiangyang hubei train station to east station?
Answers (1)
Answered by Rose from UNITED KINGDOM | Aug. 20, 2017 23:01

0

0

Reply
What do you mean by Hubei Train Station? There is no such a station in the city. I presume you refer to local Main Railway Station. You may take no. 23 to navigate between.