Jingmen Travel Guide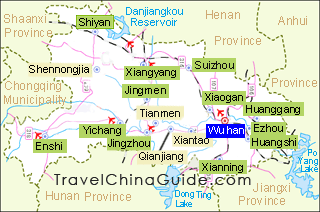 Jingmen Facts
Chinese Name: 荆门 (jīng mén)
Population: 3,000,000
Area: 12,400 square kilometers (4,788 square miles)
Location: in the central region of Hubei Province, central China
Administrative Division: 4 districts (Dongbao, Duodao, Zhanghe New District, Qujialing Management Zone); 2 counties (Shayang, Jingshan); 1 county-level city (Zhongxiang)
Area Code: 0724
Zip Code: 448000
GDP (2018): CNY 184.789 billion (USD 27.97 billion)
A Transport Hub of Hubei
Located in the heart of Hubei Province, Jingmen is the transport hub inside the province. It is 217 kilometers (315 miles) west of the provincial capital, Wuhan, 120 kilometers (75 miles) east of Yichang, and bounded on its south and north are Jingzhou and Xiangfan. Jingmen literally means the gate to Jingzhou. Now, it is the largest special aircraft design, production and flight test base in China, and has the whole industrial chain of new energy vehicles. It also acts as an important freight logistics hub and the largest natural gas distribution center in central China. Also, visitors can find many historical sites such as the largest single imperial mausoleum in China, Xianling Tomb of the Ming Dynasty (1368 - 1644) and the ancient tomb group of Kingdoms of Chu and Han. The natural scenery of Jingmen is composed of karst landscapes, secret caves, canyons and waterfalls.
Jingmen Attractions - Things to Do
Xianling Tomb of the Ming Dynasty
Located in the Songlin Mountain about 4.7 miles to the east of Zhongxiang City, Xianling Mausoleum is the joint mausoleum built by of the Emperor Jiajing for his parents - the Emperor Gong Ruixian and the Empress Zhangsheng during the Ming Dynasty (1368-1644). Covering an area of 183 hectares, it is a magnificent ancient architectural complex which looks dazzlingly splendid in glittery golden and green.
Strictly following traditional Chinese
Fengshui
theory, Xianling Mausoleum combines the surrounding mountains and rivers as its necessary parts. The mausoleum is composed of over 30 large building complexes. It is divided into the inner and outer parts connected by a 1,422-yard sacred way. On both sides of the sacred way, there is an orderly display of stone statues; pairs of animal carvings such as lions, camels, kylins, horses and elephants, and two stone figures including civil officials and generals. Inside the Red Gate, there are Xiama Bei (a stele erected to remind people to dismount to show respect in the past), Imperial Tablet Pavilion, Ming Tower, Heavenly Gate, Imperial River, White Marble Stone Bridge and other attached buildings, all of which are supremely exquisite, reflecting the high level of ancient Chinese constructional craft.
Due to its abundant underground cultural relics, unique environment, ingenious layout and important historical value, Xianling Mausoleum has been added to the
China World Cultural and Natural Heritage List
in 2000.
Huangxian Cave
Lying on the south slope of Dahong Mountain in Zhongxiang of Jingmen, Huangxian Cave is a rare karst cave which integrates various geological wonders such as sedimentary environments, underground streams, and karst landscapes into the scene.
It is a long and winding cave measuring over 2,187 yards long. The mouth of the cave faces northwest and measures 328 feet and 77 yards wide. Through the extremely long period of geological change and development, the abundant limestone inside the cave has formed into the typical karst landscape like a heavenly world. Walking into the cave, you can find all sorts of wonderful rock formations everywhere. Nature has been carving the stalagmites and stalactites into stone columns, stone curtains, stone waterfalls, stone spears and stone needles. And nature doesn't forget to dress them in different gorgeous colors – red, white, yellow and green. The most attractive sight is the more than two hectares of karst basins called "Yun Pen". In rainy seasons, these basins are filled up with water.
People have given many of stone sculptures vivid names, such as Dongkou Xiongfeng (The Imposing Manner in the Cave Mouth), Murong Yingke (Banyan Welcomes Guest), Jigong Yangtian (Jigong Looks Up to the Sky), Die Xi Xiongmao (Butterfly Makes Fun of Panda), Dapeng Zhanchi (Roc Spread Its Wings), Shuangxiang Xishui (Two Elephants Splash in the Water), and Wanxia Mantian (A Sky full of Sunset Glow).
Through the ages, Huangxian Cave has attracted countless men of letters and monks who have left many cliffside inscriptions and frescos. Due to its marvelous landscape, rich cultural relics and high value geological research, it is worth being regarded as a rare karst treasure in China.
How to Get to Wuhan & Yichang from Jingmen
On the Baiyun Avenue, three major bus stations are located, providing buses to Wuhan, Yichang and some other cities. Buses to Wuhan depart every 20 to 30 minutes with one and a half hours' drive. Every 20 to 40 minutes, buses to Yichang will take about 50 minutes to their destination.
Weather
-
Enjoying a subtropical monsoon climate, Jingmen has a relatively temperate weather, rich in rainfall and sunshine. With clear four seasons, it has an annual average temperature of 16

C (61

F).



When to Go: Spring and autumn are the most favorable seasons to Jingmen.
Jingmen Travel Tips

History: Although Jingmen was inhabited as early as the Neolithic Age, it was established as an administrative unit in late Shang Dynasty (16th - 11th century BC). The name of Jingmen began in the Tang Dynasty (618-907) when the government established county to administrate this area.



Geographical Features: Lying between the Jingshan Mountain and the Jianghan Plain, Jingmen has lower mountains and hills in its northwest and central part. Plains and lakes are mainly distributed in southern Jingmen.



Shopping: Zhongtian Street and Changning Avenue can be the busiest areas of Jingmen City, gathering many shopping malls and supermarkets. They are good locations to find all kinds of authentic Jingmen specialities.



Special Local Products: wild kudzu root powder, artemisia selengensis (li hao)
- Last updated on May. 18, 2020 -
Questions & Answers on Jingmen Travel
Asked by bsteh from MALAYSIA | Sep. 10, 2015 03:14

Reply
How does one get to Zhongxiang City from Jingmen?
Nihao!
What is the traveling time? Thank you.
Answers (1)
Answered by Jolin from CANADA | Sep. 10, 2015 04:58

3

1

Reply
Well, you are suggested to take direct train from Zhongxiang Railway Station.
The train schedules are 11:02, 14:30 and 16:02. The duration is no more than an hour.
Asked by Lu from CHINA | May. 15, 2014 05:02

Reply
Is there a bus between Wuhan and Dakou National Park? Thank you.
Answers (1)
Answered by Kiki from SINGAPORE | May. 16, 2014 03:30

2

2

Reply
No direct bus is available. You can take a bus at Jinjiadun Bus Station to Zhongxiang and then transfer to another direct bus to the national park.
Asked by peach | Aug. 28, 2012 09:18

Reply
realiable travel agency in jingmen for Internation Trip
I just want to know ant realible travel agency in jingmen,hubei for international flights.Thanks
Answers (1)
Answered by Rita | Aug. 28, 2012 23:04

1

2

Reply
I know a realiable travel agency - TravelChinaGuide. It provides you with the international flight booking service. I did several weeks ago and it worked well.
Here is the E-mail :
travelchinaguide.com|booking
Good luck!