Shiyan Travel Guide
Shiyan Facts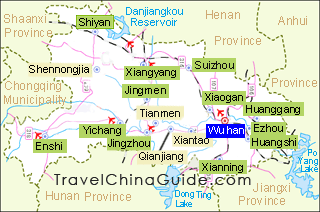 Chinese Name: 十堰 (shí yàn)
Population
: 3,460,000
Area
: 23,727 square kilometers (9,161 square miles)
Nationalities
: Han

Location: Shiyan is situated in the northwest of Hubei Province, the upper reach of the Han River. It borders Xiangfan City in the east, at the convergence of Hubei, Shaanxi, Henan and Chongqing. As a juncture of north, southwest and northwest China, Shiyan is of great importance in Hubei.
Administrative Division
: 2 districts - Zhangwan & Maojian; 5 counties (Yunxian, Zhushan, Fangxian, Yunxi, Zhuxi); 1 county-level city - Danjiangkou

Useful Telephone Numbers
:
Tourist Complaints: 0719-8683356 (Shiyan City), 0719-5665639 (Wudang Mountains)
Weather Forecast: 121
Zip Code Inquiry: 184
Bank of China: 0719-8661067
| | |
| --- | --- |
| Wudang Mountain, Shiyan, Hubei | Gilt Bronze Hall on Wudang Mountain |

Wudang Mountains
: Located in the northwest of Danjiangkou City, the Wudang Mountains are among the most distinguished Taoist mountains in China. Apart from the beautiful natural sceneries, ancient buildings on the mountain make it a cultural treasure-house. And the Ancient Building Complex in the Wudang Mountains was listed in the World Heritage in 1994.

Shennongjia Nature Reserve
: It borders Fangxian County and Zhushan County in the north, and it is adjacent to the Wudang Mountains. It is the best-preserved subtropical forest in China. Visitors might arrange it in the tourist schedule while traveling Shiyan. For the opening of Hanshi (Wuhan - Shiyan) Freeway, about three hours are needed to cover the distance.
Other Scenic Spots: Wulonghe Scenic Area, Danjiang Dam, Saiwudang Nature Reserve
How to Get to/around Shiyan
The in-town public buses and taxis are quite convenient in downtown Shiyan. Intercity bus line 202 directly leads to Wudang Mountains. Train, long-distance bus and flight are all possible means of transportation to Shiyan. Currently, people can fly to Wudangshan Airport from Tianjin, Kunming, Hangzhou, Xi'an, Wuhan and some other cities.



See more Wuhan - Shiyan Train

Major Rail Lines from Wudangshan to:
Weather
-
Enjoying a subtropical continental monsoon climate, Shiyan is warmer in winter and hotter in summer than other places at the same latitudes. June to August concentrates most of the rainfall and heat of a year.

When to Go: Spring and autumn are the best seasons to visit Shiyan.
Shiyan Travel Tips

History: According to the archaeological discovery of the site of Qinglongquan in Yunxian County, the civilization of Shiyan can be traced back to the Neolithic Age. It belonged to Chu Kingdom before the Qin Dynasty (221BC - 206BC) set up county in the area, and the successive dynasties continued to follow this administrative division. It gained its present name in Qing Dynasty (1644 - 1911) for the ten dams built to help irrigation.

Geographical Features: Influenced by the Qinling Mountains, Wudang Mountains and Daba Mountains, the terrain of Shiyan undulates obviously. On the whole the landform is higher in the west and lower in the east, inclining from the north and south to the central part. On the banks of Han River, river valleys and basins are distributed in turns.

Local Highlights: Wudang International Tourist Festival (September or October)

Special Local Products: herbal medicine, tea
- Last modified on Aug. 13, 2019 -
Questions & Answers on Shiyan Travel
Asked by Sarah from DENMARK | Aug. 16, 2019 22:50

Reply
Bus from Shiyan to Xi'An?
Hi! After visiting Shiyan/Wudangshan, I would like to take the long distance bus from Wudangshan or Shiyan to Xi'An. When and from where does this bus depart? Preferrably I would like to leave on Sunday 1st September. How can I buy a ticket? Thank you!
Asked by bertrand from RWANDA | Jul. 28, 2019 05:02

Reply
is the area where Hubei university of automotive technology is located beautiful and attractive ?
Bertrand from Rwanda

Answers (5)
Answered by Scarlett from POLAND | Jul. 30, 2019 01:21

0

0

Reply
Yes, as I know, the surrounding environment is nice.
Answered by Bertrand from RWANDA | Jul. 30, 2019 02:13

0

0

Reply
Okay! Then i saw that the city of shiyan is covered by mountains and valleys than being great in infrastructures like beijing guangzhou and so on ... so is Shiyan beautiful enough to live and feel comfortable like any other city mentioned above ??
Answered by Lisa from USA | Jul. 30, 2019 20:05

0

0

Reply
This city is good.
Answered by Lee from CHINA | Aug. 14, 2019 01:21

0

0

Reply
I am actually staying at the school currently. This particular area isn't very developed or attractive, but other parts of the city (closer to Wudang mountain) are.
Answered by Bertrand from RWANDA | Aug. 14, 2019 03:27

0

0

Reply
Okay which means that the area where hubei university of automotive technology is located is not developed and attractive
Asked by angie from AUSTRALIA | Jul. 14, 2019 19:44

Reply
I am planning to travel to wudang by myself to learn Qigong for 7 days.
Since I last traveled to Wudangshan almost 7 years ago, I flew into Xiangfan from Shanghai then caught a train to Wudangshan.

I understand you can now fly from Beijing direct to Shiyan now with the new airport open. How safe is it to travel to this area? Is it easier to book ahead a private car for a pickup from Shiyan airport or is it about the same price to catch a taxi?

Thank you
Answers (1)
Answered by Lily from USA | Jul. 17, 2019 22:35

0

0

Reply
It is very safe, so don't worry. You can find the taxis outside the airport easily. Or you can pre-book a car if you can use DiDi app, while the price is pretty same as you take taxi from the airport.
Asked by laily from VIETNAM | Sep. 26, 2017 12:14

Reply
Wudang Mountain opened after Lunar New Year holiday. Is it difficult to buy tickets up the mount?
Answers (1)
Answered by Nocle from USA | Sep. 26, 2017 21:44

3

0

Reply
As I know, there are many people visiting there during the time, so it's a little difficult to book the tickets. You are suggested to book it in advance, and many travel sites provide the service. If you will book a hotel, it is a good idea to ask your hotel to book for you.
Asked by gugu from SOUTH AFRICA | May. 30, 2017 02:55

Reply
how much should i budget for a day trip to wudang mountain from Shiyan by bus
Answers (2)
Answered by Betty from FINLAND | Jun. 04, 2017 22:32

0

0

Reply
You can take bus no.202 at SY Railway Station Bus Stop to Wulonggong Crossing Bus Stop. Upon arrival, you can find the scenic spot easily.
Answered by Lee from CHINA | Aug. 14, 2019 01:23

0

0

Reply
That depends on if you plan to walk up the mountain or take the tram, but I would estimate a maximum of ¥300 (including food and transport, you would require a little more if you want trinkets).