Wudang Mountains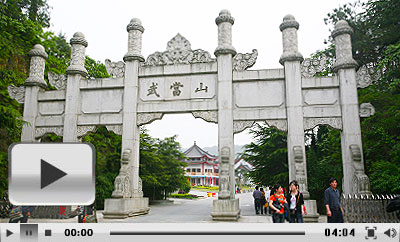 As a famous Taoist shrine, Wudang Mountains are located in Shiyan City, Hubei Province. Also called Taihe and Xuanyue Mountain, it is renowned for its magnificent ancient building complex and appealing natural landscape. In 1994, the Ancient Building Complex in the Wudang Mountains was included on the World Heritage List by UNESCO. Besides, the mountain is said to be the birthplace of the famous Chinese
Wudang Martial Arts
.
History
Construction of the Ancient Building Complex started in the Tang Dynasty (618-907). During the reign of Emperor Taizong , the Five Dragon Ancestral Temple was built on Wudang Mountains. In the Ming Dynasty (1368-1644), about 33 palaces and structures including the Yuxu Palace, the Grand Purple Cloud Palace, the Yuzhen Palace and the Palace of Harmony were built. Then the grand and magnificent building complex was formed. At present, the extant building complex includes the Palace of Harmony, the Grand Purple Cloud Palace, the South Cliff Palace, the Yuzhen Palace, relics of the Yuxu Palace and the Five Dragon Ancestral Temple, Xuanyue Gate (a huge archway) and the Fuzhen Temple.
Palace of Harmony
Situated on the south section of Tianzhu Peak, the Palace of Harmony is composed of the Golden Palace (Golden Peak), the Forbidden City and the Gutong Hall. The Golden Palace is the most celebrated. Constructed of bronze, the palace is about four meters (13 feet) long, three meters (10 feet) wide and six meters (20 feet) high. In the hall stands the statue of Emperor Zhenwu in the shrine with Golden Boy and Jade Girl, and two generals of Fire and Water attending him on the left and right. It is said that the statue of Emperor Zhenwu is about ten tons (22,046 pounds). Above the shrine is hung a golden plaque with four Chinese characters 'Jin', 'Guang', 'Miao' and 'Xiang' written by Kangxi, an emperor in the Qing Dynasty (1644-1911). Through the ages, the palace still presents its glamour and grandiosity.
Grand Purple Cloud Palace
Located below Zhanqi Peak, the Grand Purple Cloud Palace is the most magnificent and best-preserved Taoist building on Wudang Mountains. Covering an area of 6,850 square meters (two acres), the palace consists of the Dragon and Tiger Hall, the Stele Pavilion, the Shifang Hall, the Parents' Hall, the Grand Hall of Purple Cloud Palace and other buildings. Covered with blue glazed tiles and yellow and blue carvings on the roof, the Grand Hall is the most representative wooden structure on the mountain. In the hall is worshipped the sculpture of Emperor Jade which was made by a Ming Dynasty artisan.
South Cliff Palace
The South Cliff Palace is situated below the Duyang Cliff. It has the Tianyi Zhenqing Hall, the Two Bearings Hall, the Eight Diagrams Pavilion, the South Heaven Gate and the Flying Cliff. Built in the Yuan Dynasty (1271-1368), the Tianyi Zhenqing Hall is the most renowned. All the beams, pillars, doors and windows were carved from stone. This stone palace is a masterpiece of Chinese stone carving.
Yuzhen Palace
The Yuzhen Palace, the relics of the Yuxu Palace and the Five Dragon Ancestral Temple, Xuanyue Gate (a huge archway) and the Fuzhen Temple are also must-sees on the mountain. In addition, many sculptures, offerings and sutras in the palaces, tablets and inscriptions on the cliffs are precious relics and worth a visit.
The mountain is also celebrated for its appealing natural landscape including 72 peaks, 36 rocks, 24 streams, 11 caves, nine springs and three ponds. At any time of the year, tourists can enjoy its wonderful natural scenery.
How to Get to Wudang Mountains

By train: Take a train from Beijing, Shanghai, Chongqing, Guangzhou, Nanjing, Qingdao, Wuhan, or some other cities and get off at Wudangshan Station. Transfer to intercity bus no. 202 or 203 to the scenic area directly.
See
Wudangshan Train Schedule & Stations
,
Beijing - Wudangshan Train
,
Xi'an - Wudangshan Train
,
Shanghai to Wudangshan Train
,
Wuhan to Wudangshan Train

By bus:
1. From Shiyan: Intercity bus no. 202 can take visitors from
Shiyan Railway Station
to the mountain within 70 minutes.
2. From Xi'an:
Three direct tourist buses to the scenic area are available
daily. One coach starts at 09:30 from Xi'an Coach Station opposite
Xi'an Railway Station
, taking about 4 hours with a ticket price of CNY 111.5. The other two coaches depart from Sanfuwan Coach Station at 08:00 and 13:00 respectively taking about 4.5 hours with a ticket price of CNY 159. All of them arrive at Wudangshan Coach Station, 400 meters (440 yards) west of the Wudang Mountains entrance.
3. From Wuhan: One direct bus is available from Jinjiadun Bus Station, departing at 13:40 daily. It takes around 6 hours and costs CNY179/person.

By air: Tourists can fly to
Wudangshan Airport
from Xi'an, Tianjin, Kunming, Wuhan and Hangzhou. Then take a taxi to reach the mountain at a cost of CNY60-80.
Ticket Price
Entrance ticket: CNY 130; valid for 3 days
Sigtseeing bus fee: CNY 100
Golden Palace: CNY 27
Grand Purple Cloud Palace: CNY 15
Note:
1. Visitors need to pay extra CNY 5 for insurance.
2. Visitors can take the sightseeing bus unlimitedly with a valid ticket.
Cable Car
Feb. 1 - Oct. 31: Up: CNY 90; Down: CNY 80
Nov. 1 - Next Jan. 31: Up: CNY 70; Down: CNY 60
Opening Hours
08:00 - 17:00
Best Time to Visit
March to May & September to November
- Last modified on Sep. 25, 2019 -
Questions & Answers on Wudang Mountains
Asked by Christopher Benninger from INDIA | Apr. 06, 2020 04:55

Reply
Plans and Images of the Five Dragon Palace
In 2018 December I was privileged to visit the Five Dragon Palace and I found it an amazing complex and well preserved. As an architect who has travelled across most of Asia, and much of China, I saw in this fascinating complex the early roots of Mongolian formal architecture, that evolved in Central Asia, and then links into what we know as Mughal architecture. To explore this contribution of China to the world, I want to study a good plan of the complex. I do have my own photo images, but wish you would share this great achievement of your wonderful country and culture with the world on this website. This is a really ace website and I would like to congratulate your team on this presentation.
Asked by Markus from NORWAY | Jan. 18, 2020 03:18

Reply
Is the Wudangshan mountain open during January?
Answers (1)
Answered by Martin from UNITED KINGDOM | Jan. 18, 2020 22:02

0

0

Reply
Yes, of course. It opens from 7:30 to 17:30.
Asked by Elina from RUSSIA | Feb. 12, 2019 06:06

Reply
Xiangyang airport to Wudangshan
I arrive to Xiangyang airport from Beijing. Is there direct bus from Xiangyang airport to Wudangshan?
Answers (3)
Answered by Wyatt from USA | Feb. 12, 2019 21:38

0

0

Reply
Upon landing, take public bus no.602 to Tourist Coach Station first. Then take the long-distance bus to the mountain area. The bus schedules are 08:00, 14:30, 15:30, 16:40 and 18:00.
Answered by Elina from RUSSIA | Mar. 14, 2019 08:35

0

0

Reply
Thank you for information! Do you know what the bus fare is in Xiangyang and for long-distance bus to Wudangshan?
Answered by Wyatt | Mar. 14, 2019 18:47

0

0

Reply
As I know, the ticket fare is CNY45/person.
Asked by mei from USA | Aug. 30, 2018 15:18

Reply
Transportation from Shiyan airport to Wudangshan before the park gate
I will arrive at Shiyan Airport on 10/11/2018 at 18:30. I want to take a taxi from Shiyan airport to my hotel, Wudangshan Tianbao Jiuru Inn, the hotel is located outside the Wudang mountain park, so I am not worried about the park gate being closed. Will it still be easy for me to find a taxi at that time? How much will the taxi ride be (approximately) and how much should I tip?
I read on this website there is bus 202 or 203 going from Shiyan airport to Wudangshan. Till what time does the bus run and how much is the bus fare?
Answers (1)
Answered by Nancy from DENMARK | Aug. 31, 2018 00:24

0

0

Reply
Hi, if you take s bus, the fare is about CNY 120 and you can find a taxi easily. You don't need to tip since there is no tip habit in China.

Only shuttle bus line 2 can take you to Wudang Scenic area and it departs at 13:30 and 16:30. It takes about 1 hour and the fare is CNY 15.
Asked by Aleix from SPAIN | Aug. 03, 2018 20:45

Reply
Bus to Xi'An + Five Dragon Temple
Hey guys! Two questions:
1) do you know if there is a bus from Wudangshan to Xi'An and it's timetable?
2) is the Five Dragon Temple closed?
Thank you very much for your help!
Answers (3)
Answered by Ben from POLAND | Aug. 07, 2018 01:04

0

0

Reply
1. You need to go to Shiyan City and then take a bus to Xi'an, the departure time is 8:30, 10:00, 12:00, 13:50, 14:30, 17:00.
2. Which Five Dragon Temple do you mean? I didn't find any Five Dragon Temple on the way.

Answered by Simon from UNITED KINGDOM | Aug. 08, 2018 01:21

0

0

Reply
Hi Ben,

This is very helpful - however, is it true that the bus from wudangshan to shiyan stops at the "south" station, and the bus to Xi'an departs from the "highway" station? Just like Aleix, I'm looking for the most direct way to get to Xi'an from Wudangshan, the options that I have so far are:

1. Take a bus from Wudangshan to Shiyan south station (1h), take a local bus to the highway station (1h), and then another bus to Xi'an (5h)

OR

2. Take a bus from Wudangshan to Wudangshan station (30 min), a train to AnDong (3h) and then another train to Xi'an south station (3h), and find a way to the city (can be a long trip as the arrival to Xi'an south is late)

Either one takes at least 7 hours, is there any better way of doing it (without doing the night train). If I do option 1, should I reserve the bus tickets in advance (how? as a I'm a tourist and do not have a chinese number), I'll be in the Wudangshan area around 8/19.

Any help is appreciated, thanx,

Simon

Answered by Ben | Aug. 08, 2018 18:36

0

0

Reply
Hi, you're right about the bus station.
You can consider taking a fight from WDS to Xi'an since it's not so expensive at that time and it will be more convenient.
Generally, you can't book bus tickets in advance and the reasons are as you said.