Ezhou Travel Guide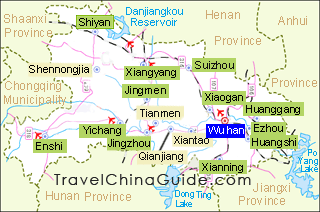 Ezhou Facts
Chinese Name: 鄂州 (è zhōu)
Population: 1,077,700
Area: 1,594 square kilometers (615 square miles)
Location: in the east of Hubei Province, central China
Administrative Division: 3 districts (Echeng, Liangzihu, Huarong)
Area Code: 0711
Zip Code: 436000
GDP (2018): CNY 100.53 billion (USD 15.19 billion)
The Origin of Wuchang Fish & Chinese Pure Land Sect of Buddhism
Located in the east of Hubei Province, Ezhou is close to Wuhan to the west, Huangshi to the east and Huanggang to the north. It is about 1,000 kilometers (621 miles) away from Beijing in the north, Shanghai in the east, Chongqing in the west and Guangzhou in the south. Ezhou is the origin of the famous Wuchang Fish. The Steamed Wuchang Fish cannot be missed for visitors, which is a traditional dish in Hubei and it tastes tender, fresh and delicious. Visitors who are interested in Buddhist culture can have a look at Gulingquan Temple in the west of urban Ezhou, which is the birthplace of the Chinese Pure Land Sect of Buddhism. Located in the south bank of the middle reaches of the Yangtze River, Ezhou also features beautiful natural scenery with canyons, lakes, wetlands and forests.
Ezhou Attractions - Things to Do
Liangzi Lake
Liangzi Lake is the largest fresh-water lake in Ezhou City of Hubei Province. It measures 51 miles from east to west and 14 miles from north to south, with the water maintaining a depth of 9.8 feet all year round.
Nestled serenely like a blue stone inlaid upon the surrounding land, Liangzi Lake is famous for the unpolluted water and its beautiful landscape, the gentle wind blowing in from the mountains not far away ripples this azure lake in the sunlight, creating spectacular scenery among the many islets featured around the lake. The crystal clear water also has a large breeding population of Wuchang Fish, which are renowned at home and abroad. Lying in the middle of Liangzi Lake and covering an area of 200 hectares, Liangzi Islet is an ecotourism resort that embraces Kuixing Tower, Liangzi Gate, Siguan Hall, Xianren (Immortal) Cave and a professional Golf Club. Due to its pleasant environment, this islet is also called Changshou (Longevity) Islet, which is the home for senior citizens who wish to enjoy their twilight years amid this tranquil setting.
Through years of modern development, Liangzi Lake has become a famous tourist resort in Hubei Province, which combines sightseeing, summer recreation, and entertainment.
Lotus Mountain
Located on the shore of Yanglan Lake in the southern suburb of Ezhou, Lotus Mountain has verdant mountains and clear waters complete this beautiful landscape. With the Lotus Mountain as the main peak, there are nine other mountains, blooming like nine lotus flowers in the water. This is how the mountain's name originated.

The Lotus Mountain scenic area is blessed with both the beauty of grandness and elegance. The main tourist resorts are Yuanming Pagoda, Forest of Steles, Liuhe Garden and Jiulong Altar. Yuanming Pagoda is famed as "the first pagoda in the south of the Yangtze River area". Measuring 262 feet tall, it is a white pagoda with golden upturned eaves. Covering an area of three hectares, the Forest of Steles keeps over 10,000 elaborate stele works of all ages and for many countries. As such, it is regarded as a treasure house of culture containing an ocean of wisdom. Liuhe Garden lies in the north slope of Lotus Mountain. It is home to many precious animals such as deer, monkey, tortoise, and golden carp and beaver. The Jiulong Altar can also be seen at the entrance to the scenic area. "Jiulong" means nine dragons. The Altar is composed of nine dragons coiling with each other, among which the biggest two lift a lotus ball. The altar is carved with dragons because the dragon represents the Chinese totem, symbolizing Chinese spirit where constant self-improvement and effort help one to achieve success.

Come to Lotus Mountain, feast your eyes on the charming land and experience traditional Chinese culture.
| | |
| --- | --- |
| Entrance Fee: | CNY 25 |
| Opening Hours: | 08:00 - 18:00 |
How to Get to Ezhou
1. Ezhou does not have airport, but it is only 50 kilometers (31 miles) from the capital city of the province, Wuhan, and 70 kilometers (43 miles) from Wuhan Tianhe International Airport. Visitors can get here from Wuhan within one hour. Notable is that, there are no direct airport buses between Wuhan airport and Ezhou. Visitors should get to downtown Wuhan first.
2. Here is the information about Ezhou's bus stations:
Xishan passenger transport station: No.15, Hanxi Road, Echeng District
Central bus station: at the intersection of Binhu Road (West) and Guangming Dadao, south of the new city district.
Weather
-
Ezhou enjoys a subtropical monsoon climate, with an annual average temperature of 17

C (63

F). It has abundant rainfall and sunshine, together with four distinct seasons. Summer is the rainy season, and the weather is torrid and wet. Spring and winter is cold.

When to Go: The best time to Hubei Province is in spring and autumn, and Ezhou is especially favorable for visiting at the summer's end and the start of autumn.
Ezhou Travel Tips

History: Long time before the Eastern Zhou Dynasty, Ezhou has been called 'E' as a shire or a county. During the Three Kingdoms Period, the Wu Kingdom put it as the capital, and changed its name to Wuchang.



Geographical Features: The terrain in southeastern Ezhou is higher and that in central and northwestern part is relatively flatter and lower. River and lake plains are mainly distributed in the west. The Yangtze River runs through the northern boundary area. Ezhou has more than eighty lakes of all sizes.



Special Local Products: pearl, crab, lotus seeds, Wuchang fish, Dongpo Cake
- Last updated on May. 14, 2020 -
Questions & Answers on Ezhou Travel
Asked by Htoo from WUHAN | Jul. 13, 2018 02:38

Reply
What is the best railway station to go Red Lotus Lake Golf Club and Hotel at Ezhou?
I mean from Wuhan.
And how far is that Golf Club from Ezhou railway station? Thanks
Answers (1)
Answered by Lucy from AUSTRALIA | Jul. 15, 2018 20:09

0

0

Reply
The closest railway station is Gedian South Station and the taxi fare is about CNY 30 and the distance is about 16km. The distance from Ezhou railway station is about 60km.
Asked by Tom from GERMANY | Nov. 05, 2015 04:10

Reply
where can you buy a mask in Ezhou?
Answers (1)
Answered by Mina from RUSSIA | Nov. 06, 2015 03:33

0

0

Reply
Oh, you can find some supermarkets nearby your living place. In addition, if you wanna use the mask to prevent haza, you can go to nearby drugstore to buy one. :-)
Asked by bsteh from MALAYSIA | Sep. 10, 2015 02:45

Reply
Nihao! What is the best way to travel from Wuhan to Ezhou?
How to get to Liangzi Lake and Lotus Mountain after? Can one cover the two places in a day? Thank you.
Answers (1)
Answered by Irina from NEW ZEALAND | Sep. 11, 2015 21:19

0

0

Reply
1. From Wuhan Railway Station, you are suggested to take direct train to get to there. The train schedules are from 06:46 to 18:49. It takes around half an hour on the way. The ticket fare of first class seat is CNY23 and second class seat is CNY19.

2. If you wanna tour around these two scenic areas in one day, you are suggested to hire a private car from the railway station directly. It brings a lot of convenience. Have a good journey!