Jingzhou Travel Guide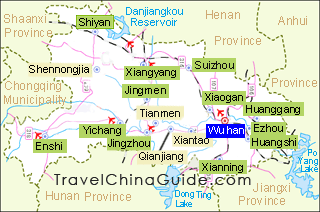 Jingzhou Facts
Chinese Name: 荆州 (jīng zhōu)
Population: 6,600,000
Area: 14,100 square kilometers (5,444 square miles)
Location: in the south-central of Hubei Province, central China
Administrative Division: 2 districts (Jingzhou, Shashi); 3 counties (Jiangling, Gong' an, Jianli); 3 county-level cities (Songzi, Shishou, Honghu)
Area Code: 0716
Zip Code: 434000
GDP (2018): CNY 208.218 billion (USD 31.467 billion)

Ancient Capital of the Kingdom Chu with 483-km Long Golden Waterway
Situated at the Jianghan Plain, Jingzhou is close to the Golden Waterway Yangtze River, with Wuhan to the east, Yichang south, and Jingmen north, as well as bordering with the Three Gorges. Jingzhou is the birthplace of Chu culture and the center of the Three Kingdoms (220 - 280) culture. During the Spring and Autumn Period and the Warring States Period (770 BC - 221BC), 20 generations of Chu kings set capital in Jingzhou, forming Chu culture comparable to Athens culture in ancient Greece. Many stories of the Three Kingdoms took place here. The Ancient City of Jingzhou of the Three Kingdoms period is still kept, where you can see the old city walls. The development and prosperity of Jingzhou depend on the Yangtze River to a great extent. The 483 kilometers (300 miles) long golden waterway runs through the whole city and Yanka Port is the third largest comprehensive open port in the middle and upper reaches of the Yangtze River.

Top 10 Ancient Cities in China

Ancient City of Jingzhou
Ancient City of Jingzhou lays in the south of the centre of Hubei Province and the middle reaches of the
Yangtze River
, and is an ancient cultural city with a long history of more than two thousand years. It was originally one of the birth places of the culture of Chu State in the Spring and Autumn Period (770 BC-476 BC) and Warring State Period (476 BC-220 BC), which left extremely valuable cultural relics from their 400 plus years' reign equally comparable with the ancient Greek and Roman culture. In the Three Kingdom Period (220-589), the city was the focus of many disputes and wars. Since the Eastern Jin Dynasty (317-420), the city had been established as the capital by 11 emperors in all, making it the political centre in China for more than 100 years. As the city represents so much importance in Chinese history the city has been acknowledged by the State Department in China to be one of the best of 24 famous historical and cultural ancient cities. Its cultural relics and advantageous location has drawn the attention of many visitors' from both home and abroad.
| | |
| --- | --- |
| Ancient City of Jingzhou | Earthen Plate, Jingzhou Museum |

Mountains:
Mt. Balingshan

Rivers:
Honghu Lake, Juzhanghe River, Changhu Lake, Songzihe River, Jingjiang River, Huduhe River
How to Get to Jingzhou
The transportation of Jingzhou is very convenient. It is 179 km (111 mi) away from
Wuhan City
and connected to it by the highway. Railways lead across the country. You can also travel by water to Shashi Port or to Shashi Airport by air.
Weather
-
Jingzhou has subtropical humid monsoon climate with four seasons clearly demarcated. Cloudy and sunny days are not certain in spring, it is humid and hot in summer, fine autumns, and dry cold winter. There is plenty of sunshine in Jingzhou and the frost free period is 220-300 days.

Average Temperature: 16

C (61

F) annually

Rainfall: plenty of rain, annual even precipitation 1200 mm; concentrated on June, July and August, as well as spring

When to go: Spring and Autumn are the best period to see Jingzhou.
Jingzhou Travel Tips

History: a cultural ancient city with 2000 years history with the reputation of "the finest under heaven, being overwhelmed by 9 divisions"; one of the cradles of Chu Culture, and used to be the capital of the Chu State during the Spring and Autumn Period for totally 20 emperors; in Northern and Southern dynasty, the capital of Qihedi, Liangyuandi, the Later Liang; in Five Dynasties, the capital of the Nanping State



Physical Features: higher west and lower east; densely cover by the network of waterway, as well as lakes; with winding river course



Local Highlights: the Shashi Jing Satin; the Shashi basin and plate golden painted



Jingzhou International Dragon Boat Festival: It is held in the first week of May for the memorial of Qu Yuan, a famous patriot of Chu State who jumped into the Miluo River.



Related Hiking Tour Itinerary: Jingzhou Trip
- Last updated on Apr. 13, 2021 -
Questions & Answers on Jingzhou Travel
Asked by Sulee from THAILAND | Mar. 20, 2019 04:28

Reply
If I have 4days in Hubei, arrive Wuhan 12/4 early morning depart 15/4 at night, where I should go
1. Should I go to Jingzhou upon arrive airport, is there many interesting places there which I should overnight after visit or should go overnight to Xiangyang in the afternoon /evening (depend on train schedule?) or back to Wuhan and go Xiangyang next day
2. Should I overnight at Xiangyang , is there sufficient time for one day trip?
3. Any suggestions for the plan? Other nearby city but I wont go Wuchang, cannot walk much
4. There are 5 persons in my group, hire a taxi would be economical than high speed train or not
5.Can we call taxi on street or need to go taxi stand when travel in each town?
Answers (3)
Answered by Alice from FINLAND | Mar. 25, 2019 20:09

0

0

Reply
1. Yes, you can go to Jingzhou upon arrival airport. You can tour around Ancient City of Jingzhou, Mt. Balingshan, Honghu Lake, Juzhanghe River and Huduhe River.
You are suggested to stay one night in Jingzhou and go to Xiangyang the next day.
2. Yes, you are advised to have a overnight at Xiangyang. Then the time will be enough for one day trip.
3. For your convenience, you are suggested to take a high spped train.
4. Yes, you just need to call the taxi on street.
Answered by Sulee from THAILAND | Mar. 27, 2019 02:29

0

0

Reply
Thank you for your reply.

Is there still cherry blossom during Apr 12-14? Does it already start? Where should I go to see?
Answered by Alice | Mar. 27, 2019 19:33

0

0

Reply
You are suggested to see the cheery blossom in Wuhan University. Generally speaking, you can see the lots of flowers until the early April. But don't worry. You can still see some in middle of the April.
Asked by Khanh from VIETNAM | Jan. 17, 2019 03:44

Reply
What is the bus from Jingzhou to Xiangyang? What is the name of bus station?
Answers (2)
Answered by Juliana from NEW ZEALAND | Jan. 17, 2019 17:45

0

0

Reply
Take the direct coach from Jingzhou Coach Station. The bus schedules are from 07:30 to 17:30 with the frequency of around an hour. The ticket fare is CNY80 per person. The duration is around 4.5 hours.
Answered by KHANH | Jan. 27, 2019 07:19

0

0

Reply
Thanks
Asked by Györ Attila from HUNGARY | Oct. 24, 2018 09:22

Reply
Jingzhou or Xiangjang (Xiangfan) is better to visit as a cultural target?
Answers (2)
Answered by Sophia from USA | Oct. 24, 2018 23:10

0

0

Reply
In my opinion, Xiangyang is much better and it is the birthplace of Chu culture and has a history of over 2800 years.
Answered by Attila from HUNGARY | Oct. 25, 2018 03:24

0

0

Reply
Thanks.
Asked by asare joseph from CHINA | Oct. 21, 2015 09:30

Reply
please what is the time travel distance from beijing to jingzhou by bullet train and the fare?
Answers (1)
Answered by Victoria from USA | Oct. 22, 2015 20:59

1

0

Reply
The distance between these two cities is about 784 miles.
The bullet trains all start from Beijing West Railway Station. The duration is 6 to 7 hours. The train schedules are 08:30, 09:40 and 12:51. The ticket fare of first class seat is CNY900 and second class seat is CNY580.