Yichang Travel Guide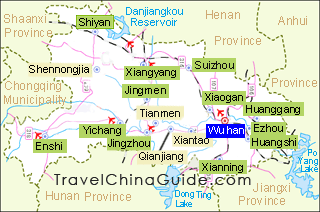 Yichang Facts
Chinese Name: 宜昌 (yí chāng)
Population: 4,135,900
Area: 21,000 square kilometers (8,108 square miles)
Location: in the southwest of Hubei Province, central China
Administrative Division: 5 districts (Yiling, Xiling, Wujiagang, Dianjun, Xiaoting); 3 counties (Yuan' an, Xingshan, Zigui); 2 autonomous counties (Changyang Tu Autonomous County, Wufeng Tu Autonomous County); 3 county-level cities (Yidu, Zhijiang, Dangyang)
Area Code: 0717
Zip Code: 433000
GDP (2019): CNY 446.082 billion (USD 64.659 billion)
World's Hydropower Capital
Yichang city is located in the southwest of Hubei Province and lies on the northern bank of the Yangtze River. It borders Jingzhou and Jingmen to the east, Hunan Province to the south, Enshi to the west and Shennongjia Nature Reserve and Xiangyang to the north. Yichang is the location of the Gezhouba Water Conservancy Project and Three Gorges Dam Project, so it is known as the world's hydropower capital. Every year, a large number of tourists come to visit this great water conservancy miracle. Some of them would like to take a 3-4 days Yangtze River cruise to appreciate the Three Gorges Dam and picturesque scenery along the Yangtze River. Another interesting aspect of Yichang is that several Chinese eminent persons were born here in ancient times, such as the concubine Wang Zhaojun during the Western Han Dynasty (206 BC - 24 AD) and the patriotic poet Qu Yuan in the Warring States Period (476 BC - 221 BC). Many historical sites are kept in this city.
History
Yichang is an ancient city and its history can be traced back for 4,000 years. During what is known as its Spring and Autumn Periods (770 BC-476 BC), Yichang was regarded as of great strategic importance. Many famous battles took place here, such as the Changbanpo Battle and the Yiling Battle during the Three Kingdoms Period (220-280). Relics of these battles can still be found in the area. Now, after thousands of years' development, Yichang stands out with its various unique characteristics.

Yichang Pictures
| | |
| --- | --- |
| Gezhouba Water Conservancy Project | Three Gorges Dam |
Gezhouba Water Conservancy Project
and
Three Gorges Dam Project
are located there. Benefiting from these projects, it has become the largest hydroelectric resource center in China. In Addition, the tourism centered on the Three Gorges has made the city more famous and more prosperous. Xiling Gorge which is located near the city is an important part of the 'Three Gorges Gallery'. The Three Gorges Dam Project is one of the great wonders of modern human history and it has become a tourist hot spot of the world. Every year, millions of visitors gather here to witness this great man made project.
Apart from the Three Gorges, the abundant natural resources and historical sites of the city are also attractive. Mountains, waterfalls, caves, stone forests and pools form picturesque scenes. There are many natural reserves in or around the city, including Chaibuxi National Forest Park and Houhe Natural Reserve. As an ancient city, Yichang is the site of some important historical relics such as
Qu Yuan's Hometown
, Zhaojun Residence and Ancient Battle Relics of Three Kingdom Period.
| | |
| --- | --- |
| Badong Yangtze River Bridge | Yichang Port |
Recommended Tour Itineraries
Historic Capitals & Yangtze
: 12 Days of Beijing - Xi'an - Chongqing - Yangtze River - Yichang - Shanghai
Three Gorges Exploration
: 4 Days of Chongqing - Yangtze River - Yichang

More
China Tour Packages
of
Chongqing
; prickly ash, hot pepper and chilli powder play an important role in people's diets. Formal restaurants, local cafes and even street stalls offer diners delicious local specialties. They are all waiting for you to enjoy.
In terms of accommodation, there is a wide range of hotels offering excellent facilities for you to choose from. For a double room, the price ranges from CNY120-CNY1200 per day. However, for most of the hotels, the average price is between CNY200 and CNY300. For those who like to try something out of the ordinary, accommodation is also available in Manor hotels which are far from the downtown area and may be located deep in the forest or high in the mountains. Another option is one of the smaller, family hotels which allow visitors to experience the real life of the locals.
- Last updated on Apr. 13, 2021 -
Questions & Answers on Yichang Travel
Asked by Carla from PORTUGAL | Dec. 29, 2019 04:30

Reply
We end our Yangtze River cruise at 12,00 and want to take a train at 00,00
what can we in the afternoon?
Answers (1)
Answered by Rita from THAILAND | Dec. 30, 2019 17:57

0

0

Reply
You can go to visit Three Gorges Dam scenic area.
Asked by Jenny from AUSTRALIA | Oct. 02, 2019 08:15

Reply
Yangtze River evening tour cruise - ferry trip to 3 gorges in Yichang
Read about the above night cruise departing from the 3 Gorges Visitor Centre in Yichang. It sails between
Gezhouba and Wujiafang. Has anyone taken this night cruise and how is it?

Thank you.
Answers (1)
Answered by Daniel from USA | Oct. 11, 2019 17:48

0

0

Reply
I think it is worth trying. You can appreciate a different river view in evening.
Asked by james mossberg from USA | Jan. 14, 2019 14:02

Reply
taxi from maoping port yichang to downtown
Is there usually a taxi at maoping port when ships arrive in the morning? I need to get a train and can not wait for the cruise tourist bus to leave. Would there be a taxi in Zigui? Thank You, James
Answers (1)
Answered by Addington from CANADA | Jan. 24, 2019 17:33

0

0

Reply
Yes, you can see some taxis and private car that can take you to the railway station. Don't worry.
Asked by Martin from SWITZERLAND | Sep. 22, 2018 05:36

Reply
We would like to hike some days between Badong and Wushen along the river. How can we do it?
We are a couple, 60 years young, well used to make hiking in Switzerland. My wife speaks some Mandarin, so orientation in villages is possible in Mandarin.
We would like to make hiking for 5-6 days in October 2018.
How can we go from Yichang to Badong or to Guandukouzhen 官渡口镇 Badong, Enshi, Hubei, that means close to the ChangJiang Jangtze.
Where can we find a good map or hiking description for Badong and Wushen (Wuxiazhen 巫峡镇 Wushan, Chongqing) Maybe you can send us some maps or descriptions?? Thank you and have a nice day. Martin
Answers (3)
Answered by William from USA | Sep. 26, 2018 01:22

0

0

Reply
Dear Martin, you can take the speed boat to Badong Guandukou Town, much faster than taking the train or long-distance bus. Along the way, you can enjoy the natural scenery.

In Badong, you can find the steps to the mountain and the cement pavement along the Minzu Road. Then get to the Huoyanshi Village. Then find a villager to help you across the Lianzi River. Later, walk to Xiaojiaping, Yanchizi Bay along the river bank. You can spend one night at the nearby villages. Next morning before 10:00am, get to the Xiaoxihe ferry where you need to take the ferry to Wushan.
Answered by Martin from SWITZERLAND | Sep. 26, 2018 06:18

0

0

Reply
Thank you William
I found the places on the map: Badong, Minzu Road, Huoyanshi, Lianzi River, Xiaojiaping. It looks nice and I hope we will find a path :-)

Where is the start for the ferry from Yichang to Badong? in Yichang or at the upper site of the big dam? Which Bus to go there?
Answered by William | Sep. 26, 2018 18:14

0

0

Reply
Dear, you need to take the ferry at Maoping wharf, near the big dam. And you can take the bus the wharf at Yichang Passenger Long-distance Bus Station.
Asked by Kai Tong from CANADA | Aug. 27, 2018 04:19

Reply
3 stars hotel near Yichang Cruise terminal
Answers (1)
Answered by Tom from NETHERLANDS | Aug. 28, 2018 20:38

0

0

Reply
If you mean the New Century Wharf, there is a Longquan Hotel in No. 1 Nanjingguan Road Xiling district, about 15 minutes' walk from the wharf.