Yichang Travel Guide

Location: Lying on the northern bank of the
Yangtze River
, Yichang covers an area of about 21,000 square kilometers (8,108 square miles).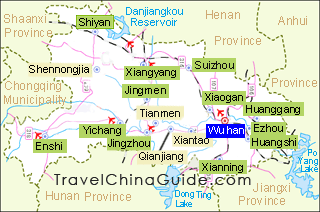 History: Yichang is an ancient city and its history can be traced back for 4,000 years. During what is known as its Spring and Autumn Periods (770 BC-476 BC), Yichang was regarded as of great strategic importance. Many famous battles took place here, such as the Changbanpo Battle and the Yiling Battle during the Three Kingdoms Period (220-280). Relics of these battles can still be found in the area. Another interesting aspect of Yichang is that several eminent persons were born here in ancient times, such as the concubine Wang Zhaojun during the Western Han Dynasty (206 BC - 24 AD) and the patriotic poet Qu Yuan in the Warring States Period (476 BC - 221 BC). Now, after thousands of years' development, Yichang stands out with its various unique characteristics.
| | |
| --- | --- |
| Gezhouba Water Conservancy Project | Three Gorges Dam |
Gezhouba Water Conservancy Project
and
Three Gorges Dam Project
are located there. Benefiting from these projects, it has become the largest hydroelectric resource center in China. In Addition, the tourism centered on the Three Gorges has made the city more famous and more prosperous. Xiling Gorge which is located near the city is an important part of the 'Three Gorges Gallery'. The Three Gorges Dam Project is one of the great wonders of modern human history and it has become a tourist hot spot of the world. Every year, millions of visitors gather here to witness this great man made project.
Apart from the Three Gorges, the abundant natural resources and historical sites of the city are also attractive. Mountains, waterfalls, caves, stone forests and pools form picturesque scenes. There are many natural reserves in or around the city, including Chaibuxi National Forest Park and Houhe Natural Reserve. As an ancient city, Yichang is the site of some important historical relics such as
Qu Yuan's Hometown
, Zhaojun Residence and Ancient Battle Relics of Three Kingdom Period.
| | |
| --- | --- |
| Badong Yangtze River Bridge | Yichang Port |
Recommended Tour Itineraries
Historic Capitals & Yangtze
: 12 Days of Beijing - Xian - Chongqing - Yangtze River - Yichang - Shanghai
Three Gorges Exploration
: 4 Days of Chongqing - Yangtze River - Yichang

More
China Tour Packages
of
Chongqing
; prickly ash, hot pepper and chilli powder play an important role in people's diets. Formal restaurants, local cafes and even street stalls offer diners delicious local specialties. They are all waiting for you to enjoy.
In terms of accommodation, there is a wide range of hotels offering excellent facilities for you to choose from. For a double room, the price ranges from CNY120-CNY1200 per day. However, for most of the hotels, the average price is between CNY200 and CNY300. For those who like to try something out of the ordinary, accommodation is also available in Manor hotels which are far from the downtown area and may be located deep in the forest or high in the mountains. Another option is one of the smaller, family hotels which allow visitors to experience the real life of the locals.