Yichang Transportation -- Getting There
Air
Yichang Sanxia Airport (YIH), about 16 miles (26 kilometers) from the city center and 34 miles (55 kilometers) from the Three Gorges Dam, has played an important role in the construction of the Three Gorges Dam Project. The airport was built in 1993 and started to use in 1996. Now it operates 31 air routes which lead to many domestic destinations, such as Beijing, Shanghai, Guangzhou, Shenzhen, Nanning, Xi'an and Hangzhou, as well as a few international cities like Busan. Shuttle bus and taxi are easily accessible at the airport for shuttling to downtown area and the nearby attractions.

Train
Opened in 2010, the new East Railway Station operates the most trains. There are scheduled trains running to and from Beijing, Shanghai, Wuhan, Xi'an, Guangzhou, Chengdu, Chongqing, Kunming, Changsha, Zhangjaijie and Hangzhou everyday.

Location in Wujiagang area, the train station is 10 kilometers from the city center. The three-storey terminal building of the East Railway Station allows a capability of 6,000 passengers at the same time. On the east and west square of the station, multiple transportation methods are also equipped, including city-bus, taxi and long-distance coach.
Transportation: city-buses Nos. 1, 9, 68, 37



See More Rail Lines from Yichang to:
| | |
| --- | --- |
| Yichang Railway Station | East Railway Station |
Yichang Railway Station
This railway station was built in 1974 and refurbished in 2002. Surprisingly, the railway station was built halfway up a mountain. The passengers can get a bird's-eye view of part of the city from the station. In usual days, it is only used for freight transport. However, in peak travel time like Spring Festival Travel Rush, it may also be used for passenger transport to relieve the passenger pressure of the East Railway Station.
Location: No.107, Dongshan Road
Transportation: city-buses Nos. 6, 9, 27

Long-distance Bus
The development of motorways in the city has been very rapid. Yihuang Expressway (from Yichang to Huangshi), Hurong Expressway (from Shanghai to Chengdu) and three national roads play an important role in the city's highway communication. There are three bus stations in the city: Yichang Long-distance Bus Station, Dagongqiao Bus Station and Haitong Bus Station. Amongst them, the Long-distance Bus Station is the biggest and transports most of the passengers every day. The bus routes in the stations radiate out to the neighboring cities as well as other cities such as Beijing, Shanghai, Guangzhou, Xi'an and Zhengzhou.
The bus station also has bus routes to the four municipalities and cities in Jiangsu Province, Zhejiang Province, Shaanxi Province and some neighboring cities like Wuhan. The long-distance buses have sleeping berths. Buses to Shiyan or Shennongjia Nature Reserve leave the station daily. The buses to Shiyan leave the station at 08:00 and 18:00 every day.
Address: Xiling District
Bus Route: 6, 9, 27, 28
Inquiring number for group bus charter: 0717-6459697 6905022 (fax)
Dagongqiao Bus Station has bus routes to Chongqing and cities in Sichuan Province, Zhejiang Province, Henan Province and Hunan Province.
Address: Dagongqiao
Bus Route: 2, 3, 4, 8, 19, 25-1
Inquiring number for renting the buses in groups: 0717-6905036
Buses from Haitong Bus Station leave for the outskirts of the city as well as Shennongjia Nature Reserve.

Water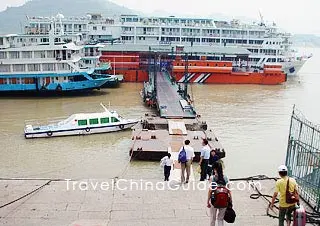 Yichang Port
Lying at the harbor of Xiling Gorge, it has some natural advantages in river transport and it has been always a port city since its opening in 1876. The Yangtze River runs through the city and stretches out over 237 kilometers (147 miles) in the area. The construction of Gezhouba Water Conservancy Project redefines the city as a waterpower city. Yichang Port (also known as the Ninth Wharf) is one of the eight important ports on Yangtze River. There are 6 wharfs scattered around the port for transporting goods as well as passengers. Taking a cruise ship in the city is a good way to enjoy the picturesque view along the Yangtze River and is very popular among the travelers. Starting here, travelers can sail up to Chongqing and down to Shanghai along the Yangtze River. It takes only 12 hours to travel to Chongqing by ferry. The ferry leaves the port once a day with a fare around CNY300-400 according to seat class. In addition, there are regular ships directly to Badong, Wanzhou, Fengjie and several other places around. These are also tourist lines along the Yangtze River, although they are not as hot as the tour to from Chongqing.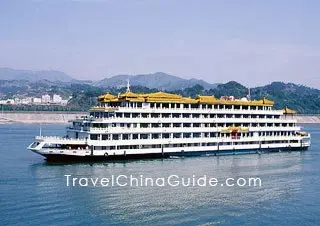 Luxury Ship President No.3
Taking a cruise ship is a better choice for visitors. It is an ideal way to view the magnificent sceneries of the Three Gorges. Many luxury ships berth at the port. Visitors can enjoy the beautiful views from the cruise ships. The ships are all prepared with the best facilities and have everything you could wish for, including top-level restaurants and entertainment rooms.
Tips:
1. The passenger who suffers from seasickness should take some pills to avoid it.
2. It is very convenient to get to the port by city bus. Bus No.2, 3, 4, 7, 810, 28, 29 will take you there. It is not convenient to the port from the railway station because it is a little bit distant from the public bus stops.Taxi is suggested then.
3. Passengers from Sanxia Airport can take the shuttle bus in the airport to Sanxia Hotel. Then, take a taxi with a fare of about CNY6 to the port.
- Last modified on Apr. 13, 2021 -
Questions & Answers on Getting to Yichang
Asked by Elisa Alcerreca from MEXICO | Aug. 25, 2018 17:41

Reply
Where can I buy online bus tickets from Yichang to Zhangjiaje?
when can I see the bus schedule and those buses depart from Dagongqiao Bus Station?
Answers (1)
Answered by Fred from HUNGARY | Aug. 27, 2018 19:42

0

0

Reply
I didn't find any online booking websites, so you are suggested to buy tickets in the station in an early time. As for the schedule, I remembered that it departed at 16:00 and the journey time is about 6 hours.
Asked by Kenneth Monds from CANADA | Feb. 22, 2018 06:37

Reply
Is there a bus from Sanxia airport to Yiling square?
Answers (1)
Answered by Mina | Feb. 23, 2018 01:28

1

0

Reply
Yes, you can take airport shuttle bus to Gezhouba Hotel. Then the distance to Yiling Square is no more than 2km. You can take a taxi to get there directly.
Asked by FAIZAN ALI from CHINA | Dec. 19, 2016 21:57

Reply
How to get the Yichang Airport from the Main Railway Station? Which bus no.?
Answers (1)
Answered by Joshua from FINLAND | Dec. 20, 2016 20:23

1

0

Reply
You can take the shuttle bus from Gezhouba Hotel. There is no exact bus number. From the Main Railway Station, just take a taxi to the hotel first. The cab fare is about CNY 8 in the day time. Then you can easily find the shuttle bus. The ticket fare is CNY 20 per person.
Asked by Jaume Lopez Barcelo from SPAIN | Apr. 06, 2016 09:32

Reply
I'm planning arrive at Yichang on 8th. august evening.
I desire arrive at Wushan or Fengjie on 9th. evening by water. Which options I have: fast ferry, cruise or ? Thanks
Answers (2)
Answered by Richard from USA | Apr. 08, 2016 21:10

1

0

Reply
Generally speaking, most tourists will choose to take the cruise.
As I know, the last schedule at night is at around 19:00. The cruise route will pass Wushan and Fengjie. If you cannot catch this schedule, you are suggested to find a hotel nearby the YC Port and start off in the next morning.
Answered by Jaume from SPAIN | Apr. 09, 2016 11:43

0

0

Reply
Thanks, Richard. Other question, Fast ferry from YC to Wushan, Fengjie and up is working every day at summer? Depart from YC port? At what time?