Yichang Dining -- Food & Restaurants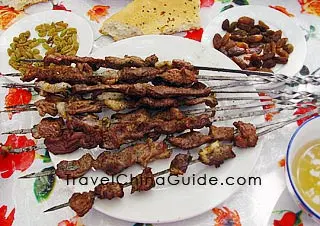 Xinjiang Roasted Lamb Kebabs
Although Yichang belongs to Hubei Province, the traditional Yichang cuisine is quite similar to that of Sichuan and is characterized by a spicy and pungent flavor. Prickly ash, hot pepper and chili powder play an important role in the dining of native people. Bacon is another distinctive dish often found here. With the improvement in people's living standard, even ordinary local people pay much attention to healthy and nutritional dining. The culture of eating has become fashionable here. You can find many types of Chinese Cuisine, such as Chongqing Hot Pot and Xinjiang Roasted Lamb.
There are high-level restaurants, but middle- and lower-level food courts, which are cheap but delicious, are more acceptable among common people. The food courts scattered in the city offer great variety. The dishes there are by no means inferior to the ones in restaurants. It has become a good place to dine together with friends and families.
The local snacks here are also popular.
Liangxia
(cold shrimp), which gets its name from its shape, is made of rice, corn and brown sugar. It tastes cool and is even better after mixing some ice water in it.
Cold Cordate Houttuynia in Sauce
, with its tender, crisp taste, is popular among the locals as well as some visitors. Cordata houttuynia, so named because of its fishy smell, can be used as Chinese medicine.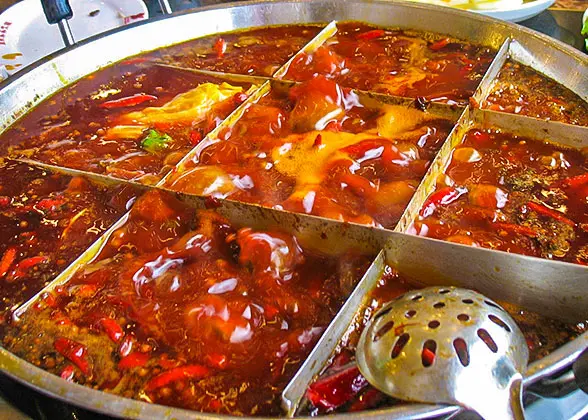 Chongqing Hotpot
Western food is becoming more fashionable here. You can find many western fast-food restaurants, including KFC, McDonald's and Pizza Hut, in the streets and lanes of Yichang City. They stand out with their unique flavor and refined atmosphere.

Snacks Streets
Baren Street
There are many Sichuan Chefs who are good at preparing unique
Sichuan Cuisine
. Baren Street, which is located on Renshou Road, is an assemblage of Sichuan restaurants. Douhua Fish is the most famous dish here.
Address: Renshou Road
Bus Route: 2, 4, 19, 25-2 (get off at Ermalu Stop)
Xiaomian Street
Xiaomian plays a main role in local breakfast. It is made of bean and bone soup which is mixed with pig's large intestines, beef, omelette, etc. Additionally, there are tens of noodles here, including noodles served with fried bean sauce, hot dry noodles and sour and hot noodles. In the city, there are many Xiaomian streets. The most famous ones are in Huancheng North Road and in Fusui Road.
Xiaomian Street in North Huancheng Road:
Bus Route: 2, 6 (get off at North Gate Stop)
Xiaomian Street in Fusui Road:
Bus Route: 18, 19, 22, 26 (get off at Kangzhuang Road Stop)
Delicacies Street on Zhongshan Road
Zhongshan Road has been the home of famous restaurants for a long time. The restaurants here are distinctive, and there are some special bars scattered amongst them.
Address: Zhongshan Road
Bus Route: 2, 6, 7, 18, 20 (get off at Jiefang Road Stop)
Apart from that, eating fresh fish beside the Yangtze River is also well received. The guests can sit beside the river, eating the table delicacy while enjoying the beautiful view of Yangtze River. Amongst all the restaurants here, the one named Xi'an is the largest. It serves fresh fish all year round. Seats should be reserved in advance.
Address: Beside Xia Xi Dam
Bus Route: 22 (get off at West Dam Elementary School Stop)
When night falls, the night market is crowded with eaters. There are a great number of night markets scattered throughout this city. The locals like to enjoy the snacks here after a hard day's work. Furthermore, some performances by folk actors can also be seen here. 403 Night Market is the one most enjoyed by the locals.
Address: At the crossing of Dongshan Road and the Xiling Er Road
Bus Route: 7 (get off at Yaowan Store Stop)
Restaurants
Xiaopinghu Restaurant
, Desheng Street Branch (Tujia Food)
Address: No.58, Desheng Street
Bus Route: 2, 6, 7, 12, 18, 20 (get off at Jiefang Road Stop)
Shaogongji (Roasted Cock)
Address: No.1, Sixinheng Road
Bus Route: 2, 6, 7, 12, 18, 20 (get off at Jiefang Road Stop)
Xianyoumei (cool dishes and hot pot)
Address: No.105, Yiling Road
Bus Route: 1, 19, 25-1, 30 (get off at the Second Shengli Road Stop)
Wangjiao Seafood Restaurant (seafood)
Address: No.1, Hongxing Road
Bus Route: 3, 4, 7, 8, 10, 19, 25-2, 28 (get off at Yimalu Road Stop)
Hongxing Restaurant (a comprehensive restaurant with Sichuan Cuisine, Hunan Cuisine, Guangdong Cuisine and the local dishes)
Address: No.25, Hongxing Road
Bus Route: 4, 19, 25-2

Western Food Restaurants
Liu Jin Sui Yue (Golden Times)
Address: No.38, Yunji Road
Hao Ke Shi Jia (Wealthy Aristocratic Family)
Address: No.8, Shenzhen Road, Dongshan Developing Zone

Fast Food
McDonald's
Address: Jiuzhou Shopping Mall, Yiling Road
Bus Route: 1, 8, 10, 22, 25-1 (get off at Tieluba Stop)
KFC
Address: Guomao Mansion, Dongshan Road
Bus Route: 3, 4, 6, 9, 11, 12, 19, 20, 22 (get off at Guomao Stop)
| | |
| --- | --- |
| KFC in Yichang | McDonald's |

Read more about
Hubei Food – Cuisine of Hubei in Central China
- Last modified on Apr. 13, 2021 -
Questions & Answers on Yichang Dining
Asked by Mr.qayyum from PAKISTAN | Dec. 08, 2010 06:57

Reply
is pakistani food is available in yichang. tell us the hotels where it available
Answers (1)
Answered by Ms.ICEBLUE from CHINA | Dec. 09, 2010 03:49

0

0

Reply
I haven't seen a pakistani food in Yichang. Other flavor do you like as well?