Yichang Attractions - Things to Do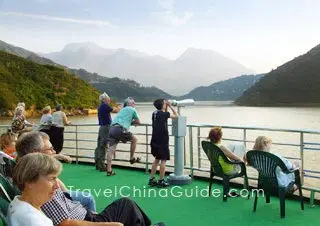 Xiling Gorge, Yichang
Top Things to Do

Three Gorges Dam Project


Gezhouba Water Conservancy Project


Three Gorges Tribe


Chinese Sturgeon Museum


Qingjiang River Gallery


Qu Yuan's Hometown

Yichang is a city with a god-given geographic location and natural resources. Here you will find grand mountains, historical relics, and water conservancy projects, fused by modern architecture, making an ideal place for holidays and leisure. When traveling here, you will be dazzled by the numerous attractions in and around Yichang.

Schedule of Three Gorges Dam Project

Benefits from Three Gorges Project

Problems Caused by Three Gorges Project

Scenery Change after Three Gorges Dam Completed
The
Yangtze River
runs through the city of Yichang, creating many natural reserves along its path. This valuable resource has made the city a valuable territory, and for this reason it became a place contested by all strategists. Yichang was a famous battlefield throughout the Three Kingdoms Period (220-280). It is also the birth place of many historical celebrities, such as Qu Yuan and Wang Zhaojun.
Yangtze River is the longest river in China and the Three Gorges is the most magnificent gorge on the river. The Three Gorges was listed as one of the best natural landscapes of China. It starts from Baidi City in Chongqing and ends at Nanjin Pass of Yichang, running with 193 kilometers (120 miles) in length. It consists of three parts: Qutang Gorge, Wu Gorge and Xiling Gorge. The Three Gorges Dam Project, the world's most magnificent man-made construction feat, is located on the Xiling Gorge. Construction of the dam began in1993 and scheduled to end in 2009.
| | |
| --- | --- |
| Three Gorges Dam, Yichang | Gezhouba Dam, Yichang |
Gezhouba Water Conservancy Project
, which is located towards the end of the Xiling Gorge, is another impressive landmark. It was built in 1988 and is the largest water conservancy project in the country. It is known for the vigorous gushes of water which fall amidst the beautiful surrounding landscape when the sluice is opened.
There are also many scenic landmarks around the Three Gorges area. Xiling Gorge is the longest of the three gorges. It is divided into four parts, marking specific areas that the Yangtze River turbulently passes through. Sailing down the Yangtze River, visitors can see beautiful scenery along both river banks. Zhao Jun's Hometown and
Qu Yuan's Hometown
are on the north bank of the river. Between Three Gorges Dam and Gezhouba Dam, there is a particularly beautiful area -
Three Gorges Tribe
(Sanxia Ren Jia), where visitors can enjoy scenery while having a taste of local life.
One branch of the Yangtze River, Qingjiang, is refered to as the 'bright pearl'. It is the mother river of the Tujia People, an area which acts as a receptacle for the water that the Yangtze empties into it. The
Qingjiang River Gallery
, named Qingjiang Hundred Islands Lake in the past, was rebuilt in 2005 and includes all the scenic spots from Geheyan Dam to Shuibuya Salt Pond Hot Spring. Visitors can take a yacht from Geheyan Port to view the scenery on both sides of the river, including Wuluo Zhongli Mountain, Qingjiang Buddha, Tianzhu Mountain Scenery Area and Hundred Islands Lake.
The area around Yichang City is highly forested, which creates many beautiful scenic areas in and around the city. Chexi Tujia Scenic Area to the west of the city, is an area where natural beauty and the folk custom of Tujia People have merged, creating a fascinating destination. Sixi River Scenic Area, located in the southeastern portion of Zigui County, is an area centered on the rivers. Some other attractive natural areas include Site of Changyang Man, Chexi Folk Scenic Area, Yuquan Temple Scenic Area and Dalaoling National Forest Park.
Changyang
Man: It is the site where the remains of primitive men were first discovered south of the Yangtze River. Located 28 miles southwest of Changyang, in Tujia Autonomous County, it is a cave in the mountains, about 4,265 feet above sea level. The opening of the cave is approximately seven feet tall and seven yards wide. The beautiful site is hidden in a verdant forest.
Anthropologists who studied these remains concluded that they belonged to early Homo sapiens who lived during mid Paleolithic age. These fossils had some characteristics of modern men and were more advanced compared to those of Beijing Man. The fossils proved that in early antiquity, humans had lived in the present Changyang area and in the area of the
Yellow River
. Yangtze River was also the cradle of the birth of civilization in China.
Chexi Folk Scenic Area: Located in Tucheng Town in Dianjun District of Yichang, Chexi Folk Scenic Area has been nicknamed "the Hometown of Dreams". There are eight tourist attractions: Shixian Valley, Lamei Gorge, Bachu Gutu Garden, Farmhouse Museum, Baota Valley, Tianlong Grotto, Wind Cave and Wangyou Valley. Visitors can enjoy
Tujia
ethnic folk songs and dancing, watch ancient workshop shows and farming displays in these picturesque settings.
Measuring about two miles long, Lamei Gorge was named for the fragrant calyx canthus (Chinese calls it Lamei) which blooms in winter. Wangyou Valley is located in the western end of Chexi Gorge. Wangyou, in English, means to forget sadness. The Taigong Cave inside the gorge is cool in summer and warm in winter. Zhenzhu (Pearl) waterfall cascades down like beads of pearls at the end of the valley. In Bachu Gutu Garden, there are demonstrations of Bachu culture and customs such as weaving, paper-making, extracting oil, ramming and grinding bean curd.
Come here to forget the hustle and bustle of city life in Yichang and be one with nature.
For visitors who want to get to know Yichang City,
Chinese Sturgeon Museum
gives an introduction to fossils which have lived on earth for 140 million years; Sanxia Fengqing Island, neighboring the museum, is a theme park with a view of Three Gorges.

Further Reading:
Attractions along Yangtze River
- Last modified on Apr. 13, 2021 -
Questions & Answers on Yichang Attractions
Asked by Lakshmi Swarup from CHINA | Dec. 13, 2015 06:47

Reply
Major Attactions in Yichang
How to get to Three gorges dam and three visitors cave.
Are there any other attraction??
Answers (1)
Answered by Vivian from ITALY | Dec. 13, 2015 21:52

2

0

Reply
Well, this is what I know and hope helpful:
1. To Three Gorges Dam: take bus line 8 from Yemingzhu Station to the terminus.
2. To Three Visitors Cave: take bus line 10 to Three Visitors Cave.
3. Other attractions: Tribe of the Three Gorges, and Three Gorges Waterfall, Yiling Square, East Mountain Park, and Taozhu Road Night Market.

Asked by ekuferere etine from NIGERIA | Nov. 27, 2015 04:26

Reply
what is the capacity of the hydro-electric dam in yichang
Answers (1)
Answered by Molly from RUSSIA | Nov. 28, 2015 02:16

1

0

Reply
Do you refer to Three Gorge Hydro-electric Dam?
If yes, I remember that the total installed capacity has reached to 22,400,000 kilowatt.
Asked by SANDRA+PARK | Sep. 04, 2015 02:21

Reply
Three Visitors Cave
From Pier No,. 9 (not centry pier) to Three visitors cave.How to get there?
cave closes at 5pm. Am I going to have enough time to see it? (2 hours?)
Answers (1)
Answered by Zoe from DENMARK | Sep. 04, 2015 22:03

3

0

Reply
1. You can take public bus no.10 to Three Visitors Cave Station. Then walk northeast around 270 yards to find the scenic spot. If by taxi, the cab fare is around CNY 20.
2. Don't worry. Two hours are enough for you to tour around.
Asked by Pam Gaskin from UNITED KINGDOM | Sep. 01, 2015 04:32

Reply
What to do near Yichang airport?
We disembark our cruise at approximately midday and then depart on a flight on Shanghai Airlines to Shanghai at 18.10.

Do you know if we will be able to check-in our luggage at the airport early in the afternoon?

If we can check-in or leave our luggage somewhere at the airport, what is nearby to sightsee?
Answers (1)
Answered by Sally from INDONESIA | Sep. 02, 2015 04:57

1

1

Reply
You are allowed to check-in about 2 hours before the flight's depature.

The cruise usually arrives at YC at 13:00 to 14:00 around, and your flight departs at 18:10. You are supposed to be in the airport about 2 hours before the flight's departure, and the taxi ride from the cruise port to the airport takes about 40 – 50 mins. So you do not have enough time for sightseeing, and near the airport, there is no spot to see. I suggest you have a rest in the airport.