Yangtze River Attractions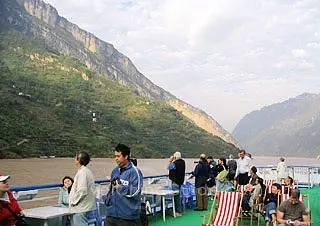 Yangtze River Cruise
The Yangtze River, the longest river in China, boasts widespread natural scenery and rich cultural relics. It has plentiful traveling resources mostly clustering around the mainstream area from Chongqing to Shanghai. Along the route, visitors can find many well-known scenic sights such as Chongqing Jinyun Mountain, Fengdu Ghost City, Yunyang Zhangfei Temple, Jingzhou Ancient City, Red Cliff, Wuhan Yellow Crane Tower and Yueyang Tower. Besides, the big cities like Chongqing, Wuhan, Nanjing and Shanghai are all hot tourist cities.
Among the countless scenic sights, the
Three Gorges
is the most amazing landscape. It is one of the top ten scenic sights in China. Starting from Fengjie County in Chongqing City in the west and ending at Yichang City in Hubei Province in the east, it is composed of Qutang, Wuand Xiling Gorges from west to east, thus the name "Three Gorges". The Three Gorges presents visitors with different views. Qutang Gorge is grand and magnificent. Wu Gorge is noted for beautiful scenery, and Xiling Gorge is struck by its abruptness and boldness. The branch rivers such as Daning River, Fragrant Stream and Shennong Stream are equally to visitors' liking. Rowing on the river, one will feel like traveling in an enchanting Chinese landscape painting. A large number of celebrities in history have left poems in praising its charm. Recently as the completion of the Three Gorges Dam Project in 2009, a quantity of scenic sites have been submerged or removed. But at the same time, the rising water makes some originally narrow gorges reachable. Many new sights emerge.
The following table is a list of the scenic sights along the Yangtze River cruise from Chongqing to Shanghai:
| Ports | Scenic Spots |
| --- | --- |
| Chongqing | Ci Qi Kou (Porcelain Village), Three Gorges Museum, Three Gorges Chongqing |
| Fuling | White Crane Ridge (Bai He Liang) |
| Fengdu | Ghost City, Snow Jade Cave (Xue Yu Dong) |
| Zhongxian | Shibaozhai (Precious Stone Fortress) |
| Wanxian | |
| Yunyang | Zhang Fei Temple |
| Fengjie | White Emperor City (Baidi City), Eight Elements Battle Formation (Ba Zhen Tu) |
| Qutang Gorge | Chalk Wall (Fen Bi Tang), Water-Stealing Holes, Bellows Gorge (Feng Xiang Xia), Meng Liang Stairway, Iron Lock Pass (Tie Suo Guan), Ancient Plank Road, Daxi Culture Heritage Site |
| Wushan | |
| Wu Gorge | Goddess Peak (Shennu Feng), Golden Helmet and Silver Armour Gorge (Jinkui Yinjia Xia), Three Little Gorges on Daning River |
| Badong | Shennong Stream |
| Zigui | Qu Yuan Temple & Fragrant Stream |
| Xiling Gorge | Military Books and Precious Sword Gorge (Bingshu Baojian Xia), Ox Liver and Horse Lung Gorge (Niugan Mafei Xia), Huangling Temple, Lantern Shadow Gorge (Deng Ying Xia), Three Travelers' Cave (San You Dong) |
| Yichang | Three Gorges Dam Project, Gezhouba Water Conservancy Project |
| Jingzhou | City Wall, Jingzhou Museum, Relics of Three Kingdoms |
| Wuhan | Yellow Crane Tower |
| Jiujiang | Lushan National Park |
| Nanjing | Confucius Temple (Fuzimiao) |
| Suzhou | Sutong Yangtze River Bridge |
| Shanghai | The Bund, Oriental Pearl Tower |
Tourism resources along the Yangtze River are plentiful and characteristic. Besides the mainstream scenic area where the Three Gorges located, Yangtze tourist area can be further enlarged and divided into seven tourist zones, including Yangtze River Delta, Chongqing-Sichuan tourist zone, Northwestern Hubei and Southern Shaanxi, Western and Northern Parts of Hunan, Southern Anhui famous mountain scenic area, Northern Yunnan and Northern Guizhou, and Northern and Western Parts of Jiangxi.
- Last updated on Mar. 06, 2020 -
Questions & Answers on Yangtze River Attractions
Asked by DHPN1 | Apr. 13, 2017 05:53

Reply
I am thinking to visit the Three Gorges Dam, and make a boat trip only for some a hours.
Maybe I could sleep in Yichang , to see the Three Gorges Dam and later go to Wushan to make the Three Little Gorges.
It is possible in one day or I need two days?
I would like to know, what is the best area to make a little boat trip (only for some a hours), near the Three Gorges Dam ?
Thanks
Answers (3)
Answered by Riley from POLAND | Apr. 16, 2017 21:10

1

1

Reply
Hello, one day is not enough. You are suggested to prepare two days and tour around these scenic areas. In addition, you can take the little boat trip from Three Gorges Tourist Center (located at No.142, Yanjiang Avenue).
Answered by DHPN1 | Apr. 17, 2017 10:01

0

1

Reply
Thanks Riley;
I don´t have too much information about the these scenic areas.
What could I see in the the little boat trip from Three Gorges Tourist Center?
I want to visit Three Gorges Dam one day, and another day make the 3 Little Gorges.
Is correct that 3 Littles Gorges, it takes 4 to 5 hours from Wushan?
What could be better and easier?
- Transport to Wushan (sleeping there) and go to make the 3 Littles Gorges trip, and come back to Yichang ( becouse later I must to go to Zhangjiajie)?
- Or arrange a tour in Yichang to go, see, and return from the 3 Little Gorges in Wushan?
My idea is take a train to Zhangjiajie at Yichang East at 00:41
Thanks

Answered by Riley | Apr. 18, 2017 02:45

0

1

Reply
Yes, it usually takes 4-5 hours from Wushan to Three Littles Gorges. In addition, I prefer to choose the second travel plan you mentioned. Joining a tour in Yichang will bring some convenience for you. :)
Asked by James from USA | May. 08, 2016 08:22

Reply
Are there options to enjoy yangtze river without taking a cruise?
Answers (1)
Answered by Fred from FRANCE | May. 08, 2016 20:27

1

1

Reply
Taking a cruise is considered the best way to view the beauty of the river. But you can still take a bamboo raft or a yacht. If you are in Chongqing, you can try Yangtze River Ropeway to cross the river. You will be amazed by the nice view from the high!
Asked by Ellie from ENGLAND | Feb. 25, 2014 12:15

Reply
what are the main tourist attractions in yangtze?
Answers (1)
Answered by Danny from USA | Feb. 27, 2014 01:48

2

2

Reply
I think Three Gorges (Qutang Gorge, Wu Gorge and Xiling Gorge) and Three Gorges Dam Project are the three most attractions along the Yangtze River.
Asked by Mrs.french from AUSTRALIA | May. 10, 2011 23:12

Reply
yangtse river cruise from nanjing to chongqing
I want to cruise from nanjing to shanghai or from nanjing to chongqing, can i do this and what is the cost and when do the ships leave nanjing and from where in nanjing
Answers (1)
Answered by Mr.Steven from CHINA | May. 11, 2011 22:29

2

8

Reply
Either Nanjing-Shanghai or Nanjing-Chongqing cruise is available. The cost varies from month to month and from different travel companies. The starting time of the ships may also be different from day to day. I advise you contact a China travel agency to enquire about the exact details and book such a tour.