Mt. Lushan National Park
Lushan National Park is a well-known tourist attraction both in China and abroad. It has appealed to innumerable visitors on account of its natural sceneries and cultural heritages.

Lushan lies in the south of Jiujiang City, Jiangxi Province. It has a vantage position to the south of China's longest river, the Yangtze River, to the north of the Tengwang Pavilion, to the east of the railway from Beijing to Kowloon and to the west of China's largest freshwater lake, the Poyang Lake.

The national park covers an area of 500 square kilometers (about 320 square miles) and has more than 90 mountain peaks. The tallest of these is Hanyang Peak which soars to a height of 1473.4 meters (4,834 feet). Lushan owes its reputation to its wonderful, elegant, steep and spectacular features that embrace ravines, waterfalls, grottoes, rocks and rivulets. There are 12 main scenic areas, together with 37 attractions, over 900 cliff inscriptions, and over 300 steles. The major spots include Wulao Feng, Sandie Spring, Lulin Lake, Flower Path, Ruqin Lake, Jinxiu Valley, Xianren Dong and Donglin Temple, etc.

Wulao Feng, 1,436 meters (about 4,711feet) above sea level, is located in the southeast of the mountain. Its five parallel peaks once formed a single apex and standing on the top you will be rewarded with a magnificent view of the distant mountains, trees, lakes, and a seemingly endless sky.
| | |
| --- | --- |
| | |
Sandie Spring lies below Wulao Feng. It drops through three craggy tiers with a fall of 155 meters (about 509 feet). The upper part is like snow falling down to the pond; the middle reach wanders and twists with splashing sprays dancing in the air; while the lower level resembles a jade dragon running in the pond. This is considered to be the best of the Lushan waterfalls. It is said that you are not a true visitor here if you miss Sandie Spring. However, it was not discovered until the Southern Song Dynasty (1127-1279) due to its hidden position in a deep gully.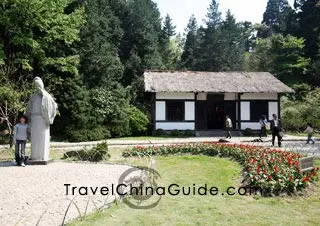 Gu Ling, located in the center of Lushan, is 1,164 meters (about 3,819 feet) above sea level with mountains on three sides and the valley on the other. The original name of Gu Ling was Guniu Ling, as it looks like a bull. Gu Ling Street is 1,167 meters (about 3,829 feet) long and it has a variety of shops, hotels, restaurants, bookshops, bars, coffee houses and dance halls that together form a town high in the sky. The Center Park in Gu Ling was built in 1954. After several reconstructions it now covers 10,000 square meters (about 11,960 square yards). In the park there is a large half moon shaped parterre in which stands a great stone bull that is the symbol of Gu Ling. He is two meters (about seven feet) in height and four meters (about 13 feet) in length. The base of the bull bears character 'Gu Ling'. Meandering pathways, fragrant flowers, flourishing trees and a pavilion all add to lively atmosphere of this delightful place.
Admission Fee:

CNY 160

Free for those over 65 or under 6 with valid ID card or passport after registration at the Entrance

Free for children under 1.2 meters (3.9ft) after registration at the Entrance

Sightseeing Bus:
CNY 70
Cable Car:
CNY 130 for round trip

Opening Hours:

06:00-18:00

Transportation:

One may take a bus at the Long-distance Bus Station of Jiujiang City to Mt. Lushan, which departs every 30 minutes. It takes CNY 9 and about an hour. There is no bus leaving for the mountain around 15:00;
One may also take the tourism bus from the square of Jiujiang Railway Station to Mt. Lushan, which takes CNY 15 and 50 minutes.
- Last updated on Jun. 21, 2022 -
Questions & Answers on Mt. Lushan National Park
Asked by Tom from UNITED KINGDOM | Sep. 20, 2023 02:44

Reply
What is the recommended route to walk / tour the most interesting parts of Lushan?
Answers (1)
Answered by Nina | Sep. 21, 2023 01:11

0

0

Reply
For one day exploration, you can try the route: Ruqin Lake → Flower Path Park → Brocade Valley → Immortal's Cavern → Story of Mei Lu or old villa → Hanpokou → Five Old Men Peak or Sandiquan (Three Step Waterfall).
Asked by Jenn from CANADA | Sep. 14, 2019 00:45

Reply
Does the ¥160 entrance fee include all attractions in Lushan (except bus & cable car)?
Answers (1)
Answered by Olivia from USA | Sep. 17, 2019 00:47

0

0

Reply
Yes, it does.
Asked by Joel from MEXICO | Aug. 05, 2019 03:34

Reply
Traveling from Shanghai to Lushan
What is the best way to get to the park from Shanghai? What stops on the train or a bus should I take?
Answers (1)
Answered by Cathy from USA | Aug. 07, 2019 19:34

0

0

Reply
The best way is to take high speed train, but every route needs you to transfer the train, like you can take train from Hongqiao Railway Station to Nanchang Station, then take train to Lushan Station. After your arrival, you can take direct bus around the railway station to the mountain.
Asked by Lu from CHINA | Jun. 19, 2019 04:24

Reply
Hi! I plan on taking the bus to LuShan at 8am, then walking around the mountain.
How long do I need on the mountain?

Thanks
Answers (1)
Answered by Perry from CANADA | Jun. 19, 2019 20:26

0

0

Reply
It depends on your budget and time. Most people spend two days visiting popular attractions. Some people stay longer, like 4-7days to enjoy it.
Asked by Rafal from POLAND | May. 03, 2019 15:27

Reply
Traveling from Wuhan, which train stop is better to get to Jiujiang Long Distance Bus Station?

Best Regards
Answers (1)
Answered by Wendy from NETHERLANDS | May. 06, 2019 20:15

0

0

Reply
The train from Wuhan to Jiujiang only stops at Jiujiang Railway Station. From Jiujiang railway station to the long distance bus station, you can take Bus Line 36/15/66.