Pavilion of Prince Teng
Pavilion of Prince Teng, aka Tengwang Pavilion is located on the shore of the Kan, in Nanchang City, Jiangxi Province. Together with Yellow Crane Tower, Yueyang Pavilion (Yueyang Lou), this fine building is one of the three most notable pavilions on south side of the Yangtze River. It also has the reputation of being the 'First Pavilion of Xijiang River' and has been widely admired by visitors from all over the world. In terms of its height, overall size and architectural style, this pavilion is a prime example of such buildings for which China is justifiably famous.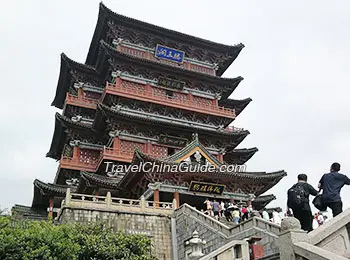 Pavilion of Prince Teng, Nanchang
Li Yuanying, a brother of Taizong who assumed the name Tengwang upon being knighted, commissioned the original three storied, thirty meters high building in the year 654 during the Tang Dynasty (618-907). Pavilion of Prince Teng was named after him but it was to undergo reconstruction as a consequence of events during its 1,300 year long history. Wang Bo, a gifted and well known poet of the Tang Dynasty, wrote his 'Essay on Pavilion of Prince Teng' thus documenting its importance. However, probably the worst tragedy occurred in 1926, when it was destroyed by fire during the conflicts between the Northern Warlords. The current building is the result of rebuilding that was carried out between 1983 and 1989.

The existing pavilion is even more spectacular and magnificent than its predecessors. Reached by a Nine-zigzag bridge and surrounded by rock gardens and lakes, it is built in the architectural style of the Song Dynasty (960-1279). It is in fact a complex and not just a single structure. The principle building, covering 47,000 square meters (about 12 acres), is nine storied and 57.5 meters (about 189 feet) in height. Two smaller pavilions stand on the north and south sides of the main building. Their elegance and simplicity is set off by glazed jade-green tiles on the roof, pretty eaves and red pillars. Engraved screens enhance the interiors.

Pavilion of Prince Teng was always a place where learned men gathered to write articles and hold banquets, therefore the display in the new pavilion gives prominence to culture. A variety of bass-relief and frescoes demonstrate that men of talent have brought glory to this place. The plagues, steles, couplets on the columns of the hall are all selections of celebrities. Musical instruments, bronze sacrifice, ritual article, serial bells impart a classical elegance to this new Pavilion of Prince Teng.
How to get to Pavilion of Prince Teng
1. Take Metro line 1 to Tengwang Pavilion directly.
2. Take Bus 26, 38, 39, 52, 170 or 228 to Tengwangge (Pavilion of Prince Teng).
Entrance Fee
December and January: CNY 45
Other months: CNY 50
Half price for children between 1.2 and 1.5m (3.9 - 4. 9 feet);
Free for children under 1.2m.
Opening Hours
Apr. - Dec.: 8:00 - 18:30
Jan. - Mar.: 8:00 - 18:00
- Last updated on Apr. 08, 2021 -
Questions & Answers on Pavilion of Prince Teng
Asked by steve from USA | Jul. 20, 2015 14:18

Reply
How many steps are there to to climb to the top of Tengwang Pavilion?
Answers (2)
Answered by Wendy from UK | Jul. 20, 2015 21:07

0

3

Reply
I'm not sure about the number of the steps, but according to my experience, it takes 10-15min to the top without stop on any floor.
Answered by RELLA from CN | Jul. 08, 2017 21:47

0

0

Reply
there are 5 floors in its surface, but if you walk into it, you will find it has 7 floors actually