Nanchang Attractions - Things to Do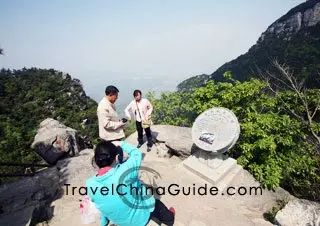 Nanchang is always the seat of local government since its establishment 2,200 years ago. Being a famous historical city in China, Nanchang is blessed with a series of relics.

Things to Do in Nanchang
According to a survey, there are altogether 78 cultural sites in the city with the Pavilion of Prince Teng as the most renowned. It was first built in 653 by Li Yuanying, a brother of Taizong Emperor of the Tang Dynasty (618-907). The famous essay in Chinese literature written by brilliant poet of the same period, Wang Bo, brought the pavilion ever great fame. It has been reputed as one of the four famous towers in China. The pavilion has been rebuilt or renovated for twenty-nine times and its twists and turns vividly show the changes of history.

Nanchang is also a city of hero, the fame of which is endowed by the Nanchang Uprising happened in August 1, 1927. To commemorate the big event, August 1 is confirmed to be the birthday of Chinese Communist. The August 1 Nanchang Uprising Monument in the south end of the People's (Renmin) Square is a symbolic building of the city center.

There are some excellent attractions in Nanchang suburbs. Wanshou (Longevity) Palace in Xishan Mountain which is about 30 kilometers (about 19 miles) southwest of the city proper is a Taoist temple built for a famous Taoist in Jin Dynasty (265-420). Devotees will go to pray for which come true during the birthday and the day of death in the first and eighth lunar months.

Meiling and Mingyueshan are all national scenic and historic interest areas in Nanchang. They are not only fascinating holiday resorts with convenient facilities but also scenic spots with beautiful landscape and religious cultural deposit.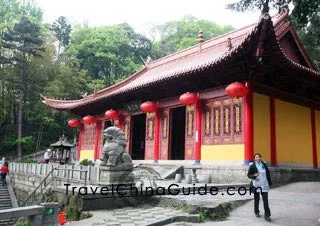 For visitors who are interested in Chinese painting, Badashanren Memorial Hall is a superior choice. Badashanren is the alias of Zhu Da, a distinguished painter during late Ming and early Qing dynasties. The memorial hall is built based on Qingyunpu Taoist Temple where Badashanren retired from the world to live. His paintings have enjoyed extremely high reputation for over 300 years. It will be poetic to walk among halls in the tranquil garden and appreciate famous artworks of masters. Anyi Ancient Villages refer to three nature villages all of which are more than a thousand years old. Along the old lanes paved with flagging, there are featured residence buildings, mansions, wells, bridges and drama stages that have stood there for at least hundreds of years, telling the stories of the past.

Things to Do around Nanchang

Lushan National Park

Mount Longhu

Mt. Jinggang

Poyang Lake

Wugong Mountain
Nanchang City holds 26 natural attractions while other attractions surrounding the city are also worthy of a visit including Lushan National Park and Poyang Lake in Jiujiang City, Dragon and Tiger Mountain (Long Hu Shan) as well as Mt. Jinggang in Ji'an City. The appeal of these attractions is wide spreading and is assured to satisfy the tastes of all who visit it.
- Last updated on Jun. 27, 2022 -
Questions & Answers on Nanchang Attractions
Asked by Zhang Ye from CHINA | May. 03, 2021 23:47

Reply
How to go to the Nanchang Tongluowan Plaza in Honggutan New District from Bayuehu Road
I am living in a neighborhood which is close to the Bayuehu Road, but the district is very remote because it belongs to the Nanchang county District, how can I take the bus go to teh Honggutan New District? I want to plan go to the Nanchang Tongluowan Plaza in my summer holiday. By the way, there are no subways in Nanchang county District, I go out with my family only via the car and hardly ever take the bus.
Answers (1)
Answered by Mackenzie | May. 09, 2021 20:49

0

0

Reply
You can take bus no. Kuai 235 from Bayuehu Road West Gate to Wanda Square Honggutan New District.
Asked by PAP from HUNGARY | Oct. 11, 2019 08:56

Reply
Want to know how much to be Nanchang a day (costs/payments). Bills? The food also is money there?
Good sushi + music together working? So many questions, so little clock. Please help. Also cats okay to swim in lakes/oceans? Dogs?
Thank you ASAP

Answers (1)
Answered by Thomas from FINLAND | Oct. 11, 2019 18:55

0

0

Reply
Generally speaking, you can prepare CNY 100 to CNY 150 per day in Nanchang. This place has several popular attractions such as Pavilion of Price Teng, Lushan National Park and Jinggang Mountain. In addition, different scenic areas have different regulations about animals. :)
Asked by Cheryl Yap from MALAYSIA | Nov. 02, 2016 06:52

Reply
Where should I go in Nanchang to see porcelain painting?
Answers (1)
Answered by Bob from BRAZIL | Nov. 03, 2016 03:28

1

0

Reply
You may go to Porcelain Painting Art Museum inside Nuo Garden at the crossroad of South Fenghe Avenue and Lingbei 5th Road. Take bus line 235 or 503 to Lingbei Village Station, and walk south for about 0.6 mile to it. :)
Asked by Bill from UNITED STATES | Sep. 11, 2016 23:55

Reply
I am from Indiana and looking to travel to Nanchang in the near future.
Do I need to apply for a VISA before traveling there? If so, where can I apply?
Answers (1)
Answered by Ali from GERMANY | Sep. 13, 2016 02:28

0

0

Reply
You need to apply for a tourist visa in advance at the Consulate-General of PRC in Chicago. :)
Asked by Soe from UK | Apr. 11, 2016 08:25

Reply
How to get to Gloria Grand Hotel (Yanjiang North Avenue from Nanchang West Railway Station?
1) If by taxi or bus how much is the fare, and how long to get there?
2) Are there taxis readily available at the station?

In addition, I have one and a half days in this city. Where would you advise to visit for this very short period?
Thank you very much.
Answers (1)
Answered by Glace from FINLAND | Apr. 11, 2016 22:34

1

0

Reply
1. Well, there is no direct subway or public bus for you to choose. The distance is not fare. Thus you are adviced to take a taxi to go there directly. In general, the cab fare is CNY 50 to 60 in the day time. It takes around 25 mins on the way.
2. Yes, you can easily get one outside the railway station. The official cabs have taximeter. You can find that before getting on the car.
3. According to your situation, Tengwang Pavilion, Crane Tower and Yueyang Pavilion are recommended. These scenic areas are close to each other. Ruzi Road, Fuzhou Road, Zhongshan Road and Shengli Road in downtown area win high popularity among tourists and local people. You can find many nice and special restaurants and shopping malls.
Have a nice trip!