Nanchang Dining, Shopping & Nightlife
Dining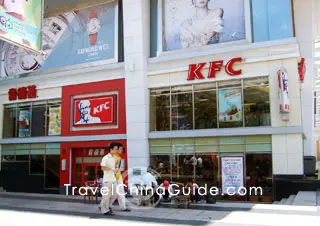 Nanchang is also famous for its delicious food. The traditional cuisine is Nanchang Cuisine (Gan Cuisine), which plays a very important role in Chinese food culture. Other cuisines, like Sichuan Cuisine, Cantonese Cuisine, Hunan Cuisine, etc. can also be enjoyed in Nanchang.

Nanchang snacks are a must for all visitors. The best places to go to taste the genuine specialties such as Nanchang Rice Noodles and Shitou Jie Mahua are Ruzi Lu and Fuzhou Lu. There are also the fast food restaurant chains: KFC, McDonald's, etc. that will bring great convenience to your trip.



Recommended Restaurant
Gan Cuisine
Jiachang Fan
Hongcheng branch address: No.659, Hongcheng Lu
Ruzi branch address: No.141, Ruzi Lu, Xihu District

Yutu Fanzhuang
Address: No.168, Ruzi Lu, Xihu District

Xiangtang Tuji Dian
Address: Dieshan Lu, Xihu District

Sichuan Cuisine
Tanyu Tou Hotpot
Address: No.528, Minde Lu, Donghu District

Guangdong Cuisine
New Orient Hotel
Address: No.18, Binjiang Nanlu, Donghu District

Yuandong Hotel
Address: No.95, Fuzhou Lu, Donghu District
Shopping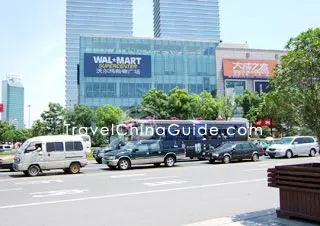 Generally speaking capital cities can always provide visitors with a good range of shopping. Nanchang is no exception to this. Large and modern shopping departments, featured business streets and famous supermarkets can definitely meet your demands.

The main business streets in Nanchang can be found as Zhongshan Lu, Shengli Lu, Minde Lu, Xiangshan Lu and Bayi Dadao. Some of the streets still keep their original flavor to present visitors with their glistening history. What's more a street devoted specifically to the needs of women, known as Women Street here in Nanchang, needs a particular mention. This street mainly deals in various fashionable dresses, shoes and other items which certainly draw the attention of women. If you are a female visitor or if ever you travel with your female counterparts do remember to visit this street. It won't disappoint you.



Recommended shopping malls and supermarkets
Pacific Shopping Department
It is located in the conjunction of Zhongshan Lu and Xiangshan Lu, a center of famous brand goods.
Address: No.177, Zhongshan Lu.

Lihua Shopping Center
It is the biggest shopping center in Jiangxi Province. You can taste snacks in Lihua while enjoying the joy of shopping.
Address: No.1, Ruzi Lu, Donghu District

Fortune Square
Address: No.287, Bayi Dadao

Metro
Address: No.368, Hongdu Nan Dadao
Tel: 0791-8458888

Wal-Mart
Address: north of Bayi Square
Tel: 0791-6216215
Nightlife
Nanchang is a city that allows various cultures to mix together. You will find traditional performances and entertainment centers mixed with modern nightclubs, saloons, and pubs. There's always something for everyone in Nanchang's nightlife scene.



Recommended Cafes and Bars
U.B.C. Coffee
Minde Lu branch: No.195, Minde Lu, Donghu District
Supu branch: 3F, Jiangling Caiwu Dasha, No.111, Supu Lu

CD Bar
Address: No.65, Zhongshan Lu, Donghu District

Denver 1857's Bar
Address: No.403, Minde Lu, Donghu District

Felix Bar
Address: No.65, Yanjiang Beilu, Donghu District

May Flower
Address: conjunction of Minde Lu and Supu Lu

Magritte
Address: No.300, Ruzi Lu, Xihu District



Recommended Cinema
Wanda International Cinema Center
Address: 4 F, Wanda Shopping Center
- Last updated on Jun. 27, 2022 -
Questions & Answers on Nanchang Dining, Shopping & Nightlife
Asked by wang from CHINA | Oct. 20, 2019 13:42

Reply
any indian food restaurant available in nanchang city
Answers (1)
Answered by Kira from THAILAND | Oct. 22, 2019 20:29

0

0

Reply
You can go to BUDDHA India Restaurant. It is located at No.1088, Laimeng Business Center No.2, Huizhan Road.
Asked by Yale from COLOMBIA | Aug. 01, 2018 00:48

Reply
Where do you think is the best place to buy souvenirs in Nanchang?
Answers (2)
Answered by Mike from CANADA | Aug. 01, 2018 19:48

0

0

Reply
I bought some china products in West Beijing Road, Xihu District, which are pretty good.
Answered by Yale from COLOMBIA | Aug. 03, 2018 18:55

0

0

Reply
Thanks for your replay, I will go to that road and looking for some chinese souvenirs, thanks again
Asked by saima from BANGLADESH | Nov. 23, 2015 09:01

Reply
I want to buy chandelier and curtain from nanchang.
Where i can find this stuff ?definitely low price shop
Answers (3)
Answered by Jenny from CANADA | Nov. 23, 2015 21:32

4

2

Reply
You will find a variety of cheap curtains in the Hongcheng Market at no 576, Hongcheng Road, Xihu District. Take bus line 9, 13, 146, 169, 204, K204, 211, K211, K219, 221, or 238 to Hongcheng Dashichang Station. :)

You will find a lot of stores selling cheap chandeliers along the Zhubao Street. Take bus line 13, 33, 229, 302, 305, or 313 to Zhubaojie Station. :)
Answered by saima from BANGLADESH | Nov. 27, 2015 01:12

0

1

Reply
Thank you for your reply. Can you please tell me which place is suitable for shopping between Chengdu & Nanchang?
Answered by Linda | Nov. 27, 2015 02:37

0

1

Reply
Shopping for what? About the two, I personally prefer Chengdu, a more prosperous city.