Jiujiang Attractions - Things to Do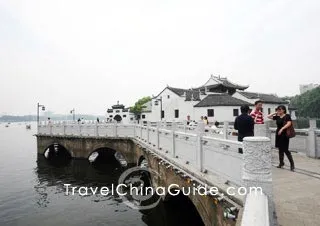 Because of its proximity to the Yangtze River and Poyang Lake, Jiujiang is blessed with a uniquely attractive natural landscape. It is a major port on the Yangtze and is known as the gateway to Jiangxi Province. It is also a major tourist mecca with over 400 attractions located around the city.

Top Things to Do

Lushan National Park


Poyang Lake

Poyang Lake, the largest fresh-water lake in China, is inlaid on the vast land of South China like a resplendent pearl nurturing the people of Jiangxi. In the lake, you can find many attractions, including Dagu Hill, Nanshan Hill and Lake-View Pavilion. The Dagu Hill and Nanshan Hill are two islands in the lake. With picturesque scenery, they are well worth visiting. The Lake-View Pavilion, made of wood, is just located on the shore of the lake.

Lushan National Park located south of Jiujiang City is the area's most famous attraction. It is one of China's first geological parks and has been cited by UNESCO as a world natural heritage. Among the top mountain resorts in China, it is appealing to numerous visitors for its stunning natural scenery and cultural heritage. Moreover, its verdant peaks, rushing waterfalls, seas of clouds and mists and exquisite gardens attract an enormous number of visitors.

At the northwestern foot of the Mt. Lushan, Donglin Monastery is built by the originator of the Pure Land Sect of Buddhism which is worshipped by four fifths of the total Buddhist disciples.

Other Attractions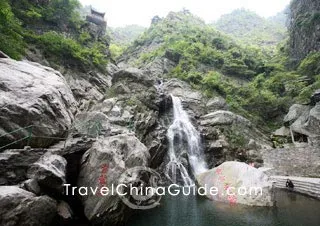 Gantang Lake


Nengren Temple


Stone Bell Hill (Shizhong Shan)


Suojiang Tower


Wave Well

In the city center, Gantang Lake draws many visitors to its beautiful, greenish waters. Around the lake, ancient structures such as Yanshui Pavilion and Sixian Bridge add historical interest to the scenery.

There are also many famous cultural relics and natural landmarks in the counties near Jiujiang City. The Nengren Temple in the center of the city is the largest historical structure in Jiujiang. The Stone Bell Hill (Shizhong Shan) is located the confluence of the muddy Yangtze and the pristine Poyang Lake. Suojiang Tower, a group of ancient buildings built in 1586, is like a guardian of Jiujiang City on Yangtze River bank protecting it from flood. And the Wave Well, situated located in the Langjing (Wave Well) Lane, Xiyuan Road, is probably the oldest historical relic of Jiujiang reputed to be the rolling wave connecting Yangtze River at the bottom of the well.
- Last modified on Jun. 27, 2019 -
Questions & Answers on Jiujiang Attractions
Asked by Mickey from SIM | Dec. 18, 2016 04:18

Reply
Hi, please advise on how to reach Donglin Temple from Nanchang?
Answers (2)
Answered by Allan from FINLAND | Dec. 20, 2016 00:50

3

0

Reply
Hi, Mickey! First, you may take a train from Nanchang to Jiujiang first. Upon arrival, take bus no. 105 on the opposite side of the train station to Shili Dalou Station; there, you can take a bus bound for Tongyuan, the bus will stop at the temple in the midway.
Enjoy your time!
Answered by Li Zheng from CHINA | Aug. 09, 2017 11:07

1

0

Reply
Hello Mickey:

Allan has provided a detailed route to Donglin temple, here I will tell you a time-saving way.
1. Take the Train from Nanchang to JJ, and stop at Lushan Mountain station(庐山站) then get off. Some of the trains may not stop at Lushan Moutain station, just be aware.
2. Once coming out of the taxi, there will be taxi drivers waiting for you. Tell them you would like to go to Donglin temple(我要去东林寺), it is about 9KM drive and will cost you about 30RMB per taxi.