Jiujiang Travel Guide
Jiujiang Facts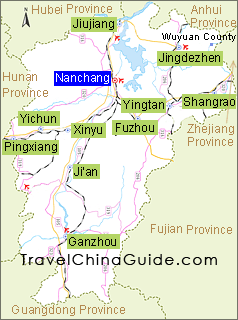 The city of Jiujiang is situated near the northern border of Jiangxi Province. It borders the Yangtze River to the north, Poyang Lake to the east and picturesque Mt. Lushan to the south. Jiujiang in Chinese means 'nine rivers'.

Owing to its location at the geographical intersection of Hunan, Hubei and Jiangxi Provinces, Jiujiang was a strategically important city. Because it was virtually at the center of so many bodies of water, the city has been one of the four largest rice markets and one of the three largest tea markets in China.

With a history of over 2,000 years, this is an attractive city boasting of grand mountains and numerous waterways. Cultural relics of Buddhism, Taoism, Islam and Confucianism can be found on nearby Mt. Lushan. The mountain also features captivating rock formations, natural springs, temples and stone inscriptions. Most of its 99 peaks rise over 1,000 meters above sea level.

Poyang Lake located south of the city is China's largest freshwater lake. It is a habitat rich in aquatic plants and is home to over 100 species of migratory birds. During the winter months visitors can see spectacular flocks of birds in flight. This scene is thought by some to resemble the 'second Great Wall of China'.

There are many historical buildings in the city. Among them are Suojiang Tower, Nengren Temple built in the 6th century, and Wave Well which is nearly 2,000 years old. Gantang Lake located downtown is historically significant as well.
How to get to Jiujiang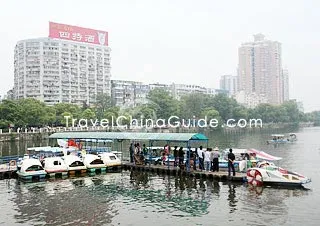 Dependant on the Yangtze River, Jiujiang has been an important port since ancient times. Today, standing in the intersection of the Yangtze River and the Beijing-Jiulong Railway, it has well developed land and water transportation routes.

As the junction of the Beijing-Jiulong Railway, Wuhan-Jiujiang Railway, and Hefei-Jiujiang Railway, the Jiujiang Railway Station connects the city with cities in all parts of China. Everyday, trains starting from or passing by Jiujiang go to most of major cities in China.

As for road transportation, five important highways traverse the city, including the Nanchang-Jiujiang Highway, Jiujiang-Jingdezhen Highway and the No. 105 National Highway and No. 316 National Highway, forming a large network of roads. Moreover, the Jiujiang Airport offers another transportation option.

When to Go: Since it is sultry and rainy in summer and cold in winter, the best time to visit the city is in late spring and autumn. However, the situation is different in Mt. Lushan, which has four distinct seasons. Therefore it is pleasant to visit anytime, depending on your preference.