Jiujiang Travel Guide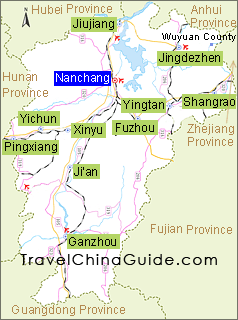 Jiujiang Facts
Chinese Name: 九江 (jiǔ jiāng)
Population: 4,920,300
Area: 19,084.61 square kilometers (7,368.61 square miles)
Location: in the north of Jiangxi Province, east China
Administrative Division: 3 districts (Xunyang, Jiangxi, Chaisang); 7 counties (Wuning, Xiushui, Yongxiu, De'an, Duchang, Hukou, Pengze); 2 county-level cities (Ruichang, Lushan)
Area Code: 0792
Zip Code: 332000
GDP (2019): CNY 312.105 billion (USD 45.239 billion)
North Gate of Jiangxi Famed for Mt. Lushan
Situated near the northern border of Jiangxi Province, Jiujiang is the second-largest city next to Nanchang. Jiujiang in Chinese literally means 'nine rivers'. Owing to its location at the geographical intersection of Hunan, Hubei and Jiangxi Provinces, it is the north gate of Jiangxi which connects Jiangxi with cities along the Yangtze River and greatly contributes to opening up to other countries. Few areas of Jiangxi can rival with the charm and character of Jiujiang, from the famed Mt. Lushan and dramatic Poyang Lake to numerous historical buildings. Lushan is widely known for a poem by Sushi saying "The true face of Mt. Lushan is lost to my sight, for it is right in this mountain that I reside." Since that, endless tourists visit Mt. Lushan to see what it really looks like. It is necessary to take 2 – 3 days to enjoy this picturesque city.
With a history of over 2,000 years, this is an attractive city boasting of grand mountains and numerous waterways. Cultural relics of Buddhism, Taoism, Islam and Confucianism can be found on nearby Mt. Lushan. The mountain also features captivating rock formations, natural springs, temples and stone inscriptions. Most of its 99 peaks rise over 1,000 meters above sea level.

Poyang Lake located south of the city is China's largest freshwater lake. It is a habitat rich in aquatic plants and is home to over 100 species of migratory birds. During the winter months visitors can see spectacular flocks of birds in flight. This scene is thought by some to resemble the 'second Great Wall of China'.

There are many historical buildings in the city. Among them are Suojiang Tower, Nengren Temple built in the 6th century, and Wave Well which is nearly 2,000 years old. Gantang Lake located downtown is historically significant as well.
How to get to Jiujiang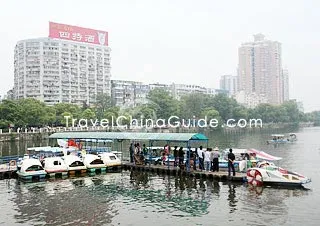 Dependant on the Yangtze River, Jiujiang Port has played an important role since ancient times. Today, standing in the intersection of the Yangtze River and the Beijing-Jiulong Railway, it has well developed land and water transportation routes.

As the junction of the Beijing-Jiulong Railway, Wuhan-Jiujiang Railway, and Hefei-Jiujiang Railway, the Jiujiang Railway Station connects the city with cities in all parts of China. Everyday, trains starting from or passing by Jiujiang go to most of major cities in China.

As for road transportation, five important highways traverse the city, including the Nanchang-Jiujiang Highway, Jiujiang-Jingdezhen Highway and the No. 105 National Highway and No. 316 National Highway, forming a large network of roads. Moreover, the Jiujiang Airport offers another transportation option.

Jiujiang Lushan Airport has been officially closed on March 21, 2015, and is currently under expansion and reconstruction. It is about 33 kilometers (22 miles) away from Jiujiang City and 9.8 kilometers (6 miles) west from Lushan Mountain National Park. Currently, visitors can fly to Jiujiang by transferring at Nanchang Changbei International Airport and Wuhan Tianhe International Airport firstly, then travel to Jiujiang by train or airport intercity bus.

When to Go: Since it is sultry and rainy in summer and cold in winter, the best time to visit the city is in late spring and autumn. However, the situation is different in Mt. Lushan, which has four distinct seasons. Therefore it is pleasant to visit anytime, depending on your preference.
- Last updated on Jun. 21, 2022 -
Questions & Answers on Jiujiang Travel
Asked by Rafal from POLAND | May. 11, 2019 12:20

Reply
Where can I find bus timetables for buses going to and from Mt.Lushan to Jiujiang?
At what time first buses starts from Mt.Lushan to Jiujiang?

Answers (1)
Answered by Adam from LITHUANIA | May. 13, 2019 00:56

0

0

Reply
The first bus departs at 7:20.
Asked by Tania from CHINA | May. 13, 2017 10:31

Reply
What is the bus schedule from jiujiang long distance bus station to wenquan hot springs?
How long does it take? What time do the buses come back?
Answers (1)
Answered by Lina from UK | May. 15, 2017 04:03

0

0

Reply
From the information that I checked online, it will departs at 13:00, 15:00 and 15:50. The ticket fare is CNY15/person. The trip may take around 1 hour. I'm so sorry that I can't find the information of the return bus.
Asked by xavier from THAILAND | Dec. 01, 2016 22:19

Reply
i want to go Jiujiang from Wuhan by bus
1-where have bus station? at hankou or more?
2-JJ to Lushan Mountain how many hours and what time bus available?
thank you
Answers (1)
Answered by Peter from USA | Dec. 02, 2016 02:09

1

1

Reply
Hi, dear! You can take a bus to JJ from Hongji Bus Station, Fujiapo Bus Station, Hanghai Bus Station, or Qingnian Road Bus Station. The fare is CNY 65 to 100, and the trip takes about 3 to 4 hours.

Upon arrival, take a bus to Lushan Mountain. There are many departures. You can easily catch one. Don't worry! :)
Asked by Chan from MALAYSIA | Feb. 10, 2016 23:42

Reply
Travel Arrangement from Huangshan City (Tunxi) to Jiujiang
I will be travelling from Huangshan City (Tunxi) to Mount Lushan located in Jiangxi province in early April 2016. I would like to know:

1) What is the best travel mode from Huangshan City (Tunxi) to Mount Lushan, by bus or train? Can you provide the timetables for both travel modes?
2) Where is the nearest or most convenient place to stay for the night before I visit Mount Lushan the next morning, JJ city or somewhere inside the national park?
3) After visiting Mount Lushan, I would like to travel to Longyan located in Fujian province to visit the Hakka tulous. Are there any buses or trains that I can take to reach Longyan from Mount Lushan/JJ city?
Answers (1)
Answered by Lee from GERMANY | Feb. 17, 2016 01:48

1

1

Reply
1). There is no direct train to the city. You may take a high speed train to Nanchang West from Huangshan North Railway Station (about 2.5 hours). The trains are scheduled at 10:46, 11:34, and 16:06. Afterwards, take a high speed train to Lushan from Nanchang West Railway Station (about 50 minutes). The trains are scheduled at 11:59, 12:07, 14:03, 19:19, 19:33, and 19:40.

By bus: you can take a bus to JJ from Huangshan General Bus Station at No. 31, Qiyun Avenue. The bus departs at 9:40 every day, and the trip takes about 4 hours. The fare is CNY 131. After that, take a bus to Mount Lushan. :)

2). For accommodation, you may consider the Xianjing Hotel at NO.02, Zhongliu Road, near Guling Street, inside the national park. The hotel provides clean environment and nice service. Have a try!

3). To Longyan: you need to take a high speed train back to Nanchang first. Then, take a train to Longyan (8-9 hours). Upon arrival, take a taxi to Longyan Bus Station at the crossroad of East Renmin Road and South Xi'an Road, and then take a bus to the Hakka Tulou. :)
Asked by Fergal from IRELAND | Feb. 10, 2016 16:37

Reply
What are the transport options between Jiujiang and Pengze?
Answers (1)
Answered by Lisa from INDONESIA | Feb. 14, 2016 21:03

0

0

Reply
There are three trains available at 12:13, 22:19 and 23:28. The travel time is about 1 hour.

Near the railway station, there are also direct buses. The bus departs when fully seated, so usually the bus schedule is quite frequent, which would be the best travel mode for you.