Mt. Lushan National Park
Lushan has an abundance of flora. There are about 1,720 varieties, including plants of temperate zone, torrid zone, semitropics, East Asia, North America and China. It belongs to subtropical area where the climate is moderate with ample rainfall. The average temperature in July is only 22.6

C (about 72.7

F). The Lushan Arboretum was built in 1934, and it is an important base for preserving flora of the middle and lower reaches of the Yangtze River. It is a good summer resort.
The mountain is also an educational base and religious center of ancient China and is home to the country's oldest academy. The Bailudong Academy was founded in 940 and is one of China's four most prestigious academies. (The others are Suiyang Academy, Shigu Academy and Yuelu Academy). It was in Bailudong Academy that an educational system was proposed by the outstanding educator Zhu Xi (1130-1200) of the Southern Song Dynasty. This formed the guide line for education in ancient China. Lushan has also attracted more than 1,500 eminent writers such as Li Bai (701-762), Bai Juyi ( 772-846), Su Shi (1037-1101), Kang Youwei (1858-1927), Guo Moruo(1892-1978), to name but a few, and has preserved more than 4,000 of their poems and essays..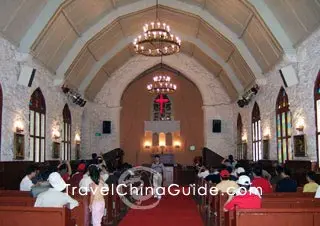 Five different religions have been observed in Lushan over the past 1,600 years. The monk Hui Yuan (334-416) of the Eastern Jin Dynasty (317-420) established Donglin Temple on the mountain, which is the Pure-land Sect of Buddhism. In the 5th century, Lu Xiujing, a Taoist of the Southern Dynasties (420-589) initiated Nantianshi Sect of Taoism. During the Ming (1368-1644) and Qing (1644-1911) dynasties, Islam and Christianity became established here. In the early part of the 20th century, churches of 20 more counties were constructed in the area which still has temples and churches of the five religions (sects).
The all-embracing spirit of Lushan means that it has various styles of architecture ranging from Romanesque and Gothic cathedrals to Byzantine structures, Japanese buildings, Islamic mosques and villas of 25 countries, all of which make Lushan a large-scale World Village.
- Last modified on May. 08, 2019 -
Questions & Answers on Mt. Lushan National Park
Asked by Alan from AUSTRALIA | May. 06, 2019 01:49

Reply
Is there a bus from Wuhu, Anhui to Jiujiang?
If so does it end at the same bus station to go to Lushan?
Answers (1)
Answered by Luna from UNITED KINGDOM | May. 08, 2019 01:52

0

0

Reply
There is no bus available from Wuhu to Jiujiang and you need to take a train to get there. The duration is about 5-6 hours.
Asked by worawit from THAILAND | Jun. 26, 2018 02:09

Reply
Direct bus from Lushan mountain/ Guling Downtown ?
Up to date I would like to know ,Is there any bus direct from LS mountain/Guling Downtown to Wuyuan bus station ? How much it cost and take how long to reach?
Answers (1)
Answered by Fanny from FRANCE | Jun. 26, 2018 22:41

1

0

Reply
No, there is no direct bus between the two places, you need to take a bus to Jiujiang Bus Station first and then take a bus from there to Wuyuan. The bus depart from Jiaujiang at 9:40 and 14:30 and the fare is CNY 100.
Asked by Krista from CHINA | Jun. 02, 2017 23:10

Reply
I heard there were hot springs and places to swim at Lushan. Is this true? If so, where are they?
Answers (1)
Answered by Paul from USA | Jun. 07, 2017 20:10

0

0

Reply
Well, Tianmu Hot Spring Resort is just located at the Hot Spring Town, South Scenic Area of Lushan.
Asked by Pao from THAILAND | Feb. 28, 2017 06:51

Reply
Do you have bus timetable from Jiujiang to Mt.Lushan? To make sure that I can catch the last bus.
Answers (1)
Answered by Xavier from SINGAPORE | Mar. 01, 2017 21:44

2

0

Reply
Yes, you can take the direct coach from LS Main Bus Station. The bus schedules are from 07:50 to 17:00. The ticket fare is CNY 15.5 per person.
Asked by Pao Thameksakul from THAILAND | Feb. 27, 2017 07:04

Reply
Are there any bus from Nanchang Changbei International Airport to Mt.Lushan in late afternoon ?
Answers (1)
Answered by Claire from AUSTRALIA | Feb. 28, 2017 02:24

1

0

Reply
No direct long-distance bus operates between these two places. Upon landing, you are advised to take a coach from the airport to Jiujiang first. The bus schedules are 09:20, 10:00, 10:40, 11:20, 12:00, 12:40, 13:20, 14:00, 14:40, 15:20, 16:10, 16:50, 17:00, 17:50, 18:40, 19:30, 20:30 and 21:30. The trip takes around 100 mins. And the ticket fare is CNY 62 per person. After arriving, walk to Jiujiang Bus Station and take the direct bus to the destination. It takes around an hour.
Hope helpful!