White Emperor City (Baidi City)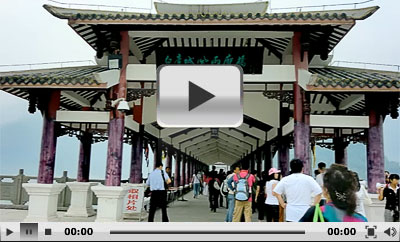 A few miles into Fenjie County, on the northern bank of the Yangtze River is Baidi City (White Emperor City), also called Baidi Temple. It is located on Baidi Mountain at the mouth of Qutang Gorge, one of the Three Gorgers of the Yangtze River.

It is said that in the late Western Han Dynasty (206 BC - 24 AD), Gongsun Shu, a general, set up a separatist regime by force of arms in Sichuan. He claimed himself the King of Shu. Because he saw white fog rising from the well of the mountain which was like a white dragon, he called himself the White Emperor. And he made it the capital city and gave the city the name - White Emperor City.

Baidi City exists now at the site was repaired in the Ming Dynasty and Qing Dynasty (1368 - 1911). As it against Kui Gate of Qutang Gorge in the east, it is close to the Eight Elements Battle Formation in the west and is surrounded with water on three sides, it was often the point of battle in history. Numerous celebrities have been here and created poems. So the city is reputed to be Poem City.

In Baidi Temple, some ancient architecture can be seen. Tuogu Tang (Entrusting Son's Hall) is the most attractive one. In the Three Kingdoms Period (220 - 280), the king of the Shu Kingdom, Liu Bei, failed in the battle with the Wu Kingdom at Baidi City. He became ill and entrusted his son to his prime minister, Zhuge Liang before closing his eyes. Now, the hall exhibits the statues which depict the scene of Liu Bei entrusting his son to Zhuge Liang. Mingliang Palace is where the statue of Gongsun Shu was once sacrificed by the people. In the Ming Dynasty, the stature was replaced by those of Liu Bei, Guan Yu, Zhangfei and Zhuge Liang. Another feature worth-mention is the Observing Stars Pavilion (Guanxing Ting). It is the place where Zhuge Liang observed the stars and developed the tactic of using arms.
| | |
| --- | --- |
| Statue of Liu Bei, Baidi Temple, Fengjie | Wind and Rain Bridge, Baidi City |
Other relics housed in Baidi Temple are a stele forest, ancient suspended wooden coffins, painting and calligraphy works by celebrities of different dynasties.
Since the water level has risen due to the
Three Gorges Dam Project
, Baidi City has become an isolated island surrounded with water. In order to facilitate tourist to visit this ancient temple, a wind-rain bridge has been built at the foot of Baidi City. Also, a dock was built for visitors to visit the ancient emplacement, cliff-side inscriptions and other attractions by boat.
| | |
| --- | --- |
| Fees: | CNY 70 for Entrance Charge; CNY 17 for Round-Trip Cable Car |
| Opening Hours: | 08:00 to 17:00 |
- Last updated on Aug. 02, 2022 -