Qutang Gorge of Yangtze River
Qutang Gorge, the shortest and most majestic of
the Three Gorges
, winds five miles from Baidi City in
Fengjie County
to Daxi Town in
Wushan County
. The two banks of the gorge contain numerous scenic spots.
Southwest of the Qutang Gorge is the Kui Gate, also called the Qutang Pass. Two peaks, Mt. Baiyan (White Salt Mountain) in the north and Mt. Chijia soar above the horizon. The two mountains resemble a gate that might have been created by Heaven and placed here on earth.
As the peaks along the two banks are 3,281 feet to 4,921 feet high and the Yangtze River is only 109 yards to 219 yards wide, the Yangtze River looks like a narrow belt winding its way through the deep canyons. The deep gorge, fast-moving water, and chains of mountains form an imposing picture. Because of the Kui Gate, it is also known as the Kui Gorge.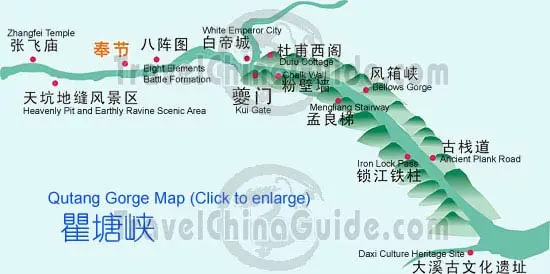 Yangtze Qutang Gorge Map
(Click the map to enlarge it, or go for more Yangtze River Maps)
Upstream from the mouth of Qutang Gorge is the ancient county of Fengjie where one can admire the Ba Zhen Tu (Eight Element Battle Formation). In the gorge, Baidi City (White Emperor City) lies at the top of the northern bank. On the southern bank one can find an unusual sight--the Chalk Wall--on which numerous inscriptions are carved. Also, Mengliang Stairway and Hanging Monk Rock, which have a legend associated with them, are located on the southern bank. The northern bank is also endowed with some interesting sights. Among them are Bellows Gorge (Fengxiang Xia) where the ancient hanging coffins are located and the remains of the ancient plank road. Holes for the road's supports were chiseled into the sheer face of the cliffs by the ancient people. The road was once the only means of transportation for people and goods while the river was in flood.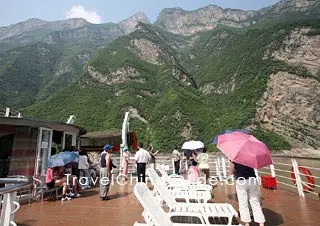 Other attractions include the Rhinoceros Looking at the Moon--a unique stone in the shape of a rhinoceros looking at the moon not far from the Bellows Gorge, the Iron Lock Pass--used to prevent enemy invasions during the Song Dynasty (960 - 1279), and the Daxi Culture Heritage Site - the perfect place to learn about Chinese Neolithic Culture.
After the damming of the Yangtze River for the Three Gorges Dam Project, great changes took place in Qutang Gorge; some historic relics along the two banks have been submerged in the water. As a result, the unique image of a smooth lake rising in the narrow gorge now appears.
Sightseeing List:

Chalk Wall
(Fen Bi Tang)

Water Stealing Holes

Bellows Gorge
(Feng Xiang Xia)

Rhinoceros Looking at the Moon

Meng Liang Stairway and Hanging Monk Rock

Iron Lock Pass
(Tie Suo Guan)

Ancient Plank Road

Daxi Culture Heritage Site
- Last updated on Nov. 03, 2021 -
Questions & Answers on Qutang Gorge of Yangtze River
Asked by YOUSUF NOON from PAKISTAN | Aug. 04, 2017 14:33

Reply
hello dear, can you tell me the route from Chongqing to Qutang Gorge of Yangtze River?
Answers (1)
Answered by Darcy | Aug. 07, 2017 03:16

1

0

Reply
You may go to Longtousi Bus Station to take a bus to Fengjie. Then take a taxi to Baidi City, where you may take a boat to viist the gorge within 25min.

Or you may take a cruise frm Chongqing Chaotianmen Dock to visit the Three Gorges of Yangtze River including Qutang.
Asked by Stanley Chin from USA | Sep. 23, 2015 12:14

Reply
whats the best time to go for Yangtze River Cruise? around April?
Answers (1)
Answered by Steven from BELGIUM | Sep. 24, 2015 04:41

1

0

Reply
Stanley, you can tae the cruise in late April. The best time are April, May, September and October.
Asked by Catherine from MALAYSIA | Mar. 02, 2015 21:18

Reply
Which Month is the best to tour the gorges along Yangtze River?
Answers (1)
Answered by Cindy from INDONESIA | Mar. 05, 2015 01:10

0

0

Reply
Catherine, April, May, September and early October are the best time to visit the river.
Asked by Eva from USA | Oct. 11, 2013 22:57

Reply
what is the weather in October on the Yangtze River?
Answers (1)
Answered by Jennis from IRELAND | Oct. 14, 2013 21:15

0

0

Reply
Generally, it is a little cool in Oct. with the average temp of around 14C.
Sometimes, it may rain a little, so simple rainy gear shall be necessary.
Asked by Debbie Richison from USA | Feb. 04, 2013 16:34

Reply
Want to visit the suspended coffins
My husband and I want to se the Bellows Gorge to see the suspended coffins. I read it is best to view from plank road. Where would we take the trip from. We are going to Shanghai, Beijing, Xi'an, Guilin. We have very little time to view them so maybe a cruise would be better.
Answers (6)
Answered by Rechal | Feb. 05, 2013 02:58

1

0

Reply
Generally, people take the cruise from Chaotianmen Port at Chongqing to visit the Three Gorges. Along the journey, they can also enjoy the Suspended Coffins.
Answered by Debbie Richison | Feb. 06, 2013 18:44

0

16

Reply
That was horrible answer. I wanted to know how I got from the cities I mentioned to the coffins
I already pulled up that information. I needed to know the closest city to fly from and
How far. I Ned the cities. Shanghai, Guilin , yangshou ,Xi'an,
Beijing. Are any if these cities close to this gorge ?

Answered by Matthew Kell from CHINA | Jun. 02, 2013 05:13

13

1

Reply
That was a rude reply, get over yourself - if you want to get to the coffins the Yangtze River Cruise is the easiest way to do it and Chaotianmen is the best place to start. China is a big country and transport infrastructure is not well developed in many places. You cannot just take a day trip from the places that you have on your itinerary.

You cannot access Qutang Gorge by plane - the nearest major cities would be Yichang or Chongqing. The infrastructure in that part of Chongqing municipality is not so developed, so the best way to get to the Gorge would be the Yangtze river cruise. If you do not wish to do this, then you could try taking a complex route from Yichang or Chongqing by coach (which would involve a number of changes and a lot of research) to get to Baidicheng. From Baidicheng, you will have to find a private driver willing to take you (you can usually find them hanging around train stations or coach stations) where you want to go and you will have to be willing to improvise a lot. Unless you speak a bit of Chinese or have experience in travelling around China then I recommend you include the Yangtze River Cruise as part of your itinerary.
Answered by Dan from USA | Mar. 18, 2014 22:56

2

0

Reply
Thanks Matt! That was an amazing answer!
Answered by Sanam from IRAN | Feb. 09, 2017 10:22

0

0

Reply
Hey Mat,
I want to visit Yichang-Qutang Gorge-Chongqing. As there is a railway between Yichang and Enshi, is it possible to reach there by train and then take bus to get to Qutang Gorge?
Answered by Juana from UNITED KINGDOM | Feb. 14, 2017 00:31

0

0

Reply
At Yichang East Station, there are bullet trains to Enshi. Then the distance to Qutang Gorge (Baidi City) is around 160km. People usually rent a car to reach.

But if you reverse the trip, leaving from Chongqing can be more convenient. Take a boat from Chaotianmen Dock to Fengjie. Upon getting off, walk to the nearby Bus Station to take a bus to Baidi City, which is the representative of the gorge. Then go for more scenery there.