Ancient Plank Road in Qutang Gorge
Ancient Plank Road
Cruising on the majestic Yangtze River, visitors will notice some narrow meandering paths hung on the cliffs about 33 feet above the river. They are the ancient plank roads - the typical ancient Chinese mountainous roads that are mostly seen on the borders of Shaanxi, Sichuan, Chongqing and Hubei Provinces. It is such roads that make a deep chasm turn into a thoroughfare.
The construction of the plank road can be traced back to the Warring States Period (475 BC-221 BC), and the plank road along the Three Gorges (
Qutang
,
Wu
and
Xiling Gorges
) of the Yangtze River was excavated during the year of Emperor Guangxu in the Qing Dynasty (1644 - 1911). The road goes on for 31 miles along the Three Gorges making a unique sight on Yangtze Cruise. In the Qutang Gorge section, there exists 6.2 miles of road and in the Wu Gorge, 19 miles of it. Some others are scattered along the Xiling Gorge section.
A question may arise in your mind: Why the ancient Chinese people build this kind of road on cliffs? It served the survival needs of the local people. For centuries, the dangerous rapids and currents of the Yangtze River along the Three Gorges section made transportation really hard work, especially in flood seasons when all shipping along the river closed. Until the late Qing Dynasty, the intelligent Shu People began to solve the problem by drilling holes in cliffs to beat in stakes in order to support the planks, or they chiseled a road directly into the cliffs. These are the two forms of plank roads. With iron chain railings or stone balustrades along the sides of the roads, they were safe for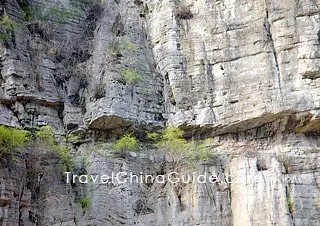 people to walk on.
In the Qutang Gorge Section, there exists one over 0.12 miles long. The construction of this plank road put many project techniques into use that offered some knowledge to today's road building. It not only provides direct communication between Wu Mountain and Fengjie but also a good way for the boat trackers to tow boats.
As a monumental feat in Chinese transportation history, the plank roads show to the people of the world how the ancient Chinese people conquered nature. Although some of the ancient plank roads have been submerged by the river in the
Three Gorges Dam Project
, it is still a marvel of human engineering, ingenuity, and endeavor along the Three Gorges.

Further Reading:
Ancient Plank Road along Daning River
- Last modified on May. 14, 2019 -