Ancient Plank Road & Luyou Cavern
Ancient Plank Road along Daning River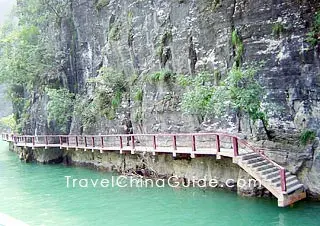 Ancient Plank Road along Daning River
On the western precipice of the Dragon Gate Gorge (the first Gorge of the Three Little Gorges), 49 feet above the water level, are two horizontal lines of square holes. They are all that remains of the ancient plank road along the Daning River. Over 249 miles long, the Daning River section of the plank road is one of the longest anywhere.
The holes chiseled into the precipice are mostly square, eight inches wide, and12 inches deep. They are spaced 51-79 inches from each other. The holes are arrangedin two lines. The top line was used to anchor the support beams for the roadway itself. The lower holes were used to hold diagonal beams to provide extra supportfor the roadway.
In fact, this plank road not only runs along the Daning River. It extends to Zhenping County in Shaanxi, Xi County in Hubei, and Chengkou County in Chongqing. According to legend, the road was constructed in year 64 of Han Dynasty (206BC-220) for transporting salt water from Nichang Town (an ancient salt producingtown) to Wushan and other places. Also, according to legend, the road was usedduring war. However, exactly when it was built and what its original purposewas is still disputed by historians.

Related Link:
Ancient Plank Road in Qutang Gorge
Luyou Cavern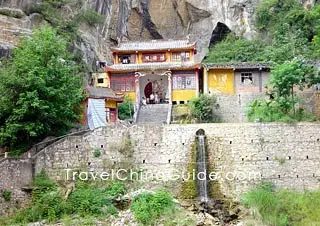 Luyou Cavern
Located on northern bank of the confluence of Daning River and the west mouth of the Wu Gorge, is the Luyou Cavern. As the renowned poet of
Southern Song Dynasty
(1127 - 1279), Lu You has visited the cave in 1170, it is named Luyou Cavern.
The cavern is composed of three ancient caves, called Qingshui (Pure Water) Cave, Jinzhu (Golden Bamboo) Cave and Yuling (Fair Forest) Cave which are all connected to each other. Among them, Qingshui Cave got its name because there is ceaseless spring flowing from the cave. A statue of Lu You is erected in the pool at the entrance to this cave and in the cave there are varieties of different shapes stalactites, which, under the irradiation of colorful lights, look attractive.
Jinzhu Cave is upon the Qingshui Cave. The two are connected by a hanging ladder of over two hundred steps. Climbing the ladder and looking down at the Qingshui Cave, you will find a different spectacle. Traditional architecture can be found outside the Jinzhu Cave where visitors over look the vista of the choppy Yangtze River and the mouth of Wu Gorge.
| | |
| --- | --- |
| Admission Fee: | CNY 20 |
| Opening Hours: | 08:00 - 17:00 |
- Last modified on Apr. 23, 2019 -