Wu Gorge of Yangzte River
The Wu Gorge is the second gorge of the Three Gorges of Yangtze River and is famous for its elegance. Winding over 25 miles, it starts from the estuary of Daning River (east of
Wushan
) in the west and ends at Guandukou in
Badong
, Hubei Province.
Also called Da Xia (Large Gorge), it is comprised of Golden Helmet and Silver Armor Gorge (Jinkui Yinjia Xia) and Iron Coffin Gorge. As strange peaks, grotesque rocks as well as fog and clouds surround the gorge, it is usually the most notable.
Because of the long and deep canyons here, the daily period of sunlight is short which impedes the dispersal of air borne moisture within the gorge and so creates clouds and fog in a variety of fantastic shapes. How wonderful it is!
Twelve Peaks
Along the Wu Gorge, there are twelve peaks on each bank. These are the most prominent aspects of the scenery of Wu Gorge. Many legends relate to the twelve peaks. The six peaks along the northern bank are Denglong (Climbing Dragon) Peak, Shengquan (Sage Spring) Peak, Zhaoyun (Facing Clouds) Peak, Shennu (Goddess) Peak, Songluan (Fir Tree Cone) Peak, and the Jixian (Congregated Immortals) Peak. The southern bank has Feifeng (Flying Phoenix) Peak, Cuiping (Misty Screen) Peak, Juhe (Assembled Cranes) Peak, Jingtan (Clean Altar) Peak, Qiyun (Rising Cloud) Peak, and Shangsheng (Rising) Peak; the last three are not at the riverside. Among the twelve, the Goddess Peak is the highest and most notable. As it is the first peak to welcome the sun's glow and says farewell to its afterglow, it is also called Wangxia Peak (Looking at the Sunglow peak). There are some popular legends relating to it that are worth knowing.
Three Little Gorges of Daning River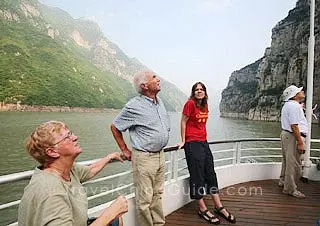 Daning River flows into the Yangtze River from the western mouth of Wu Gorge. It is the largest tributary of the Yangtze. The Three Little Gorges located at the lower reaches of Daning River are worth a visit by tourists. When drifting along the Three Little Gorges, historic relics such as the ancient plank road, suspended coffins, and the boat coffins can be viewed.
Also in the Wu Gorge Section, there is the historic relic - Kongming Stele. The stele is beneath the Jixian Peak. On the quadrate white cliff, six characters have been carved. According to legend, the characters are those of Zhuge Liang's handwriting (a celebrity of Three Kingdoms Period).
As the water level rises due to the
Three Gorges Dam Project
, more scenes in the Wu Gorge will be explored as attractions for tourists to visit.
Sightseeing List:

Three Little Gorges

Ancient Plank Road along Daning River

Luyou Cavern

Longgupo Pithecanthrope Site

Wushan Man

Suspended Coffin & Boat Coffin

Dachang Ancient Town

Little Three Gorges of Madu River

Goddess Peak
(Shen Nu Feng)

Golden Helmet and Silver Armor Gorge
(Jinkui Yinjia Xia)
- Last modified on Aug. 13, 2019 -
Questions & Answers on Wu Gorge of Yangzte River
Asked by Thomas from CHINA | Apr. 24, 2013 01:38

Reply
How to get to the little three gorges?
We are planning to take a hydrofoil boat from Yichang to Wushan, stay 1 night, then continue to Wanzhou and by bus to Chongqing.

or alternatively from Yichang to Wushan by boat, visit the three little gorges, continue to Wanzhou by boat, stay 1 night, then continue to Chongqing (by bus).

Does this sound realistic? Which assistance can you provide?

Thank you

Answers (5)
Answered by David from USA | Apr. 24, 2013 23:02

0

0

Reply
It is a good plan.
It is suggested to take a hydrofoil boat, which is fast and comfortable. Then you can travel to Little Three Gorges. The next day, you can take another boat for Wanzhou to take bus for Chongqing.
Answered by Thomas from CHINA | Apr. 25, 2013 00:02

0

0

Reply
Thanks David,

do you happen to know whether foreigners can find a hotel in Wushan?
Answered by David | Apr. 25, 2013 04:47

0

0

Reply
I think you can live in Hongdu Hotel.
Answered by Thomas from CHINA | May. 07, 2013 19:41

0

0

Reply
Hi,

we made the trip with a hydrofoil to Wushan. However, there is no fast boat from Wushan to Wanzhou it seems. We ended up taking the bus from Wushan to Chongqing which was actually quite interesting due to the newly built highway with good views from spectacular bridges.

The hydrofoil from Yichang to Wushan actually departs after the dam. A bus takes you from Yichang to where the hydrofoil departs, ie you don't see much of the dam that way.
Answered by PC from HK | May. 07, 2013 20:05

0

1

Reply
Oh, Thomas, thanks for sharing with us your trip and I plan to go there next month and thought it is useful for you.