Wushan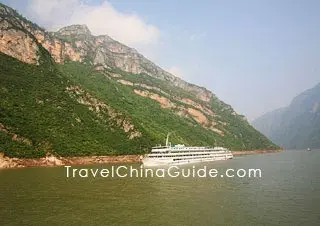 Wu Gorge
Wushan is a county located in the
Three Gorges Dam
Reservoir Area through which Yangtze Cruise ships pass. As the eastern gate of
Chongqing
, it has a long history and abounds with rich resources. During the Eastern Zhou Dynasty (770 BC-221 BC), it was a shire of Chu State and in Qin and Han Dynasties (221 BC- 220 AD) its name was changed to Wu County.
Historic Relics
Of the counties of the Three Gorges Reservoir Area, Wushan has the most cultural relics and historic sites, over 40 historic sites and one thousand rare cultural relics in all.
Longgupo Pithecanthrope Site
, is the site of fossils of one of the earliest human beings -
Wushan Man
. About two million years ago, they lived in this region. Daxi Town, where the Neolithic Site is located, has 5,000 years of history and is home to the famous
Daxi Culture
. This area also contains the Ancient Town of Dachang (1368 - 1644), well-preserved Han Tombs, one of the Yangtze's ancient Tang Dynasty temples and
Luyou Cave
.
Of the cultural relics in this county, the
Ancient Plank Road
and the
Suspended Coffins
are well-known.
Natural Beauty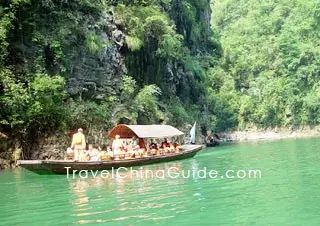 Three Little Gorges of Daning River
Besides boasting a long history, Wushan takes pride in its natural scenery. As Wushan traverses the whole part of
Wu Gorge
and most of
Qutang Gorge
, it combines many landscapes of the two gorges of Yangtze River. Among these are the twelve peaks of Wushan along the two banks of Wu Gorge. The
Goddess Peak
is the most prominent and has many beautiful legends.
Near Wushan are the
Three Little Gorges
of Daning River. Because of its unique beauty and dangers shoals, it has been visited by numerous tourists and celebrities and praised as one of the marvelous spectacles of China. Yangtze River cruise ships usually stop here to give visitors a chance of drifting along the Three Little Gorges.
Wushan has been visited by numerous poets who wrote works praising its scenery. It is not only the cradle of Daxi Culture and Bachu Culture but also that of Goddess Culture and Wu Culture.
Since the instigation of the Three Gorges Dam Project, a new, more charming, scene has been appeared here. Don't miss Wushan and its scenery while cruising along the gorgeous Yangtze River.
- Last modified on Jul. 09, 2018 -
Questions & Answers on Wushan
Asked by Larry Clem from USA | Jul. 08, 2018 08:42

Reply
Transportation from Fengdu to Wushan County to Yichang
I need to travel from Fengdu to Wusan County for a two or three day visit to travel the Lesser Three Gorges and other cultural sites. From Wusan I need to travel to Yiachang or Badong or both. I don't believe that there any more hydrofoils for travel on the Yangtze; so what are my options. It appears to be bus, but I am open to other ideas. FYI I am fine with bus travel- just not sure if there are other ways.
Answers (2)
Answered by Yeh from USA | Jul. 08, 2018 19:14

0

0

Reply
There are some high speed trains transferring you from Fengdu to Jianshi Raiway Station and you can take one and get off at Jianshi Raiway station. Then get on one bus to Wushan at the gate of Jianshi Raiway station.

You can take the long distance bus from Wushan to Yichang at Wushan Cuiping Bus Station and get off at Yichang Bus Station.

Answered by Larry Clem from USA | Jul. 09, 2018 03:17

0

0

Reply
Thank you, Yeh