Badong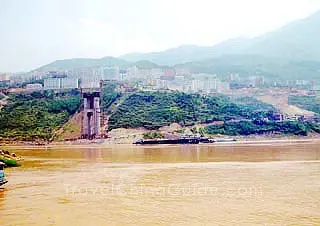 Badong County along Yangtze River
In Enshi Autonomous Prefecture of Tujia and Miao Nationalities, Hubei Province, there is a county called Badong. Located in the middle section of the Yangtze River between
Wu Gorge
and
Xiling Gorge
, and 40 miles from the
Three Gorges Dam
, Badong is a bright pearl inlay along the corridor of the splendid Yangtze River. There are three mountains in Badong: Daba Mountain, Wu Mountain and Wuling Mountain.
On the 2,000 miles' territory,
Tujia
and
Miao
nationalities live a happy and elegant life, which makes the land a unique one with its minority flavor. Although a part of Bodong's territory (including docks, roads, residences and some infrastructural facilities) has been merged into the Yangtze River because of the Three Gorges Dam Project, the economy of the county recovered quickly and is developing in its own right.
Natural Scenery and Local Products
With a history of 1,500 years, the country is endowed with numerous natural resources and scenery. Plants, such as gingko and cotton rose, and animals, such as the giant salamander and golden monkeys, grow or settle on this treasured land. The county is abundant with coal and iron reserves.

The vast land, pleasant climate and special soil provide advantageous conditions for the growth of some special local products. Fields for orange planting covers an area of about 9 square mile, producing over 10,000 tons of oranges each year. Among the oranges, autumn oranges have been exported to Japan, Russia and other countries. The tea here is also considered a speciality of Badong. Despite the quantity and quality, the Badong tea deserves appreciation. Moreover, there are garlic and konjac as well as all kinds of Chinese medical materials. Tremella, Jew's-ear, persimmon, Chinese gooseberry and other local products also made great contributions to the development of Badong.

Additionally, picturesque scenery in Badong is worth a visit. The Shennong Stream with elegant landscape is well-known throughout the world. Gezi River Stone Forest is characterized by the quietness of the Three Gorges, the elegancy of Gulin and the strangeness of Zhangjiajie. Autumn Wind Pavilion (Qiufeng Ting) and White Cloud Pavilion (Baiyun Ting) are the simple and classic scenic spots.



Shennong Stream



Gezi River Stone Forest
Gezi River Stone Forest is famous as the Small Guilin of Three Gorges. Lying on a belt of river valley, it is 70 kilometers (about 37.8 mi) from Badong. Having the Karst land form, Gezi River Stone Forest is divided into four scenic areas: Stone Forest, Thousand-meter Stone Barrier (Qianmi Shiping), Jiaxiangzi and Nine Dragon Temple (Jiulongguan).

Gezi River Stone Forest covers 1,500 square meters (about 1,794 sq yd). In the scenic area, strange stones of various shapes are very beautiful. They are like generals, couples, mushrooms and other shapes. The most attractive scenery here is Couple Stone, Rhinoceros Cave, Heaven Directing Cave, and Lamb Cave.

Thousand-meter Stone Barrier is 1,500 meters (about 4,921 ft) long and over 100 meters (about 328 ft) high. As a book store, it stands along the river with four springs falling from the crest. Jiaxiangzi and Nine Dragon Hall lie between the Stone Barrier. On the right bank of the lower reach of Gezi River, there are two temples on the top of the 1,100 meters (about 3,609) high Chuanxinya. There is also a gorgeous Catholic church, which was built by a Belgian missionary in 1851, which lies on the southeastern bank of Gezi River.



Autumn Wind Pavilion
First built by Kouzhun, a famous prime minister in the North Song Dynasty (960-1127), as he was the magistrate of Badong, Autumn Wind Pavilion has over 1,000 years history. It was at the pavilion that many literati left universally popular poems. Most of the poems described the beautiful scenery and their emotions at that time quoting the pavilion. Nowadays, Autumn Wind Pavilion is a must visit for tourists because the magnificence of the mountains and Yangtze River can be appreciated from the pavilion.
Tips:
Local Products: Chinese medicinal material, tea, gastrodia tuber and konjac.
Local Snacks: spiced dried bean curd, pickles, edible wild herbs and mutton noodles.
- Last updated on Oct. 09, 2019 -
Questions & Answers on Badong
Asked by Linda from AUSTRALIA | Sep. 27, 2019 09:42

Reply
Coach from Badong to Yichang
Hi, thank you for all your help in replying to my questions. Was told the ferry has stopped running. Please can advise how much is the intercity coach from Badong to Yichang? Any idea of the schedules of departure in the afternoon. I guess if private car, it would cost around rmb400 or more per car as it is about 3.5 hours drive. Thank you very much.
Answers (1)
Answered by Violet from DENMARK | Oct. 09, 2019 19:55

0

0

Reply
Well, I can only find two bus schedules daily.
One is at 17:00 from Yesanguan Coach Station and the other is at 18:00 from Jubaopen Coach Station.
Hope helpful!
Asked by Linda from AUSTRALIA | Sep. 19, 2019 07:25

Reply
Other than take bus or private car, is there any ferry or boat running from badong to Yichang?
If yes, how long is the journey? Thank you.
Answers (1)
Answered by Leah from UNITED KINGDOM | Sep. 24, 2019 23:08

0

0

Reply
I remember that the ferry schedules are 08:00, 10:00, 15:30, 17:30 and 20:30. It takes around 6 hours on the way.
Asked by Linda from AUSTRALIA | Jul. 25, 2019 07:05

Reply
Is there any other way to get from Wushan to Badong other than bus?
How much would it cost to hire a private car to drive 4 people to Badong? Thank you.
Answers (1)
Answered by Grace from UKRAINE | Jul. 30, 2019 23:55

0

0

Reply
You can also take the coach from Wushan Cuiping Bus Station to Badong. The bus schedules are 09:30 and 14:00. The ticket fare is CNY60 per person.
As I know, if you hire a private car, the fare is CNY 300 to 400 for 4 people.
Asked by Lee from MALAYSIA | Feb. 23, 2018 21:03

Reply
Is there a train service from Badong to Fengjie?
If travelling by bus, how long does it takes and where is the station to take from? Thanks

Answers (1)
Answered by David from FINLAND | Feb. 26, 2018 00:47

1

0

Reply
Well, there is no direct train or bus that operates from Badong to Fengjie. In order to for your convenience, you are suggested to hire a private car directly. The duation is around 2 hours. The cost is around CNY 300-500.