Shennong Stream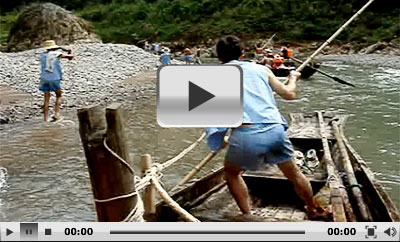 More Photos
On the border between Wu Gorge and Xiling Gorge is the Shennong Stream. Taking its rise from the main peak of Shennong Jia (the first peak in the center of China) and flowing through Badong County, it ultimately flows into the Yangtze River via the Wu Gorge. Cruising along the stream by boat, visitors will become immersed in the wonders of zigzagging watercourses, the primitive environment, the canzonet by the boat tracker, and the mysterious culture along the banks.

Unique Scenery
Along with the grandeur, elegance and danger of the Yangtze River, the Shennong Stream has its own unique scenery. It has four natural gorges - Chengnong, Mianzhu, Yingwu and Longchang - and each has unique characteristics.

Among the four gorges, Mianzhu Gorge is renowned for its danger. The riverbed is not only narrow, but also falls steeply. Over 30 dangerous shoals will challenge everyone along the 2.5-mile route. As you drift along this section, your heart will beat heavily, even as you feel reassured as to your safety by the skilled boatmen. Stalactites hang on both sides of the bank; be sure not to miss this scenery.
Yingwu Gorge is noted for its elegance. The evergreen vegetation along the banks remains beautiful during the whole year. Here, a gorge with flowers that blossom in all seasons and a fountain of three colors can be admired. The largest karst cave of Shennong Stream also lies within this section; The Longchang Gorge is one with a unique human landscape. The ancient and mysterious
suspended wooden coffins
and
plank road
are the highlight of the section.
Drifting along the Stream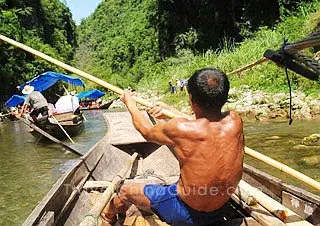 Drifting along the Shennong Stream in small open sampans (called 'peapod boats' by the locals) is the unique method for viewing the natural scenery, the ancient village and the flavor of Tujia (the local ethnic minority). Before you take the sampan, an environmental protection boat will first take you to admire the marvelous scenery. Then you will change to the sampan (14 yards long and two yards wide), which holds ten visitors at a time, to experience another kind of feeling.

One sampan is usually steered by six boatmen who are local peasants. While appreciating the natural beauty and historic sights along the two banks, you can hear the songs from the rowers as they row the boat. When reaching the shallow-stream places, they will paddle in the swift-flowing stream to tow the boat upstream by the rope. This scene has made the drift a unique one compared to other stream drifts.

It is sure that the serene natural beauty, the local Tujia flavor, the brave boat trackers, and historic relics will make the trip a memorable one.
- Last updated on Aug. 13, 2019 -
Questions & Answers on Shennong Stream
Asked by Luke from AUSTRALIA | Jan. 09, 2018 01:43

Reply
Badong, Shennong Stream & Hydrofoil
Hi,

We are travelling as a family to China in April, 2 adults and 2 boys (11 & 13yrs old). We will arrive in Badong by train staying two nights, taking the Shennong Stream trip in the middle day and then take the hydrofoil to Yichang the following day.

Can you help me by letting me know if it is possible to book either or both of these before we get to Badong and what the approximate price of each of these would be for our family of four.

While my Chinese is very limited I have native Chinese speaking friends who can make the booking for me if I can find out where to book it.

Thanks you in advance for your help

Luke
Australia
Answers (3)
Answered by Richard from CANADA | Jan. 09, 2018 21:54

0

0

Reply
Well, you are advised to search the official website of Shennong Stream. It has Chinese and English version that you can look through the introduction. The booking page only has Chinese version. You can ask help for your Chinese friends and book the tour in advance.
Answered by Luke from AUSTRALIA | Jan. 10, 2018 00:16

0

0

Reply
Thanks Richard for your reply.

I have looked through the web and can not find their website. Are you able to help by supplying the link.

Thanks
Luke
Answered by Richard | Jan. 10, 2018 19:12

1

0

Reply
The weblink is not allowed to put here. You can input the "snxtour" to find the website.
Asked by Sanam from IRAN | Feb. 12, 2017 01:55

Reply
Yichang to Chongqing
Hi every one,
I am going to visit Xi'an and then come to visit 3 beautiful gorges and after that I will be visiting Chengdu. .
I think the better idea is to come to Yichang and then after visiting 3 gorges go to Chongqing.
I like to visit 3 gorges in the best way it can be possible. till now, I know that cruises are available in Yichang. and also I'm curious about having experience on Shennong stream drifting.
I'd appreciate if someone could explain to me all the possible ways I can see 3 gorges.
Is it possible to reach them by bus and then take a boat and visit them?
Answers (2)
Answered by Edgar from GERMANY | Feb. 13, 2017 23:59

0

0

Reply
Hey, your plan is good with Xi'an - Yichang - Chongqing - Chengdu. Since you wanna well enjoy the three gorges, the cruise between Yichang and Chongqing is the best way. It takes 5 days 4 nights. Except enjoying the scenery, you will be provided the chance to see Three Gorges Dam, visit Precious Stone Fortress, and experience the Stream Drifting. If you go by bus, and then boat, you may miss some worthy parts.
Answered by Sanam from IRAN | Feb. 15, 2017 01:42

0

0

Reply
Dear Edgar,
Thank you for your answer,
would you please let me know if taking boat, I will miss which parts?
Asked by Beth heagy from USA | Feb. 23, 2013 00:59

Reply
How do you get to badong from the train station at chongqing?
Answers (2)
Answered by Gray from INDONESIA | Feb. 24, 2013 01:56

0

0

Reply
From the railway station, you can take a taxi to reach Wuxi Bus Station or Wushan Cuiping Bus Station where you can find buses for Wanzhou. Upon reaching Wanzhou, you can take fast boats to reach Badong directly.
Answered by Beth from USA-OREGON | Mar. 01, 2013 05:46

0

0

Reply
Thank-you for your answer. I really appreciate the help.
Asked by Ms.Sarah from USA | Apr. 22, 2011 23:50

Reply
Is it possible to take the Hydrofoil from Yichang to Bodong and join a tour along the Shennong Stream? I would also like to do this and then take boat, bus or train back to Yichang.
Answers (3)
Answered by Mr.Jack | Apr. 23, 2011 01:01

0

0

Reply
I think so, but you have to book such a tour through a china travel company.
Answered by Mr.Sarah from USA | Apr. 23, 2011 07:04

0

0

Reply
Can you suggest a company that could arrange such a tour that speaks English?
Answered by Mr.Jasmine | Apr. 23, 2011 21:08

0

0

Reply
After you arriving in Badong, just go to the tourist pier to buy the boat ticket to Shennong Stream.
Asked by Mrs.Wilma from USA | Jan. 12, 2011 19:52

Reply
Might I then take Hydrofoil from Yichang to Bodong then the next to Wushan for the Three Little Gorges?
Is it possible to take the Hydrofoil from Yichang to Bodong and join a tour along the Shennong Stream?
Might I then take the next Hydrofoil to Wushan for the Three Little Gorges?

From Wushan I would like to take the bus to Chongqing's Airport.
I hope to be in this area around the first week in April.
All advice greatly appreciated.
Thanks,
From a 71 yr female traveling alone.
Answers (1)
Answered by Mr.Steven | Jan. 13, 2011 04:12

1

0

Reply
I don't think it's possible to take a Hydrofoil from yichang to Badong and then to Wushan directly, since we just take the boat for a short journey during my last Yangtze Cruise Tour(https://www.travelchinaguide.com/cruise/). However, you can contact a China Tour Company(https://www.travelchinaguide.com/) to consult and confirm about it. There seems to be no direct bus from Wushan to Chongqing airport.