Zigui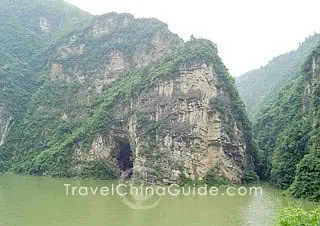 Jiuwan Stream, Zigui
Located at the foot of Woniu Mountain on the northern bank of the Yangtze River in western part of Hubei Province, Zigui is the hometown of
Qu Yuan
, the great poet, during the Warring States Period (476 BC - 221 BC). Zigui has been a county since the Han Dynasty (206 BC-220). The city, surrounded by walls, has a very classical architectural style. As it is in shape of a gourd, the city is called 'The Gourd City.' Since the city wall is composed of piled up stones, the city is also named 'The Stone City.'
Xiling Gorge
is just about seven miles from it.
According to legend, before Qu Yuan was exiled, his elder sister came back from far away to console him. Later generations chose the name Zigui as the county name to show their respect to this kind sister. 'Zi' means sister and 'Gui', coming back.
Because of the reservoir of the
Three Gorges Dam Project
, part of the Zigui territory has been submerged. So, residents moved their homes to the new county of Zigui which abuts the Three Gorges Dam, 23 miles away from the original county to the west and 25 miles to Yichang City to the east.
Now, Zigui County is a modern county with new buildings while at the same time still featuring an historic atmosphere. As Zigui is the hometown of Qu Yuan, numerous sites and legends are related to him. On the Fenghuang Mountain (Phoenix Mountain) of the new county, the spectacular Three Gorges Dam is well admired. The Culture Village of Qu Yuan is under construction on the mountain. The Qu Yuan Temple will be moved to the mountain as well. The Xiangxi (Fragrance Stream) of Zigui has many legends about Wang Zhaojun, one of the four ancient beauties of China. Other natural scenery like Xiling Gorge and Jiuwanxi Stream are also the must–sees while visiting Zigui.
Every year, when the traditional
Dragon Boat Festival
is held on the 5th day of the 5th lunar month the people of Zigui remember Qu Yuan mainly by eating Zongzi (glutinous rice dumplings) and having dragon boat races. This celebration has been passed down from generation to generation. Compared to other regions, the festival is busier since it is the hometown of Qu Yuan.
Local Product: oranges
Zigui Sightseeing List:

Qu Yuan Temple

Fragrant Stream
(Xiangxi Stream)
- Last updated on Aug. 14, 2019 -
Questions & Answers on Zigui
Asked by Brendan from AUSTRALIA | Nov. 18, 2016 15:28

Reply
What is the best way to get to Zigui from Yichang on a Saturday afternoon?
How much would it cost and how long would it take? Likewise, best way to return to Yichang on a Sunday morning to be at the cruise terminal by 7am?
Answers (1)
Answered by Daniel | Nov. 18, 2016 23:51

0

0

Reply
You can take a long-distance bus from Yichang Central Coach Station to Zigui. There are departures at 16:00 and 18:30 in the afternoon. If you are heading to the Three Gorges Dam area, you can take bus 216. It departs from Junyao square from 06:40 to 19:00 about every 30 minutes.

For return trip, you'd better hire a private car. The reference fare is aroun CNY200 in the early morning. It's too early and the public transport is not available yet.