Qu Yuan Temple & Fragrant Stream
Qu Yuan Temple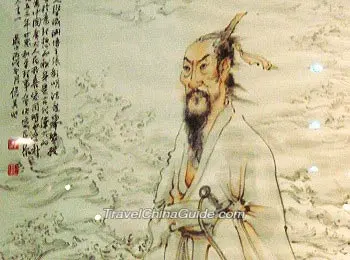 Qu Yuan
Originally built in 820 during the Tang Dynasty (618 - 907), the Qu Yuan Temple was built in remembrance of the great patriotic poet
Qu Yuan
who lived during the Warring States Period.
The temple was destroyed but restored during the Song, Yuan, Ming and Qing Dynasties. In 1978, the temple was moved to Xiangjiaping, which is 0.9 miles from Guizhou Town of Zugui County due to the rising water level caused by the
Gezhouba Water Conservancy Project
.
The temple is in a courtyard style that is mainly composed of a gate, a main hall and a rear hall. The temple gate is a stele with four posts and 46 feet high. The main hall is in Ming and Qing architectural style and is grand. At the back of the main hall, there is the Qu Yuan Tomb. Although it is, only a cenotaph, the stone archway and some other things in front of the tomb are the relics of Qing Dynasty.
Also in the temple, there is a bronze statue of Qu Yuan, the stele corridor, and the Qu Yuan memorial hall. Cultural relics excavated in Zigui as well as the story of Qu Yuan are exhibited and described on the two floors of the memorial hall. The stele corridor has an assembly of the famous poems in his handwriting.
Each year, when the traditional
Dragon Boat Festival
takes place, it is usual for the dragon boat race to be held on the Yangtze River along the Qu Yuan Temple section. After visiting the temple, the hometown of Qu Yuan near the Zugui City is also worth a visit.
As the water level rises by 512 feet due to the
Three Gorges Dam Project
, the Qu Yuan Temple gate has been partially submerged. In order to protect the temple, it is to be moved to a new location - Fenghuang Mountain (Mt. Phoenix) in Maoping Town of Zigui that faces the Three Gorges Dam.
Fragrant Stream (Xiang Xi)
The Fragrant Stream is at the northern bank of Xiling Gorge's west mouth. Rising from Shennongjia Nature Reserve, the river is famous because the hometown of Wang Zhaojun (one of the Chinese four ancient beauties) lies at its upper reach.

The Fragrant Stream is charming as its water is quite clear. According to legend, Wang Zhaojun once washed her face in the Xiangxi Stream. She dropped her necklace unconsciously into the stream. Since then the water in Xiangxi became clear and fragrant. Hence its name - Fragrant Stream.

On the upper reaches of Xiangxi Stream, lies a village called Baoping Village where Wang Zhaojun was born. During the Han Dynasty (206BC - 220AD), she married the leader of Huns, Huhanye in order to seek peace for the Han Dynasty. Because of her act, she was respected by posterity. In Baoping Village, there are many legends and historic relics related to Wang Zhaojun.

One of the popular legends is the "Peach Fish": Every spring, when the peach flowers blossom, pink crystal jellyfish appear in the water. As they look like peach petals swimming in the water the local people call them peach fish. It is strange that the fish appear and disappear corresponding to the time of the peach blossom. It is said that, when Zhaojun was going back after returning home to visit her relatives, she dissolved in a flood of tears. Her tears dropped on the peach blossom in the water and turned into peach fish.

In the village of Baiping, relics like the nanmu well, the dresser and the pearl pool can be seen. Since 1979, Wang Zhaojun Memorial Hall has been built there. It is a good place for visitors to discover more about Wang Zhaojun.
- Last modified on Apr. 04, 2019 -
Questions & Answers on Qu Yuan Temple & Fragrant Stream
Asked by Claudia from USA | Sep. 27, 2014 02:56

Reply
Where is the Qu Yuan Memorial in Zigui?
I'm going to travel on a four day cruise from Yichang, down the Yangtze river. I love China's history and in particular the poet Qu Yuan's life story. I understand that Zigui, the great poet's hometown, is close to Yichang, is this so?

I believe that Yichang has a memorial dedicated to him, is this true or was it relocated due to the Three Gorges Dam?

I haven't been able to find an address, does anyone out there has it? And finally, does it make sense to try to fit a trip to the memorial (if indeed it is in Yichang), with only about three hours to spare before we have to board our cruise?

Thank you for your answers!
Have a wonderful day!
Claudia

Answers (3)
Answered by Kate from KUWAI | Sep. 28, 2014 04:02

2

1

Reply
Zigui is not far from Yichang. You can take bus from Yichang Central Bus Station (located near Yichang East Railway Station) or Yichang Long Distance Bus Station to Zigui. It costs CNY 18 and takes around 70 minutes.

Yichang Central Bus Station: departing around every 30 minutes from 06:30 to 21:10
Yichang Long Distance Bus Station: departing around every 30 minutes 06:30 to 18:40

The Quyuan Memorial Hall is located in Zigui. You need to get to Zigui first. The bus usually stops at Xinghuacun or Fenghuanshan Bus Station. I suggest you take a taxi to visit the hall. It costs around CNY 15.
Answered by claudia from USA | Oct. 01, 2014 10:41

2

3

Reply
Thank you so much for your kind response! I really appreciate it.
I also wanted to know about Qu Yuan's temple in Guizhou, I haven't been able to pinpoint its location on Google map and I would like to know about how far it is from Yichang.

Have you been to both locations? If it is close enough to visit, but I can only visit one, which one would you recommend?
Thank you again, so much!
Have a nice day!
Answered by Kate | Oct. 09, 2014 21:19

2

0

Reply
Claudia, I tried to search Quyuan Temple in Guizhou on the internet. But I got no related results. I do think that you may visit Quyuan Temple in Zigui because Zigui is his hometown.