Qu Yuan - A Patriotic Poet of Warring States Period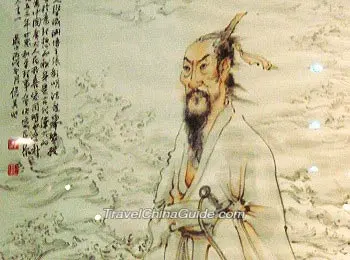 Qu Yuan
Living in the latter part of the Warring States Period (476 BC - 221 BC), Qu Yuan was the earliest great patriotic poet as well as a great statesman, ideologist, diplomat and reformer in ancient China. He has the reputation of being one of the world four great cultural celebrities. The traditional Chinese Dragon Boat Festival is celebrated to commemorate him. His patriotic influence has left its mark on many subsequent generations in China and beyond.

Political Career
The Warring States Period covers a period during which the seven individual kingdoms, Qi, Chu, Yan, Han, Zhao, Wei and Qin - contended with each other for hegemony. Qu Yuan, who lived in the Chu State, was trusted by King Huai and did much to assist the King in governing the state. Following reformation in the Qin state, the Qin gained in strength and invaded the other six states. he suggested an alliance with Qi in order to resist Qin. However, this was rejected by some of the ministers as they could see that they would lose some of their power and privileges. They made false accusations against him that were believed by King Huai. The misguided monarch became alienated from his valued advisor and sent him into exile as a consequence.

In the years that followed, Huai, lacking the wise counsel of Qu Yuan, was deceived by the Qin into thinking that they could live together in peace. However, King Huai was subsequently detained by the Qin State for years until his eventual death. King Huai was succeeded to the throne by his son who was even more fatuous than his father. He disregarded Qu Yuan's advice not to surrender to the Qin. Qu Yuan was exiled to an even further away than before.

In 278 BC, upon learning that the Chu State had been defeated by the Qin, Qu Yuan, in great despair and distress, ended his life by drowning in the Miluo River in the northeastern part of Hunan Province.

As a Poet
Not only was he a true patriot, he is famed for leaving many immortal poems for us. During the days of his exile, Qu Yuan wrote many famous poems. In them, his love for his country and its people are revealed naturally. Among the greatest Quyuan poems are Li Sao (The Lament), Tian Wen (Asking Questions of Heaven), Jiu Ge (Nine Songs), and Huai Sha (Embracing the Sand).

Of these, Li Sao was the representative of Quyuan poems and the longest lyric of romanticism concerning politics in the history of ancient Chinese literature. Tian Wen is characterized by 172 questions put to heaven. The questions concern aspects of astronomy, geography, literature, philosophy and other fields.

Reputation
Qu Yuan was respected not only by the people during his own time but also after, and not only by people in China but also in the wider world. On March, 5th, 1953, great commemorative activities were held in China in honor of him. In September, the World Peace Council held a meeting to remember him and urged people around the world learn from him. He was also listed as one of the world's four literary celebrities for that year.

Nowadays, on the fifth day of the fifth lunar month the Dragon Boat Festival is celebrated annually by eating Zongzi and holding dragon boat races to commemorate Qu Yuan. And other countries like Korea, Japan, Burma, Vietnam, and Malaysia etc. now celebrate this festival. His masterpiece Li Sao has been translated into many languages and his portrait displayed in libraries in many countries.



Further Reading:
Qu Yuan's Hometown
- Last updated on May. 02, 2022 -
Questions & Answers on Qu Yuan
Asked by Wajdi from LIBYA | Dec. 07, 2016 10:12

Reply
What did Qu Yuan do after he heard that the Chu State was defeated by the Qin state?
Answers (3)
Answered by George from GERMANY | Dec. 07, 2016 20:39

4

2

Reply
He jumped into the river when the capital of Chu State was occupied by Qin.
Answered by Bob | May. 02, 2022 19:17

0

0

Reply
Did he die when he jumped in the river?

Answered by Josh | May. 02, 2022 19:23

0

0

Reply
Yes he did