Dragon Boat Races
What is the Dragon Boat Race? Dragon boat race is one of the most typical traditions of Chinese Dragon Boat Festival which falls on the fifth day of the fifth lunar month. The activity is widely held in southern and northeastern areas of China where rivers and lakes are densely scattered. With a far-reaching history of more than 2,000 years, the observance can be dated back to the boat racing to save the ancient Chinese poet Qu Yuan in Warring States Period (475 - 221 BC). Now dragon boat competition has become a worldwide popular water sport and Dragon Boat Festival celebrating activity spreading to Southeast Asian countries like Vietnam, Singapore, and Malaysia.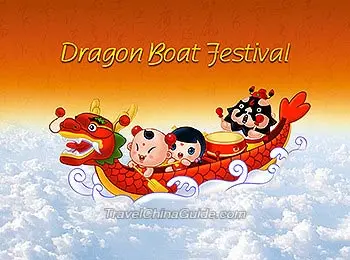 In a long and narrow shape, traditional dragon boat is a kind of watercraft made of teak wood, with paddles on both sides. About 20-30 yards long and 1-2 yards wide, both the fore and aft of the boat are decorated with dragon's turnup head and tails. The body of the boat is carved or painted with traditional auspicious patterns like the waves, clouds or beasts in bright colors such as red, blue, green, black and gold. Apart from decorative items, there are also pennants and drums, which are used for guiding the paddlers' move. In different regions, the boat's designs and sizes are varied slightly. Now dragon boat race has become a worldwide water competition, and big changes take place in the boats' shape, materials as well as decoration regalia.

Dragon Boat Racing History & Origin
Dragon boat racing history is over 2,000 years long, having gone through three stages, including ceremonial, commemorative and competitive functions.

Dragon is an imaginary creature which has advantages of all other animals. Ancient Chinese people regarded themselves as the descendents of dragon, and they took dragon as their totem. Therefore, people made boats in dragon image and held racing games. It was usually for totem worshipping or other jubilant occasions, such as sowing and harvesting seasons. Then where did Dragon Boat Racing originated? The totem worship was first held in Wuyue area, today's Jiangsu and Zhejiang region in China.

About in 278 BC, great patriotic statesman of Chu Kingdom, Qu Yuan witnessed his homeland was shattered, and he committed suicide by drowning himself with stones in a river. People raced out boats to retrieve his body, and then the performance became a defined custom of Dragon Boat Festival.

Around in 1970s, the dragon boat race turned to be a competitive dragon boat sport, which is enjoyed worldwide and brought to international sport events.

What is Dragon Boat Racing?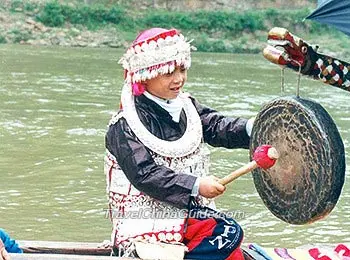 Strike the Gong to Guide the Paddlers
The crew of a dragon boat usually consists of a drummer, a sweep (steersman) and paddlers. The number of the paddlers varies accordingly since the boats are in different sizes. The main force comes from paddlers who actuate the boat, and the drummer is in charge of guiding the frequency and synchronicity of all the paddlers' moves. Meanwhile, the drumbeat is also a useful way to inspire the crew's spirits in the competition. The sweep plays a very critical role, for he/she takes control of the moving direction of the boat and guarantees the safety of other members, and mostly the role is undertaken by professional coaches.

Pre-ceremony Before the Race
Before the dragon boat competition, there are ceremonies to welcome the dragon boat, worship the gods or commemorate the great figures like Qu Yuan. In some places, people will kill a rooster and drop its blood on the dragon's head, or a pair of paper roosters is placed on the boat, which is believed able to protect the crew's safety.

Dragon Boat Race Schedule and Destinations in China
1. Xixi National Wetland Park, Hangzhou
Xixi National Wetland Park must be the best site for westerners to experience the Dragon Boat Festival and enjoy the race. Every year on the fifth day of Chinese fifth lunar month, there are a lot of overseas young people joining the race. The race follows the traditional procedures like the pre worshiping ceremony, which enables tourists to witness the most authentic games of the festival. Meanwhile, there are also snack stalls and crafts vendors, making the event more lively.

2. Zigui, Yichang, Hubei
Zigui County in Yichang City is said to be Qu Yuan's homeland, so the dragon boat racing is one of the grandest affairs in local customs. People from different towns and villages organize the activity, which shows the various designs of the boats. As Qu Yuan is a poet, there are also poem reciting activities, which enrich the whole race.

3. Miluo River, Yueyang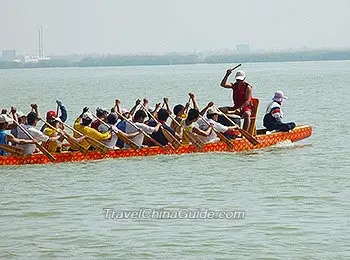 Miluo River is the very one that Qu Yuan drown himself to death, which is also the birthplace of dragon boat culture. There will be standard competitions held in Miluo River Dragon Boat Race Center on the festival day. All the athletes are professional players, and visitors can surely watch a fierce and thrilling competition.

4. Zhenyuan Ancient Town, Guizhou
Located in east Guizhou, Zhenyuan Ancient Town is a place with significant population of minority Miao and Dong people. Before the race, they will give various performances and parade around. The race show is characterized by its special ceremony and delicate boats. There visitors could see the most primitive of dragon boat racing activity in rural area.

5. Phoenix Ancient Town, Hunan
Regarding Phoenix Ancient Town, the boat race is an old tradition of local cultural activity. The race retains the original rules and mode, and after the competition, there is usually catching ducks game for rewarding the crew, which is also full of fun.

6. Zhanjiang, Guangdong
Zhanjiang is a harbor city, and the most notable feature is that the racing activities are held in the broad sea, where creates a more magnificent view of competition.


FAQs about Dragon Boat Race
1.
How long is the dragon boat race?
The distance varies a lot. For formal dragon boat sport, there are short races for 250m, 500m, 800m, 1,000m; medium-long distances of 5,000m, 10,000m and 20,000m; and rally races of over 10km long. For races among the folk, the distance is mostly decided by the condition of the local rivers or lakes.

2.
Is dragon boat racing good exercise?
Yes. It is a good sport not only to strengthen your body and improve your fitness, but also to develop your team awareness and foster the spirit of cooperation because it is a team sport.

3.
What should I eat before a dragon boat race?
The sport is a strenuous exercise requiring a lot of energy. You'd better take in some food providing high energy like glucose, banana, apple, grape, etc. The special energy drinks and Zongzi, the iconic food for Dragon Boat Festival, are also good choices. 30 minutes before the race is the best time to eat them.
- Last updated on Jun. 15, 2020 -
Questions & Answers on Dragon Boat Races
Asked by Pam from AUSTRALIA | Feb. 25, 2019 03:07

Reply
Dragon Boat Racing in Fuzhou
On which waterway in Fuzhou will the June 2019 Dragon Boat racing competition be held please.
Thank you.
Answers (1)
Answered by Jerry from MALAYSIA | Feb. 25, 2019 17:35

0

0

Reply
In past years, it was held in Longzhouchi, Puxiahe River, Cangshan District, Fuzhou City.