Xixi National Wetland Park
Situated in the western part of Hangzhou, less than 5km (3 miles) from West Lake, Xixi National Wetland Park is a rare urban wetland. With rich ecological resources, simple natural landscape and profound culture, it is known as one of the Three "Xi's" along with Xihu (West Lake) and Xiling (the Seal Engravers' Society). It is the first and only wetland park in China combining urban life, farming and culture. Xixi National Wetland Park has not only broad open views, but also a variety of water views. Warm and humid, the area enjoys a comfortable climate featuring abundant precipitation and four distinct seasons.
Three Causeways and Ten Sights
The natural and human landscape in Xixi National Wetland Park are grouped into three causeways and ten sights: The three causeways are Causeway Fu, Causeway Lu and Causeway Shou, as in Chinese, the three words Fu, Lu and Shou carry the meaning of fortune, prosperity and longevity.

Causeway Fu is 2,300m (1.4 miles) long and 7m (8 yards) wide, stretching through Xixi National Wetland Park from south to north. Across the bank span six bridges with the Chinese character "Fu". Causeway Lu is 1,600m (1 mile) long and 7m wide, stretching through the core reserve area from west to east. It connects the ecological arboretum with the major scientific research project of the wetland and serves as an ecological bank. With a total length of 3,600m (2.2 miles) and a width of 4.5m (5 yards), Causeway Shou is the longest of the three, stretching from south to north. Crisscrossing waterways and ancient trees form an ecological landscape.

The ten sights are Qiuxue Hut, the best scenery of the Xixi National Wetland Park and the sight that can be reached by boat only; Water Mirroring Red Persimmons; Exhibition of Dragon Boat Culture; Lotus Flower Eco-Reserve Area, the main area for bird-watching; Charm of Hong's Villa, the living place of the Hongs, which fostered a group of celebrities; Boat-rowing in the Moonlight, Fog and Water Fishing Village, a tourist center when one can enjoy local delicacies; Plum Villa, home to more plum trees and famed for its plum blossoms; Gao's Villa, and Music Appreciation in Hezhu.
| | |
| --- | --- |
| | |
Aesthetic Features of Xixi National Wetland Park
Experts claim there are four distinct aesthetic features: coldness, wildness, simplicity and elegance. Coldness suggests quietude as it is a tranquil place in a noisy city; wildness connotes nature as this is a pure land in human society; simplicity means plainness or the philosophy of 'back to nature' and elegance relates to the gathering of literary figures and artists. Thanks to the picturesque waterways and rural landscapes, the Xixi National Wetland Park has always been an ideal location for artists and writers to produce poems, calligraphy, paintings and epigraphy.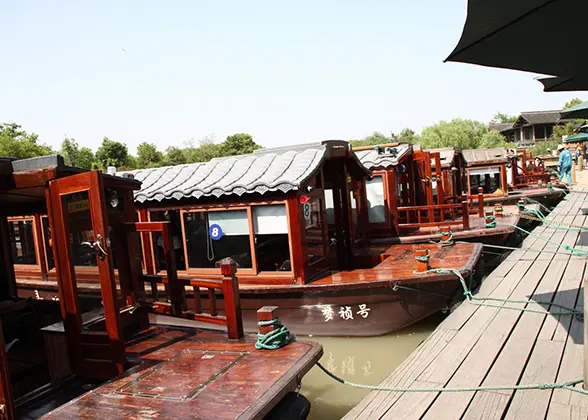 The land route: Zhoujiacun Village (the main path for the Xixi National Wetland Park)---Plum and Bamboo Cottage (housing most of Xixi's 3,000 plum trees)---Bo'an Thatched Hut---Fog and Water Fishing Village---Xiaogu Bridge---Deep Pool Mouth (a port for the boats used in the annual Dragon Boat Festival)---West Corridor of the Deep Pool Port---Reserve Area of Shrimp and Dragon Sands---Plum Villa (home to more plum trees and famed for its plum blossoms). The whole route is about 8km long and takes more than 3 and a half hour.

The river route: Zhoujia Dock---Plum and Bamboo Cottage---Water Pavilion (a place for book collecting, reading and meeting friends)---Qiuxue Hut---Zhoujia Dock. You can choose to take an electric boat or row a boat by yourself. A complete tour of the Xixi National Wetland Park should involve a combination of land and river routes. Just take your time.
It is said that Emperor Qianlong (1736-1795) saw a dragon boat race when he came to visit southern China. With great joy, he called it the Dragon Boat Contest. In 2008, the dragon boat contest in Wuchang was included in the extended catalog of the first group of national intangible cultural heritage as a component of traditional
Dragon Boat Festival
. Tourists can watch the dragon boat contest and experience the 5,000 years old dragon boat culture through the exhibition.
The land ways are complex and unsignposted. It's easy to get lost. Be careful.
How to get to Xixi National Wetland Park
1. There are free shuttle buses from
Leifeng Pagpda
on the south bank of the West Lake, which depart every half an hour from 09:00 to 14:30. Passengers who hold the entrance tickets for the wetland can get on the bus.
2. Take bus 136, 193, 265, 356, 381, 382, b4 or j13 to Xixi Shidi Gaozhuang Station.
3. Take bus 83, 86 or 130 and get off at Xixi Shidi Beimen (Xixi National Wetland Park North Gate) Station.
Hangzhou Bus / Metro Search
Entrance Fee
CNY 80 for adults;
CNY 40 for children between 1.2 - 1.5 meters (3.9 - 4.9 feet);
Free of charge for children under 1.2 meters.
Boat Fee
Battery Boat: CNY 60 for an hour
Rowing Boat: CNY 100 per boat per hour (allow 6 people in one boat)
Battery Car
CNY 5 per time
Opening Hours
Apr. to Oct.: weekdays: 8:00 - 18:30; weekends and holidays: 7:30 -18:30.
Nov. to Mar.: weekdays: 8:15 - 18:00; weekends and holidays: 8:00 - 18:00.

Top 10 Things to Do in Hangzhou

12 Best Places to Visit in Hangzhou
- Last updated on Aug. 10, 2023 -
Questions & Answers on Xixi National Wetland Park
Asked by Thu Trang from VIETNAM | Aug. 05, 2023 22:57

Reply
Where to stay for a trip to West lake, Feilaifeng and Xixi wetland
Hi,
We have 2 days in Hangzhou, would like to visit West Lake, Feilaifeng and Xixi Wetland. So which hotel (or area) around the West Lake should we stay for short and convenient travels to all the 3 sites?
Thank you very much
Thu Trang
Answers (2)
Answered by Andy | Aug. 07, 2023 19:45

0

0

Reply
In fact, Feilaifeng is in the middle of the way between West Lake and Xixi Wetland. It recomended to stay near the area. Fan Yun Inn (West Lake Branch) is a good choice, only 5 minutes' walking from the Feilaifeng.
Answered by Thu Trang | Aug. 10, 2023 06:49

0

0

Reply
Tks a million Andy for your kind suggestion
Asked by sally from KOREA | Jul. 29, 2019 20:59

Reply
Is land or river route better for visiting the xixi national wetland park?
Can I ride a bike there?
Answers (1)
Answered by Zoe from CANADA | Jul. 29, 2019 22:58

0

0

Reply
Oh, I prefer to choose the river route. For you, if you have enough time, you can experience these two ways both.
Asked by nathania from INDONESIA | May. 01, 2019 06:36

Reply
West Lake to Xixi National Wetland park for one whole day trip
Hi,

1. i plan to visit West Lake early in the morning and take a walk to Leifeng Pagoda, then continue to xixi national wetland park, is it do-able to cover all the places in one day?

2. Since i will visit with my parents, is there any shuttle bus around Leifeng Pagoda to go back to West Lake because i spot the walking distance might take 30 minutes to return back to West Lake.

3. How to go from Leifeng pagoda to Xixi National Wetland Park? and if by bus, train or shuttle (if there is any), where is the bus stop to wait? and how is the frequency of the bus?

4. How to return from Xixi National Wetland park to West Lake? and where to wait for the bus? how is the frequency?

5. Can you recommend where should i stay in Hangzhou if my destination is West Lake, Yan'An road area?

6. What shopping area should i go to visit for the technology or electronic stuffs in HZ? i heard the city is quite advance in technology :)
Answers (1)
Answered by Julie from FRANCE | May. 05, 2019 20:08

0

0

Reply
1. I'm afraid the time is not enough. In fact, you need to spend at least one day to cover all the spots around West Lake.

2. Bus Line Y2/52 is available.

3. You can walk east about 1km to take Bus Line 102 from Wansongling Junction, Nanshan Road (南山路万松岭路口) to Bus Station West and then walk north about 450m to the park. The bus departs from 05:50 to 21:30 every 15 minutes.

4. You can walk east about 500m to take Bus Line 180 from Imperial garden (wulian village)(皇朝花园(五联村)) to Shiwudong Station. The frequency is about 10 minutes.

5. There is a Hanting Hotel located at No.102 Huansha Road, Shangcheng District. It costs about CNY200 per night and you can walk about 10 minutes to the West Lake.

6. A large electronic markets is located at No.369, Wensan Road.
Asked by Bee from CHINA | Jul. 30, 2018 04:19

Reply
How do I move from Lin'an to xixi national wetland park and were can I buy tickets from
Answers (1)
Answered by Bella from FRANCE | Jul. 30, 2018 20:23

0

0

Reply
You can take bus line 598C from Linan East Station to west bus station and you can buy tickets on the bus.
Asked by Yollzdee from CANADA | May. 31, 2018 23:32

Reply
Is there still horse riding at xixi national wetlands park?
if yes .. how much do you charge?
Answers (1)
Answered by Jamie from CANADA | Jun. 04, 2018 03:02

0

0

Reply
I heard that there is still horse riding at this national wetlands park. But I cannot find the exact charge. You are advised to consult the staff when you arriving there.