How to Book?
Inquiry
Get a quote
Free changes
Payment
Confirmation
Hangzhou Tours
Once been highly praised as the most beautiful city on earth by the Italian explorer - Marco Polo, Hangzhou has long been ranked as a popular tourist resort. In addition to fully enjoying the beauty of the West Lake, our private Hangzhou tours also enable you to learn about the traditional culture and appreciate the fine art at Six Harmonies Pagoda, Lingyin Temple, Meijiawu Tea Village... Besides, spending a leisure time in Wuzhen or Nanxun Water Town may leave you an unforgettable memory as well.
Best Hangzhou Tours
Private Hangzhou Side Trips
Tailor Your Private Hangzhou Tour
How to get to Hangzhou?
Hangzhou, a charming city in southeast China, is easy to reach either by air or by high speed trains. It has good access to major cities like Beijing, Xian, Guilin, Chengdu, Shanghai, Kunming, Guangzhou and Hongkong etc. Hangzhou Airport also operates regular international flights to and from some cities in East Asia, Southeast Asia, Europe and America.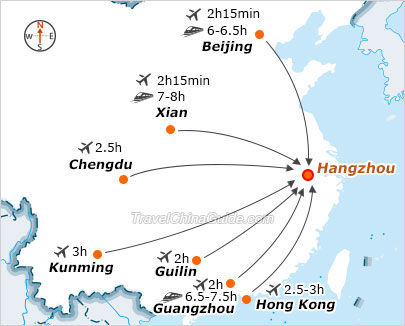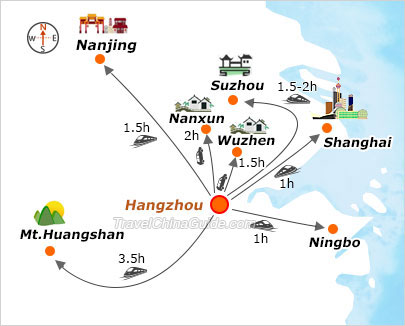 How to Plan a Hangzhou Tour?
Generally speaking, 1 to 2 full days are enough to cover the best places of interest in Hangzhou city. If you get some extra time, you may also consider taking a side trip to one of the distinctive water towns nearby, such as the pristine Nanxun and the popular Wuzhen. Besides, traveling to its neighboring cities like Shanghai, Suzhou, Huangshan, Nanjing, or Shaoxing via the convenient high-speed trains are worthwhile options for Hangzhou tour packages.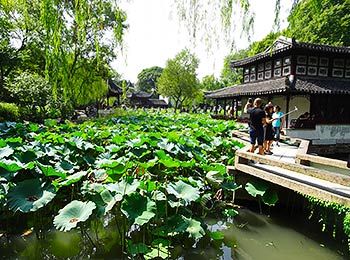 Side trip to Suzhou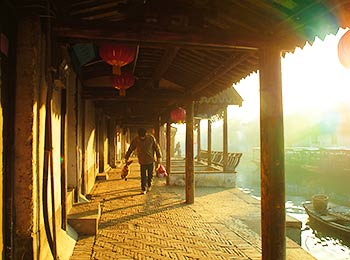 Day trip to Wuzhen Water Town
What is the best time to visit Hangzhou?
Best time to visit: March to May & September to November

Climate in Hangzhou is warm and humid with distinct four seasons. The city is at its best from March to May, when the weather is usually gentle and lovely with beautiful flowers blossoming everywhere. From September to October, the sightseeing spots appear as multi-hued painter's palettes, making another great time for a Hangzhou vacation package. Though it is a little bit cold in winter from December to February, you can enjoy your trip without interference by massive crowds. If your time is flexible, we suggest you avoid travelling during middle June to early July, as well as August due to the plum rain season and occasionally Typhoons.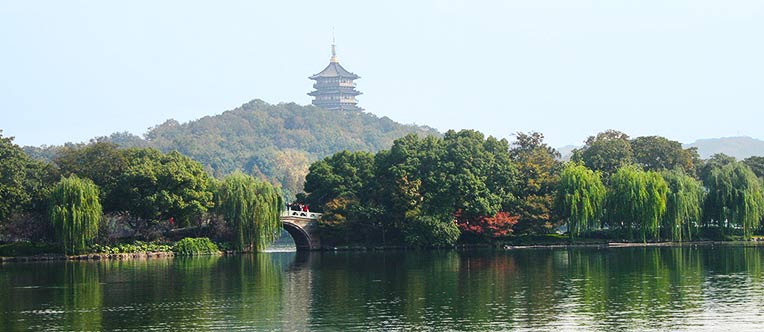 Hangzhou comes into its most beautiful season!
Is visa-free transit available in Hangzhou and its nearby cities?
Yes, passengers from 53 countries or regions can apply for the 144-hour visa-free transit permit at Hangzhou Xiaoshan Airport since Jan 30th, 2016. It allows travelers to stay as long as 144 hours to visit Shanghai, cities in Zhejiang and Jiangsu provinces without holding a visa. In addition to Hangzhou, other tourist favored destinations like Suzhou, Nanjing, Wuxi, and so on are all within the range of the areas allowed to stay during a 1-7 days Hangzhou Tour. However, those who visit Huangshan in Anhui Province from Hangzhou still need to apply for a China Visa.
International Flights to China