One-Day Private Hangzhou Tour
Lingyin Temple - Meijiawu Tea Plantation - West Lake - Six Harmonies Pagoda
In the morning, we will pick you up from your hotel in downtown Hangzhou and escort you to Peak Flown From Afar (Fei Lai Feng) to appreciate the strange stones, towering old trees and many of scattered grottoes covering various Buddhist sculptures. Paying a visit to the renowned Lingyin Temple within the Fei Lai Feng Scenic Area will highlight your one-day private Hangzhou tour. It is regarded as one of the top ten ancient Buddhist temples of China. After that, we will guide you to Meijiawu Tea Village to enjoy the tea plantation. The village is one of the main production bases of Longjing Green Tea. Surrounded by hills, it is filled with lush tea trees, whose fragrance will refresh your mind. Lunch is not included in our price, but our guide will be willing to give you suggestions.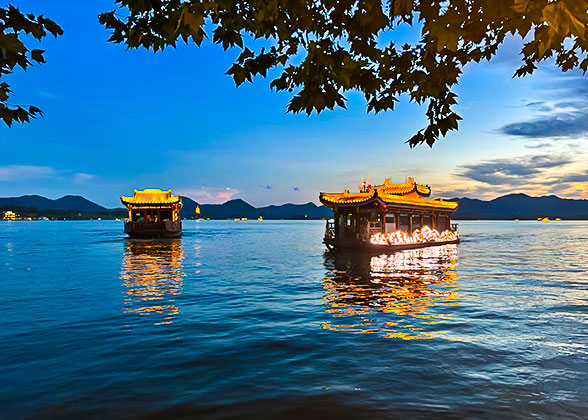 The traditional boats on the West Lake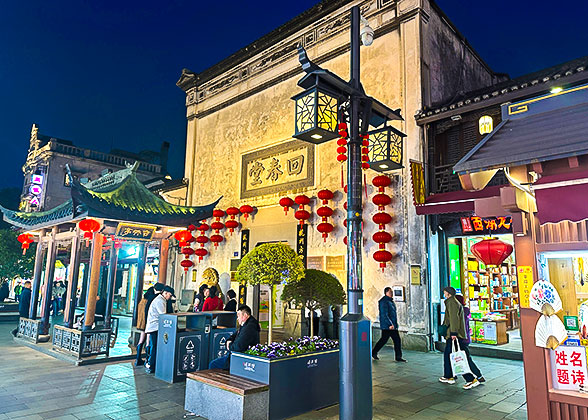 View golden carps at the Flower Harbor
In the afternoon, we will have a boat tour to the beautiful West Lake, the landmark of Hangzhou. You can enjoy the charming lake, embankments, pavilions, and pagodas. Then, continue your tour to the Flower Harbor to view shoals of golden carps and peony flowers in cluster. Finally, we will accompany you to the Six Harmonies Pagoda beside the Qiantang River. It is now the best place to admire the Qiantang River. This Hangzhou day tour will end here. We will then transfer you back to your hotel.
Lingyin Temple
With a history of about 1,700 years, Lingyin Temple, the first magnificent temple in Hangzhou, was built in 326 AD in the Eastern Jin Dynasty (317 - 420 AD). Located in a gorge between two huge mountains, Peak Flown From Afar and North Peak, this hillside temple is enveloped by dense trees, thick mist, and chirm of birds. As a well-known Buddhist temple, it enshrines many Buddhist relics, such as Diamond Sutra and gilded Buddha statues as well as imperial steles. There is a solemn and grand 24.8-meter (81.4-feet) high statue of Sakyamuni sitting on a lotus-seat in the Mahavira Hall.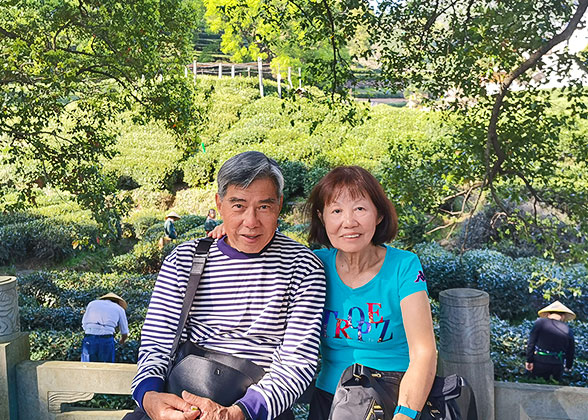 Visit the Lingyin Temple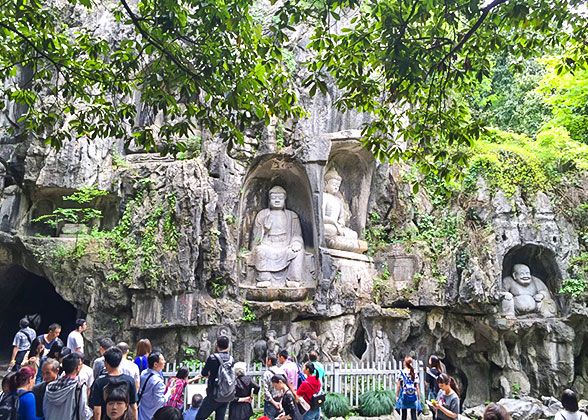 Local people praying in the temple
West Lake
West Lake should be the No. 1 must-see of a Hangzhou day tour. Covering an area of 6.39 square kilometers (2.47 square miles), the West Lake is embraced by hills on three sides, and possesses enchanting natural landscape. Especially the fine scenery on Su and Bai Causeways attract a large amount of tourists. Whether it rains or not, you can view the distinctive beauty of West Lake for it will glittering under sunshine, and be permeated with mist in the rain.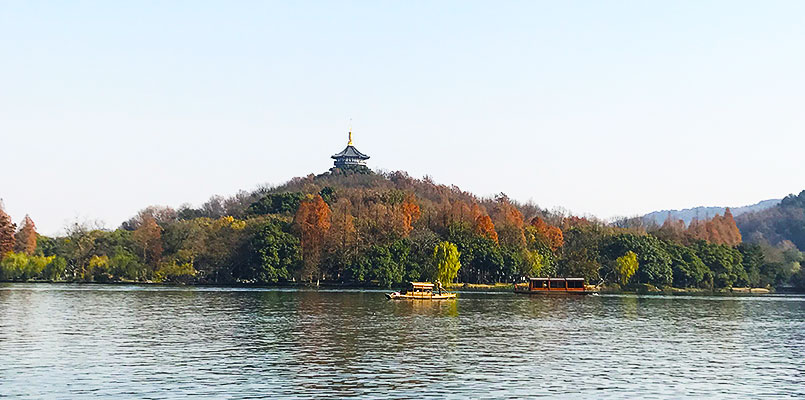 The beauty of the West Lake lives up to expectations
Six Harmonies Pagoda
Located at the south of the West Lake, the Six Harmonies Pagoda is one of the best preserved ancient pagodas with wood and bricks structure in China. It is 60 meters (197 feet) in height and has seven floors inside. The eave of each floor gets smaller gradually from bottom to top, and there are 104 iron bells hanging on the corners of the eaves.
Tour Prices
| 1 traveler | 2-3 travelers | 4-5 travelers |
| --- | --- | --- |
| USD199 | USD109 | USD89 |
Prices are per person in US Dollars.

Price Includes
Private English-speaking guide
Private driver & air-conditioned vehicle
Entrance fees to tourist sites
Price Excludes
Hotel accommodation with breakfasts
Lunches and dinners
Tips or gratuities for guide and driver
Why Travel With Us
Itineraries you may also like: